I love when people let me know of good spots to eat. Be it hole-in-the-wall gems, lesser known eateries, or even up and coming places, I appreciate them all. I've said it time and time again, you can walk 15 minutes in any direction in any neighbourhood and find a great place to eat. One oh those neighbourhoods being Saint-Michel. From Chinese fondue at Kim Long, Portuguese chicken at O Cantinho or regional nissan cuisine at Thai Sep, this hood has it all. After I was obsessing (I still obsess) about my favorite banh mi spot in St. Michel Sandwicherie Sue someone informed me about Sak's Sandwicherie. I was told that they're another solid spot for legit banh mi and that I had to go try. Boy were they were wrong.
This family run luncheonette is located in Saint-Michel (Sak is their family name) and offer a concise Cambodian inspired menu of grilled items (lemongrass or soya sauce beef, lemongrass or soya sauce chicken,roasted bbq pork, tofu and eggplants) served in a sandwich, over rice or noodes. They've got a handful of appetizers like spring rolls, soups and salads and awesome homemade drinks, get the lemonade.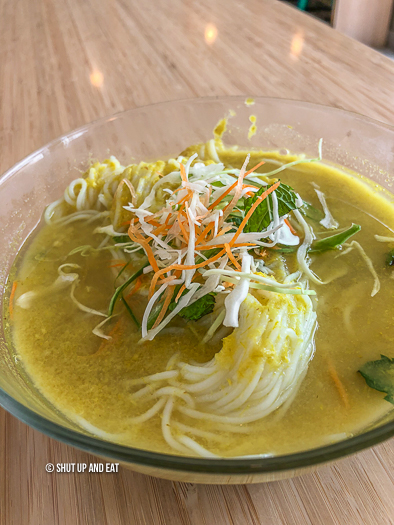 We started with the Sak's soup. An delicious soup served with rice noodles, shredded cabbage, carrots and topped with herbs. Heavy in aromatics like ginger and lemongrass, the soup was refreshing even when served hot.
The noodle bowl was amazing, a generous portion of roasted bbq pork, served with a spring roll over rice noodles dressed with a vinaigrette. The salad of chopped lettuce, cucumbers, bean sprouts and shredded carrots was cold and crisp. Great freshness in each bite when tossed together.
Here's the "banh mi" that I had to try. Not a banh mi, I know. If you don't know what a banh mi is, please refer to this. Like the noodle bowl, the sandwich featured a very generous mound of grilled lemongrass beef, topped with pickled veg, cucumbers and shredded lettuce, stacked in an airy bun – similar to a Portuguese roll.
The beef was flavourful and complimented well by the pickles. The juicy meat and excess pickle brine made up for the arid bread that was dry and spongey. Served with a side of addictive fried julienned taro sticks. Delicious sandwich? Yes. Banh mi? No. To be fair it's not like Sak's advertised the sandwiches as "bahn mi". More, it was the generalization of an "Asian sandwich" a random person informed me about. Appreciated nonetheless.
I was told one thing, went expecting the thing, and was disappointing in not getting the thing; banh mi. However, like a Bob Ross painting, the whole experience was a happy little accident in which I discovered another place in the neighbourhood for a decent sandwich and a tasty noodle and rice bowl. Sak's Sandwicherie is an awesome luncheonette for a quick bite or a pickup-and-go.
Sak's Sandwicherie
7387 Saint-Michel Boulevard
514-374-2777
https://www.sakssandwicherie.com