What do you know about food from the Congo? I know as much about Congolese food as I do about the Franco-Prussian war of 1870; I know nothing about the Franco-Prussian war of 1870. Obviously I was pumped to try a new food I've never had before. I told myself, "Jason, forget everything you know about Congolese food", so I did. I'm not going to sit here and tell you some contrived story and gush about "how much I love African food and this is now my new favourite place" because I literally have nothing to compare it to. Not that I would be so trite anyways. So when I was invited by Le Uptown to try their Congolese grilled chicken, I was excited to see what it was all about.
Le Uptown hooked me up with their full chicken dinner which was served with a side of rice, fries, beef samousas, fried plantains, salad and homemade doughnuts for dessert. Their menu consists of chicken, beef brochettes, sausage and a variety of sides. I was told that what sets them apart is that all the recipes are family recipes originating from the Congo. Although authentically prepared, they add their own personal local touch to all their dishes.
Beef Samousas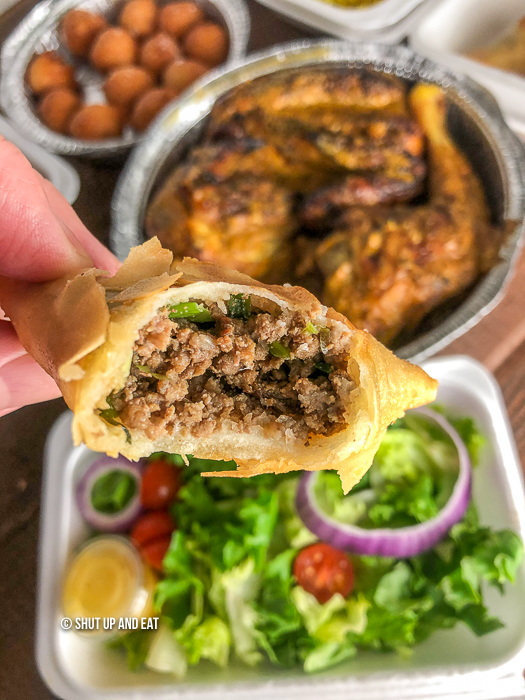 The samousas were spiced beef filled pockets of crunchy deliciousness. The flavourful ground beef piqued with cumin, onion and coriander was great. They were the size of my palm and I could eat about 176 of these. In a row. Without thinking twice.
Congolese Grilled Chicken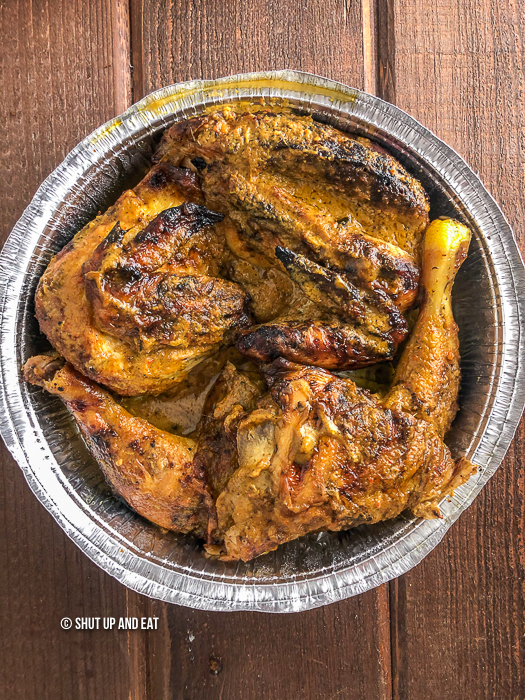 What makes this chicken Congolese? That's a good question. I have no idea. However, I was told the secret lies in the marinade and spices used. At first bite I could tell that there was something different about the chicken. Despite the meat being a bit dry, without sauce it was still fragrant and full of flavour. The mix of char from a smokey grill and the bouquet of aromatics used to brine and glaze the chicken made each bite better than the previous.
I was asked if I wanted mild or spicy sauce on the chicken. I preferred spicy, and so will you.
I was asked if I wanted mild or spicy sauce on the chicken. I preferred spicy, and so will you. The Congolese grilled chicken mojo is definitely in this sauce which has hints of ginger, garlic and chili peppers. It also had a subtle sweetness and a certain tang and savouriness to it. The chicken at Le Uptown is a great alternative to the other grilled or even rotisserie options out there if you want to try something different.
Sides
The chicken was served with a generous portion of yellow rice. Buttery long grain rice pilaf mixed with diced peppers and spices was a great way to soak up all the chicken juices and addictive secret sauce. Which by the way, make sure you order extra because you're going to find yourself making excuses to put it on everything.
The makemba (fried plantains) were big substantial pieces. The sweet starchy bite is a great contrast to the savoury chicken and delicious sauce. Have I mentioned the spicy sauce? If not, make sure you get an extra portion just to sip on. The fries were fries and the salad was an afterthought of haphazardly chopped romain lettuce, a few cherry tomatoes and two awkward slices of red onion.
Mitaké
These African "drop doughnuts" are hand squeezed into the frying oil – hence the name. These, buttery fritters were topped with powdered sugar and was a nice way to end a great meal. They were a bit dense and dry. Yes, I wouldn't have been above dunking them in the spicy sauce if I had any left.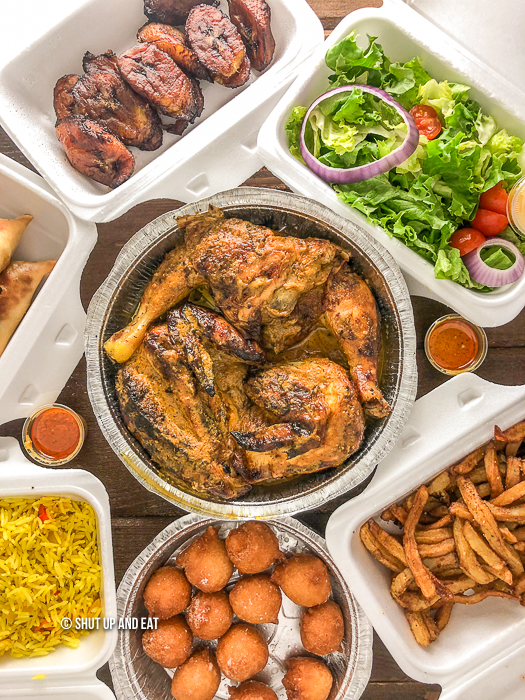 The sub-saharan African food scene in Montreal is as dry as the the Sahara itself, except for a handful of Ethiopian restaurants. Le Uptown reps Montreal neighbourhoods through their cocktail list and giving the OG poutine a nod by piling on a mound of grilled chicken and signature sauce. Did I mention the sauce?
Located in The Plateau, Le Uptown bills itself as a Congolese restaurant that specializes in grilled dishes that feature a unique Quebecois flair. The place looks like it fits the neighbourhood well with a hip and vibrant tropical themed interior that's very Instagram friendly. But like all restaurants now, their space can only be appreciated a few people at a time while they stand six-feet apart waiting for their takeout orders. My first experience with Congolese food was a great one. It was rich in flavours, aromatic and full of spices, what's not to like?
Le Uptown
1361 Mont-Royal E
(514) 523-1228
https://www.leuptown.com/
___
I was a guest of Le Uptown. Thoughts and opinions are my own.