I was in Mexico two year ago today. Basking in the warm Mexican sun on a beach chair I squatted before the breakfast buffet opened up. I spent most of my days sipping watered down virgin piña coladas as I tanned my pasty winter coddled body. I decided that after a few days of hotel food, I would venture out in search of authentic local cuisine. So I got my hair braided by beach vendors in an attempt to blend in with the locals as I looked for street tacos.
It's always cliché to say that you miss the food that highlighted your vacation. But I haven't had tacos here like I did at the road-side taqueria I visited three times in two days. I've spent the last two years experimenting with recipes and trying Mexican restaurants in Montreal that would fill that void to no avail. Until now. I recently hit up the newest Mexican hot spot in Dollar-des-Ormeaux, Tacos Don Rigo.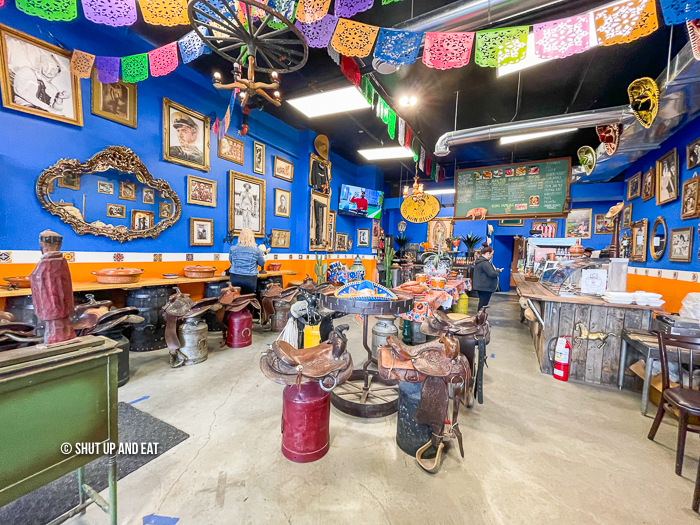 The second you walk into Tacos Don Rigo, it's like you're walking into a party, or fiesta. Festive music is pumping, kitschy decor and the not so subtle wafts of delicious food cooking. The menu here is straight up simple; tacos, burritos, quesadillas and tortas. I was there for tacos and mass quantities of it. More importantly, I was there for their specialty, quesa birria tacos.
Tacos Campechano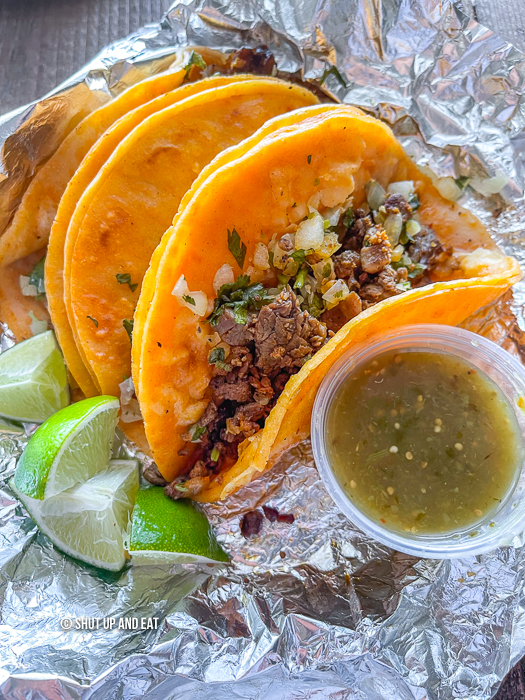 The epitome of street tacos. A taco made with a little bit of everything that's on the comal. The campechano at Don Rig's is a mix of beef and chorizo, and topped with verdura (raw onions and cilantro). The tortillas were doubled up and the are bigger than what you'd get on the street. They are larger in size with a generous amount of filling. The beef and pork was a great mix. The fatty bits of sausage in each bite was delicious. The spicy green salsa is a great option for this.
Torta Carne Asada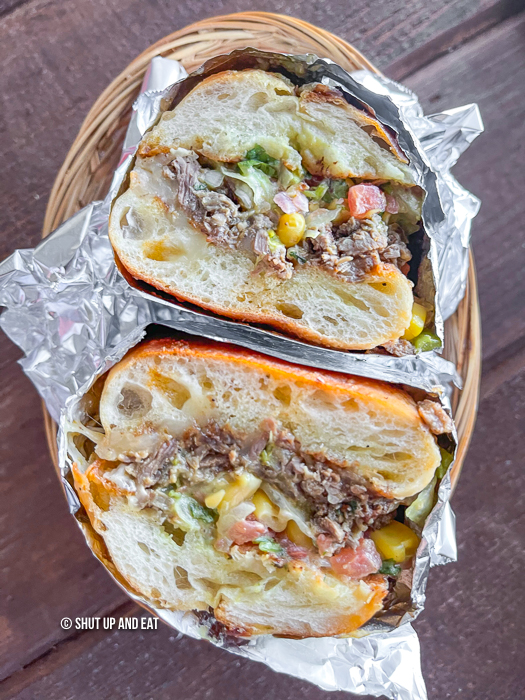 The carne asada torta is thinly sliced grilled beef packed into a fluffy toasted bun dressed the way you want. I got it topped with corn, pico de gallo, hot salsa, onions and guac. PROTIP-LIFE TIP: Always get guac, it's isn't extra here.
PROTIP, LIFE TIP: Always get guac, it's isn't extra here.
The bread was fluffy and chewy and was a sponge for all the juices in this sandwich. The beef was smokey and flavourful and the substantialness of the sandwich could definitely get out of hand if your order it "con todo".
Tacos Quesa Birria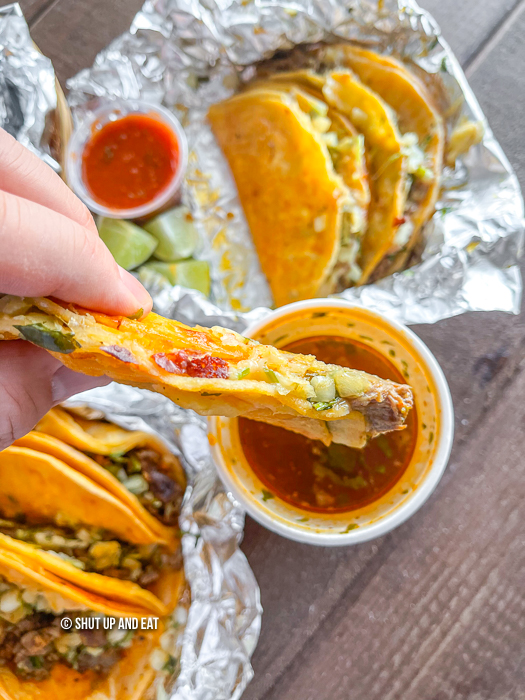 If you're down with tacos, you'll know this is the current craze; queso birria tacos. Beef braised for hours in a broth seasoned with aromatics and stuffed into a tortilla with cheese and toasted on a flattop. The meat is flavourful and is nestled in fresh melty white chewy cheese. They're three to an order. If they weren't so filling, I can easily destroy 27 of these.
It's served with a cup of the braising liquid called consomé. Don't confuse it with the French clarified bouillon Consommé. Dipping the tacos into the soup adds a great salty hit to each bite. Depending on how long you wait to eat these, the crunchy taco shell will soften a bit, but it still packs a punch. Don't be ashamed to take sips of it in between bites – I do that with fried chicken gravy. Same same.
Don't be ashamed to take sips of it (braising liquid) in between bites – I do that with fried chicken gravy. Same same.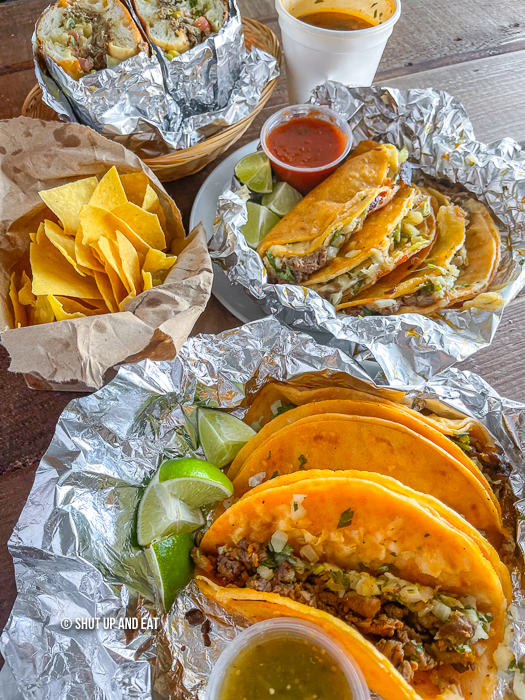 Conclusion:
I don't know who Don Rigo is, but I want to believe it's the guy who was walking in and out of the kitchen wearing a Stetson, cowboy boots, jeans with a big belt buckle. The food here is killer. Full of flavour and as authentic as you can get. Delicious food, kitschy decor, pumping playlist of reggaeton, classical ballads, and sounds of a chaotic kitchen is everything you want in a taqueria. No frills, nothing fancy, no plate decoration, because it's not needed. The only thing they're missing is the Mexican coke. By that I mean the Coca Cola made with cane sugar, but you knew that.
So did my experience here take me back? It sure did. Safe for the heat and ocean kissed breeze gently tickling my exposed lobster hued skin. However, I was asked to put my shirt back on, so that was kind of a nice throwback to the my time on the beach.
Tacos Don Rigo
4740 Boul Saint-Jean, Pierrefonds-Roxboro, QC H9H 4B2
(514) 696-9090
http://www.tacosdonrigo.com/