There's a misconception that a meal of dumplings is called "dim sum". This is wrong. "Dim sum" is more than a meal, it's an experience. An experience you'd get at some of the city's various dim sum houses. It's a meal that consists of various small dishes. Dumplings, steamed seafood, pan-fried radish cakes, pastries and desserts. Yes, you can eat dumplings AT dim sum, but it doesn't make the meal. Like how a square is can be classified as a rectangle, but not the other way around. I visited Yin Ji Chang Fen. As their name says, a spot that specializes in a particular dish that's served at dim sum – rice noodle rolls or "chang fun".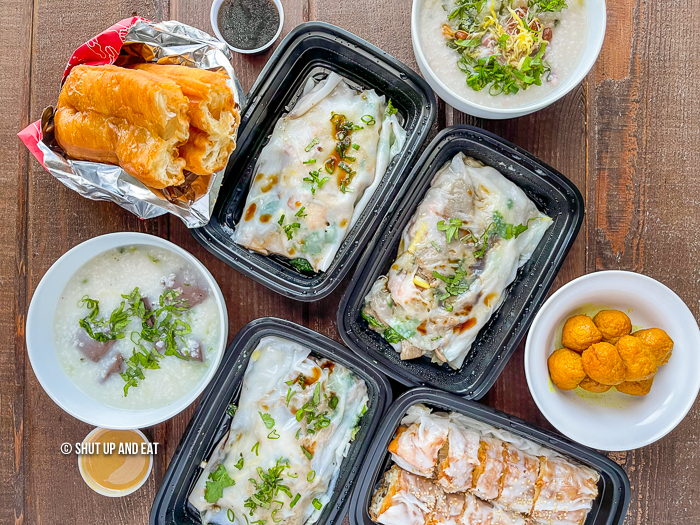 Yin Ji Chang Fen was founded in the 1950s in Guangdong China. It has expanded with various locations through Hong Kong and Macau. They recently opened their first Montreal location (with five locations in the Greater Toronto Area.) Yi Jin Cheng Fen is known for their fresh rice noodle rolls and congee and snacks, all of which are popular quick meal items eaten for breakfast.
Beef and shrimp roll (韭黃鮮蝦牛肉腸粉)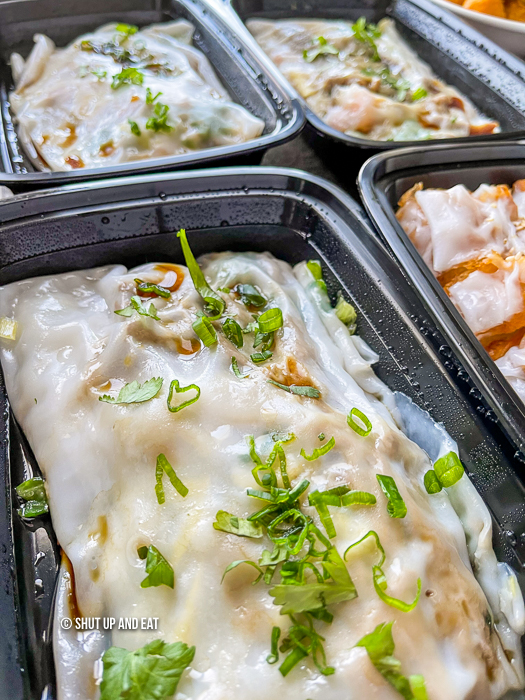 Their menu is extensive with over 20 different rice noodle rolls, 18 congee options and a handful of snacks. I guess when "RICE NOODLE ROLL" (chang fen) is literally in your business name, you're going to have to show that you specialize in it.
The marinated beef and shrimp with chive roll is one of Yin Ji's signature dishes. Large tender strips of marinated beef carefully rolled with plump juicy shrimps, chives and shredded lettuce. The rice noodle is thin and delicate but robust enough that it still has some chew to it and doesn't lose its texture.
The rice noodle is thin and delicate but robust enough that it still has some chew to it and doesn't lose its texture.
BBQ pork and chives (叉燒腸粉)
This is my favourite roll; BBQ pork and chive. Each mouthful was a mix of thick slices and diced bbq pork, chives and shredded greens. It's the mix of sweet pork and the sweet soy sauce and the sharp chives and cilantro that makes a perfect bite. Or maybe it's because I love char siu so much I'd eat it on anything.
Pork liver and chives (韭黃豬潤腸粉)
I also tried the pork liver and chive roll. The liver was extremely clean tasting. The strong irony flavour you'd normally associate liver with was tame. You still know you're eating liver, but the off-putting taste was not a factor. It was mild enough to be easily enjoyed by non-liver eaters. Great choice.
Dough Stick Roll (廣式炸兩腸粉)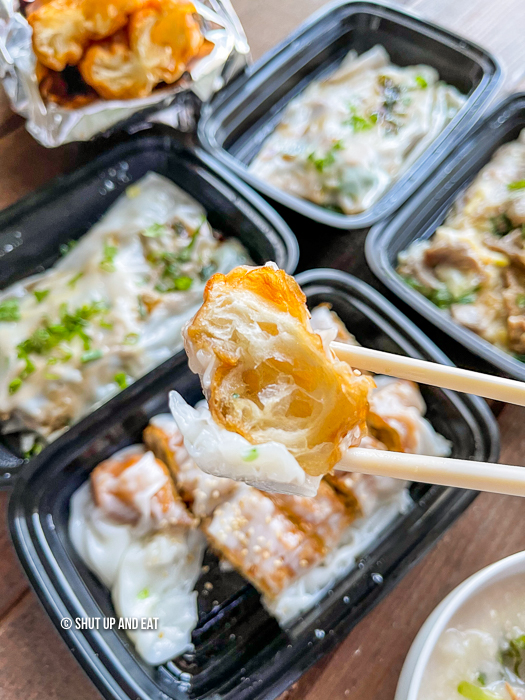 This is another one of my absolute favourites, the dough stick roll. A savoury fried dough stick wrapped in rice noodle. Counter intuitive to wrap something that's crunchy and fried into a steamed noodle, but it works. There is a contrast in textures as well as flavour – the saltiness of the dough and the sweetness of the soy sauce. Highly sought after in a dim sum house (they only make a few at a time), Yin Ji makes it to order.
Lai Wan style assorted congee (荔灣艇仔粥)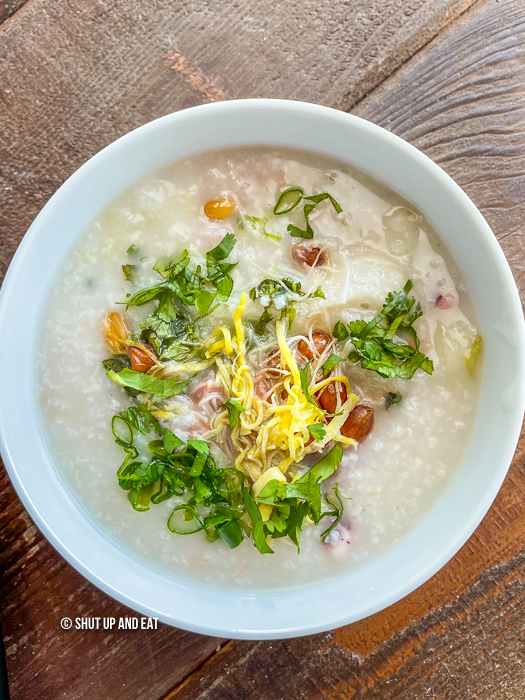 Congee is a very typical breakfast dish in Asia. A rice porridge often mixed with different ingredients or eaten plain with toppings on the side. The Lai Wan style assorted congee was a thick rice porridge that contained different kinds of seafood like squid, fish, as well as pork rinds, vermicelli noodles, peanuts, shredded eggs, scallions and cilantro. Great texture with every bite. Inherently muted in flavour, the congee's salty seasoning comes from the mix of toppings.
Pork blood jello congee (豬紅粥)
Yes, you read that correctly; pork blood jello. It's exactly what you think it is; coagulated pork blood that's cut into cubes. There are a bunch of cooking applications for pork blood jello like stir fry and soups, but a classic is in congee. The pork blood literally tastes like nothing. I mean, it tastes a little bit irony, but that's about it. Cooking with it came out of necessity with the school of thought of not wasting anything. It's a great source of vitamin B2, vitamin C, protein, iron, phosphorus, calcium, niacin as well as other nutrients. It added a nice texture to the thick congee.
Pork blood jello. It's exactly what you think it is; coagulated pork blood that's cut into cubes.
Hong Kong style curry fish ball (港式咖喱魚蛋)
Fish balls braised in curry is a very popular street food snack in hong kong. The one here is ok. I've had better. Curry fishballs aren't what you come to Yin Ji for anyways.
The rice noodle rolls at Yin Ji Chang Fen are comparable to the ones you find at dim sum in principle, but completely different. The noodles itself are thinner, but retains a certain elasticity. They're delicate and refined and the options are a lot more interesting. There are three rolls in the box per order. Don't try to split them horizontally, they won't separate. Slice them vertically instead.
Yin Ji Chang Fen is a great addition to the already popular eating destination that is the Guy-Concordia area. Offering a taste and insight of what is traditionally quick breakfast bites in China. The buzz has been building since their April 1st opening that has seen ridiculous lineups. Don't let this deter you. PROTIP: Order in advance and preferably during the week. I ordered online and picked up around lunch time and there was no lineup.
Yin Ji Chang Fen
1861 Saint-Catherine St W.
(514) 932-3621
https://yin-ji-chang-fen-mtl-restaurant.business.site/