I had made an agreement with myself many moons ago that I wouldn't review pho. I know… "WHY?!", right? I'll tell you why. Because, pho (Vietnamese noodle soup) is peculiar – there is no definite – it tastes different from north to south, east to west, family to family. It would be hard to compare or qualify one bowl of noodles to another, the essence of 'pho' is there, but like anything else it all depends on personal preference and taste. I'll spare you the history lesson and recipe preparation, but it just boils down to what your taste buds find acceptable and I've decided to share this place with you that has been appeasing and filling my pho void for years. I assume everyone has some sort of experience with pho, if not, here's the quick run down. Once you've ordered your noodle soup, a plate of bean sprouts, Thai basil, and lime wedges are placed on the table. Contrary to popular belief and practice, the bean sprouts are *NOT* a complimentary appetizer or amuse-bouche… it goes i your soup. If you like the taste of plain raw bean sprouts, by all means, go for it; I guess I'm just a stickler for formality, just like how I get irked when I see people putting ginger on their sushi.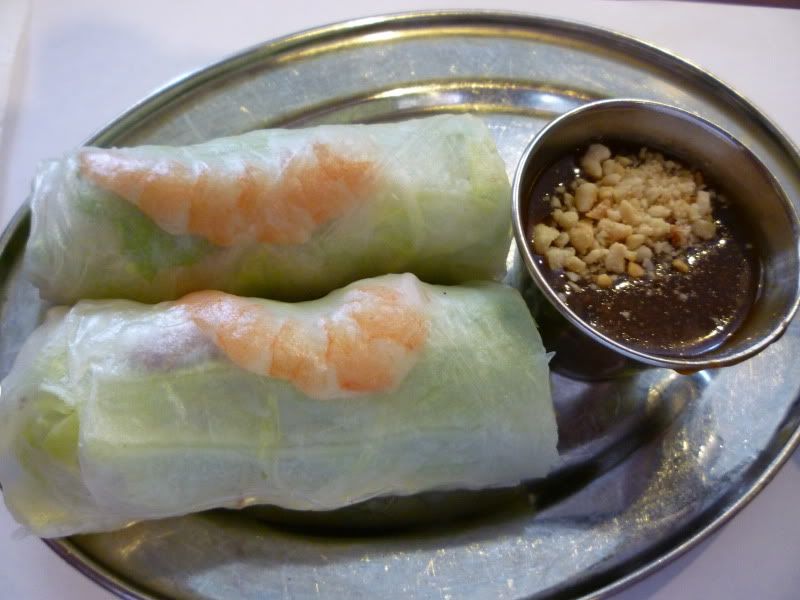 My friend started with the spring rolls. Vermicelli noodles, Thai basil, lettuce, pork and shrimps delicately rolled up in a rice paper wrap, it's served with a side of peanut dipping sauce. Fresh and crisp, this is polar opposite of the imperial rolls – which are fried, so make sure you've got the right name down before you order. You're more likely to be asked by the waiter if it's the "fried" or "fresh" ones that you want, I'm sure this is a direct response to many a orders being returned when someone was expecting a nice fried roll with fish sauce and instead received a white log with a side of hoisin-peanut sauce.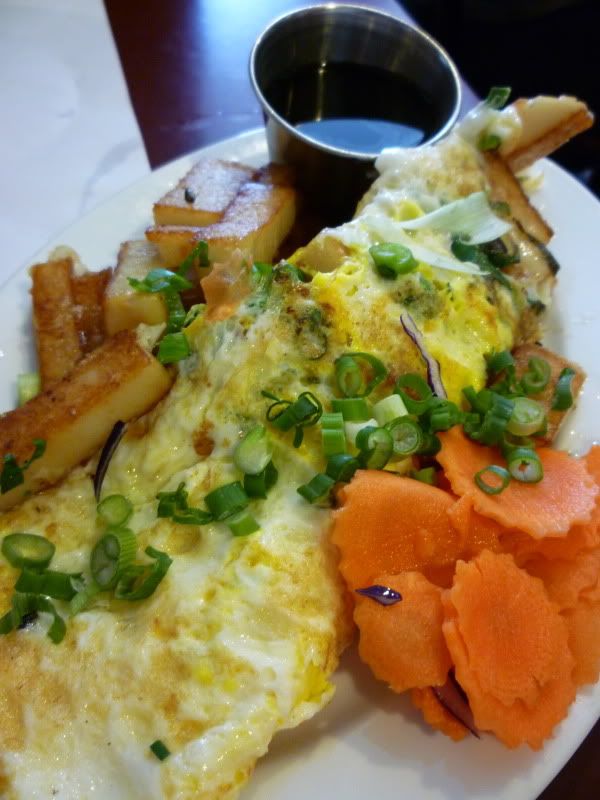 We also split an order of "Banh bot chien" – fried rice cake with egg. Made with rice flour, the "cake" is fried up on a flat top until crispy and then an egg is beaten and mixed in, served with a tangy vinegar dipping sauce. This is the kind of dish that if you didn't know what it was, you'd look right past it on the menu. Most people don't know to order it unless they know exactly what it is… That's why I'm telling you to order it. I'm confidant when I say that Pho Lien is the only Vietnamese restaurant that not only makes their own rice cake, but serves this dish at all. Something that almost resembles a twisted and wonky Asian poutine, the rice cake is crispy on the outside and soft in the middle.

Pho. A perfect mix of chewy rice noodles, beef brisket, raw flank, tripe, tendon and beef balls and swimming in a meaty broth. The soup is what really makes this bowl, beef bones are boiled with aromatics, prepared in a very specific manner to yield this magic liquid that although I've never had before, I can only assume tastes like unicorn tears. We both ordered the "special" which is basically the all-dressed noodle. The menu comprises of different variations and essentially a mix and match of all the ingredients.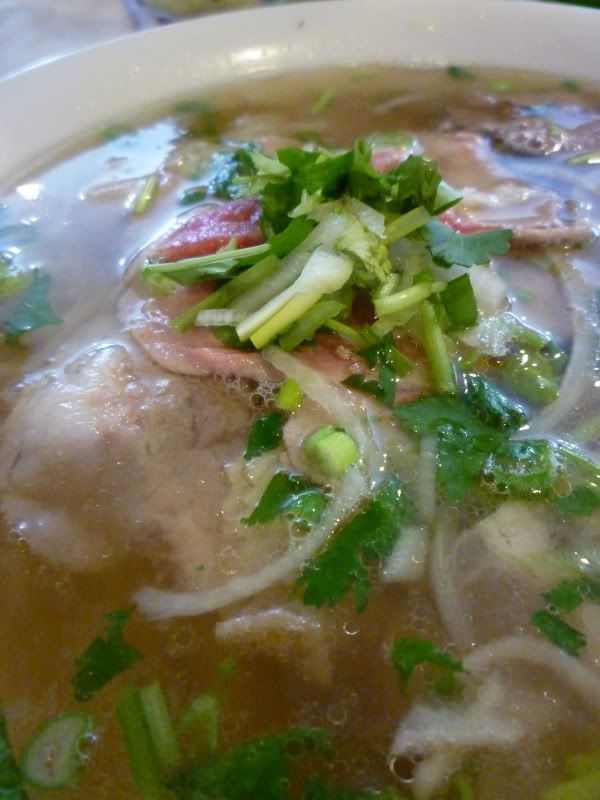 Bean spouts, Thai basil and lime are added to complete your bowl. Don't be afraid of the raw flank, the soup is hot enough that with one flip of the noodles, the beef will cook itself. Don't get me wrong, the place also serves other dishes, dry noodle dishes, rice plates and what not but serious eaters go here for the pho… Serious eaters are serious.
This steamy bowl of Vietnamese comfort food hits the spot and I'm convinced it tastes better in the winter when the temperature outside if a bone chilling minus ridiculous degrees and just a word of warning… Like with Korean BBQ, the smell of pho will permeate your clothes and people on the bus will know exactly what it was you had for lunch. Don't get discouraged by the phoddicts lining up out the door, people move through the place like milking cattle, you won't wait more than 10 mins at the most.
Pho Lien
5703 Côte-Sainte-Catherine
(514) 735-6949
Closed on Tuesdays