I make an effort to try new restaurants, and by "new restaurant", I mean a place that has been opened at least a few months. Not to question it's success, but to give it chance to get a little "dirty"; in the figurative sense, to give the place time to get their gears oiled up and to encrust the pots and pans with a little bit of love. That's why when I first heard of Imadake, I put my enthusiasm in check and waited for the smell of paint to subside before I checked it out.
We decided to check out Imadake. Upon entering, don't be alarmed when the chefs in the back and the wait-staff yell out at you. Customary in Japanese restaurants, they are welcoming you in as a guest, as opposed to when I walk in the door at home, I'm yelled at to shut the door because it's cold. Izakayas are traditionally bars that serve small snacks – tapas of sorts – Japanese tapas… Japas (not a real term, but something I made up just now).

Imadake has a pretty extensive alcohol list comprising of various sake and beer – major points for having Sapporo on tap – When was the last time you were able to order a pitcher of Japan's finest, and by that I mean Sapporo beer, not Mutsumi Takehashi.

A moment please. This dish, the taco wassabi, is hands down one of my most favorite dishes period. I've eaten most of my way through a lot of Japanese restaurants around Montreal both past and present and was never able to find this dish until now. I saw it listed on their specials board and knew I had to order it. What I went through can only be paralleled as the episode on any reality tv show where people are united with a family member – the ugly cry is broken out and it boarders on a religious experience. Raw octopus is mixed with a mirepoix and marinated with wassabi and the octopus' own natural salty brine and in this case a little bit of chili. I'm petitioning to have this transfered on their regular menu.

Beef tataki. Flash grilled tenderloin dressed with a citrus ponzu sauce. Really bright flavors – ginger and citrus with green onion muted the raw beefy flavor just enough. Almost comparable to a beef carpaccio… a la Japanese… a "Beef Japaccio" (again, not an official term).

Miso marinaded beef tongue. This was the first menu indication to me that Imadake subscribed to the philosophy and overall spirit of a true izakaya – taking random and often lesser cuts of meat, making them awesome and serving them, and nothing is more awesome than cooking it over an open fire. Sliced thinly, marinaded in miso and mirin, the tongue was tender and smokey. If you've never had tongue before, this is a great ideal introduction.

POW! Grilled pork belly! Encrusted with seasoned salt and grilled, you would think you're eating a juicy piece of pork chop. I applaud Imadake for challenging and pushing people's comfort zones in an attempt to win them over… #WINNING.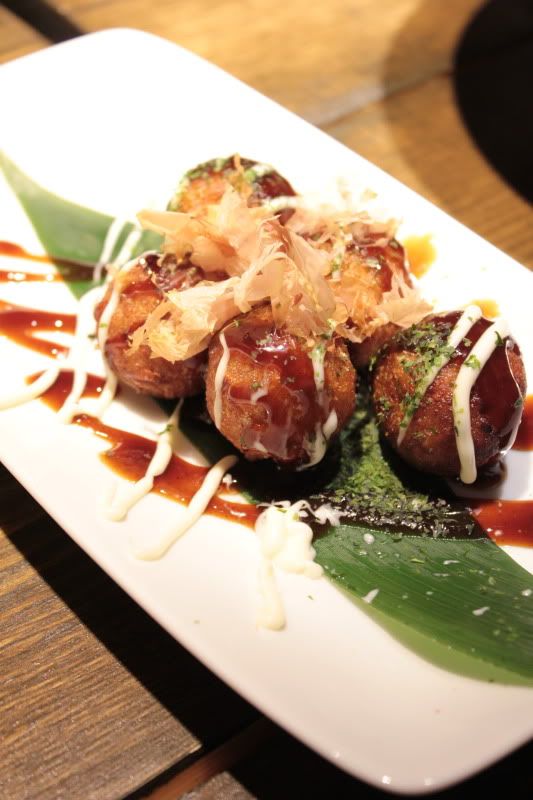 Taco yaki – fried octopus balls – When I first had this dish in Japan, I was hesitant because I was put aback with the idea of little octopus swimming around without balls. A battered mold-fried ball stuffed with octopus and scallions and topped with tonkatsu sauce and mayo, these fritters provide a chewy bite with a crunchy octopus centre. One of the only few places in Montreal you can order these. P.s. No balls were harmed in the making of this dish.

There are a few things in the culinary world that parallel a perfect pairing and match like a fine red wine and steak, lobster and butter or Betty White and Snickers more than CHICKEN and FRY. Chicken karagge is marinated chicken dredged in a seasoned flour and fried. The most important part of something fried is its staying power, will it stay as crunchy when you get to the bottom of your beer as it was when it was first placed on the table, the answer at Imadake is, "pffft DUH". To top it off the fried chicken is served with wassabi mayo, like the cherry on top of a sundae, but in this case, the wassabi mayo next to the chicken karagge.

We had the seafood okonomiyaki. An omelette/pancake topped with animated bonito flakes – that waves at you as you eat it, pickled ginger, aonori (seaweed powder), drizzled with tonkatsu sauce and mayo – really moist and fluffy. It's quite substantial as a dish though, definitely something you'd want to share, as having one to yourself will probably wreck any chance of eating anything else on the menu, unless you're really hungry or a big eater. There is also a pork option.

If that wasn't enough food already, we also ordered and split a ramen. Imadake offers a vast ramen menu, to which they proudly boast that they make the noodles themselves. We ordered the Imadake special, which had slices of Japanese cha sui (braised pork rib) – not to be confused with the Chinese version of char siu which is roasted – seasoned soft boiled egg, nori (seaweed), bean sprouts, green onions and Japanese menma (fermented pickled bamboo shoots) and spinach. Seven distinct flavors which comprise their signature bowl and classic preparation of Japanese ramen. What makes the bowl is the miso-based soup which you can taste the hours invested.

We split the green tea cheesecake. On a graham cracker crust, the green tea was surprisingly fragrant considering the density of the cheese, and it was drizzled with a raspberry coulis. Really tasty, I can see how someone who suffered from a cheesecake deficiency would be able to inhale at least one of two orders of it.

I had the black sesame ice cream. My favorite kind of ice cream, it's smokey and nutty and sesame-y. I don't know how else to explain it but I just love black sesame ice cream. HARD.

The presence of Imadake is their own testament to the trust they instill in the adventurous foodies in Montreal who crave authentic Japanese food that isn't raw, that their introduction will be well received. They are bold to plant a foot down as a freshman with a young concept in a rapidly growing food scene with confidence of being embraced. Thank you Imadake for bringing me a few of my most favorite dishes to Montreal and saving me gas money and 5 hour drive. This place is going to go viral, mark my words.
Imadake is selling fund raising wristbands, 100% of the proceeds will be given to the Japanese earthquake relief efforts, please help if you can.
Imadake Izakaya
4006 St. Catherine W (corner Atwater)
514.931.8833