Eating at a bad restaurant is like getting a tattoo when you're drunk – in the moment it seems like a good idea, you pay, don't remember what just happened and then wake up regretting it the next morning. I can't count the number of times I've been out to eat, looked at my bill and not remember a thing of what I just ate, pay then shake my fists all the way to the car. That's why I usually base my restaurant outings on suggestions or buzz I've picked up from my restaurant spidey senses. Although I know that not everyone has the same tastes, I'm one to always give something a shot and I love to try new things. That's why when the senses were buzzing about this new spot downtown I knew something was up, also the fact that someone suggested the place to me and had high praises for it solidified my decision of checking out Deville Diner Bar on Stanley, right in downtown.
As I navigated the menu, the first thing that stood out was the variety of the dishes. Variety not in terms of quantity of dishes offered, but the variety of different kinds of cuisines Deville has appropriated into their own menu. As staying true to the traditional concept of a "diner", regional differences in diner menus reflect the communities and the people in which the diner is found. As multi-cultural and ethnically diverse as our great city is, I guess it would only be natural as a 45 minute Montreal traffic detour that Deville incorporated and paid homage to certain classic diner dishes while putting their own unique spin on them.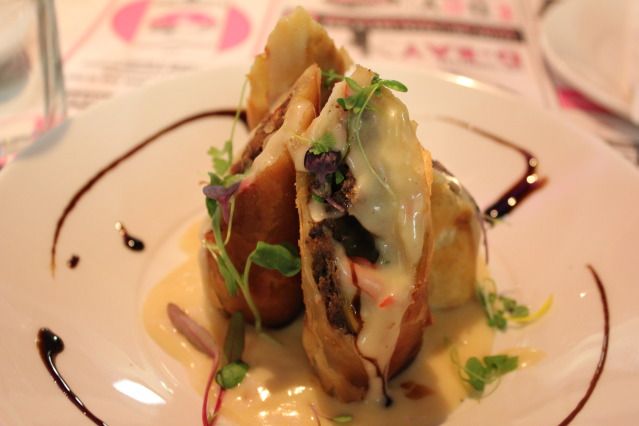 We started with the Philly cheesesteak spring rolls. BBQ beef short-ribs, caramelized onions, red peppers with an aged Quebec cheddar. My first thought was, "spring rolls? Really?… CHEESESTEAK spring rolls?" I was intrigued. The short-rib was robust and flavourful – which is why short-rib is my favourite cut of meat – paired with the sweetness of the onions and peppers, the fried crispiness of the spring roll provided a great contrast. What I liked the most about this dish was not only the fact that they used locally sourced cheese (is there any reason not to anyways) but it was aged cheddar; it's one thing to use straight up regular cheddar cheese, but it's another story when you're using a sharp cheese to compliment and cut through the unctuousness of the beef.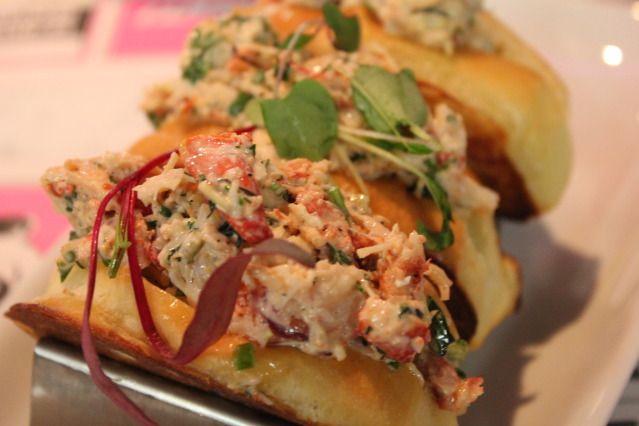 Next up was the trio of mini lobster rolls served up in homemade brioche. The quantity of lobster is to be commended; large chunks of lobster practically dwarfed the already mini brioche buns. Tossed with mayo, parsley and onion, the salad itself had a hint of citrus, which I can totally appreciate to finally have a seafood based salad roll that isn't high on lemon zest. I want to taste the seafood, not snort the fumes of a kitchen floor cleaner – this zen-like lobster roll was the perfect balance of all chakras turning in perfect unison.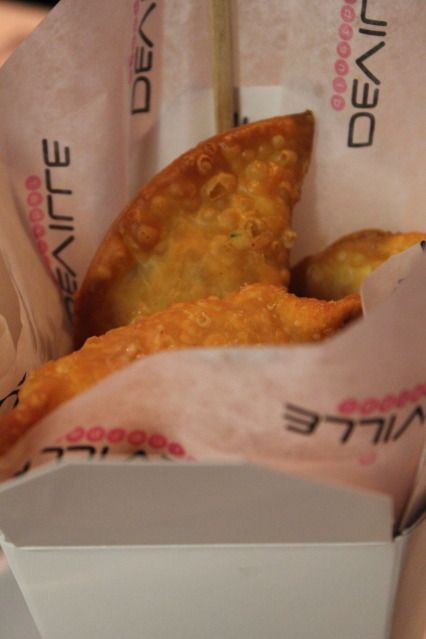 We then ordered the mac and cheese fried won tons. Hold on, I know what you're thinking, you're going to tell my mom, but before you go ratting on me, hear me out… They are filled with macaroni and friggin CHEESE! The last time I heard of something so ridiculous was that Justin Bieber's nuts finally dropped and his reproductive organs were mature enough for procreation, but it turns out that the claim was false. Thus the idea of him being a Baby Daddy is still one that pre-teen girls can dream of being theirs… Am I talking about Bieber's balls? I guess I am.

Golden fried pockets filled with childhood memories – or late-night stoner munchies remedy, won tons, not really, but "DUMPLINGS" are more like it. A rich creamy sauced mac and cheese with spring onions fill these dumplings. Served with a diablo marinara sauce, the won tons are paired with a sweet and spicy dipping sauce that is reminiscent of any plum sauce found buttressing a plate of fried anything Chinese.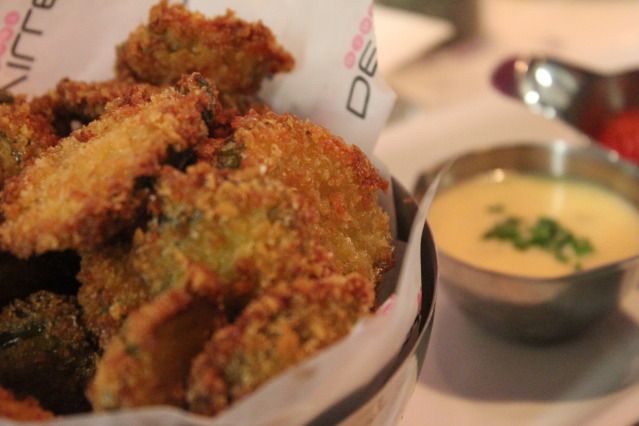 Before I tell you what the next appetizer we had was, let me ask you… When was the last time you had fried pickles? Probably never, right? Then get your ass to Deville. Serious. Battered, then breaded in panko, fried pickles are everything you want them to be. These little jerks ate like chips; they're addictive and I'm convinced they're fried in straight up crack. Crispy and crunchy, each bite gives way to a slice of juicy and sour pickle. This dish is complimented with a maple dijon and a spicy ketchup dipping sauce, both contrasting flavours, but work well in this three's company of fried pickle orgy.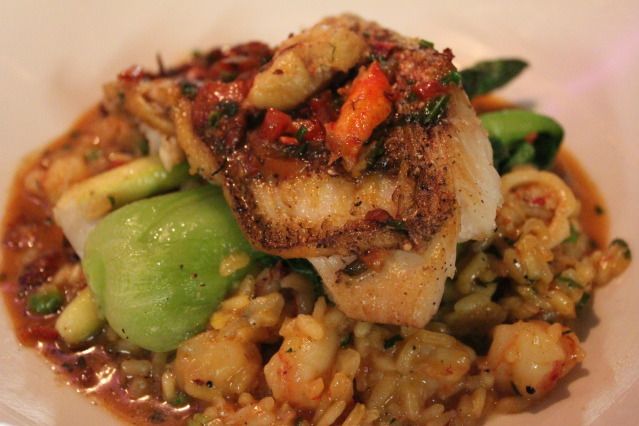 My buddy had the catch of the day – that day a pan-seared fillet of red snapper was caught. Served over a shrimp risotto and roasted seasonal vegetables, the fish was tender, flakey and perfectly cooked. As their catch of the day and its preparation change daily, I'm sorry to say you missed the boat on this dish (haha, sometimes I crack myself up). However, if this dish is any indication of what the kitchen is able to make on their toes depending on what's brought in, I'm convinced that whatever is "caught" will be grounds for jealousy when you relive it by telling the next person what you had. The risotto was generous as well as the number of shrimps that found its way into it.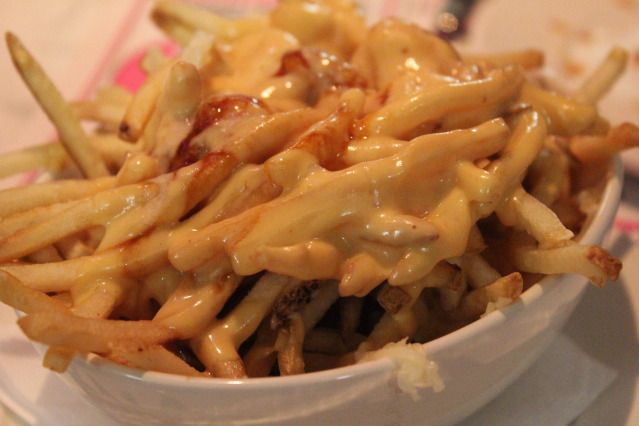 We also split an order of "Disco Fries". An homage to the Quebec poutine, Deville takes this American classic and introduces this long lost cousin of the poutine to the homeland of all things curdy covered in gravy. Homemade matchstick fries, covered in a veal demi glaze over their signature melted cheese blend, the familiarity of this dish is very present.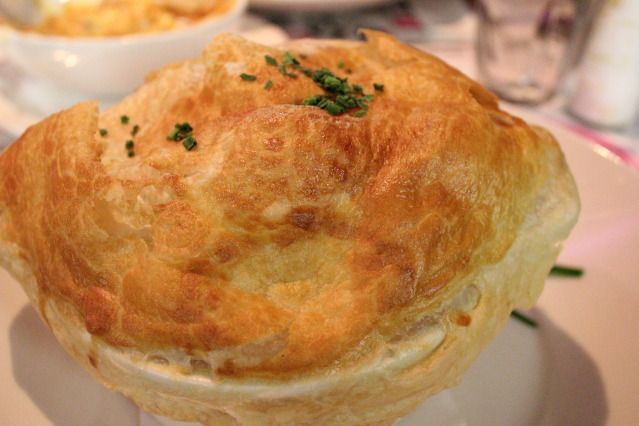 My other friend had the Shepard's pot pie. You can guess by the name what it was… the demon spawn of two equally delicious savoury pies that mated and produced this magnificent off spring; braised short-ribs, green peas, corn, mashed potatoes covered in an impossibly flakey pastry crust. Like eating the freshest croissant fresh out of the oven, the shattering and breaking into the pastry crust only adds to the filling of the pie as opposed to adding crumbs to the floor mats and your winter jacket while driving home from the bakery… I never learn!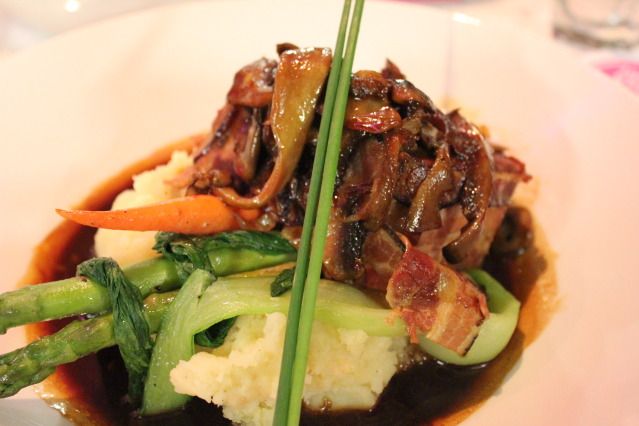 I had the bacon-weaved meatloaf which was stuffed with Quebec aged bacon, served with mashed potatoes and truffled mushroom ragu. The meatloaf, a combination of veal, pork and beef, was tender and moist. I attribute this to the mix of different meats and fats that rendered within the loaf to keep it juicy. Also the bacon weave on the outside of the loaf didn't really crisp up as much as you think bacon would, but this is understandable since the whole thing was oven roasted. The bacon itself lent a great hickory flavour to the meatloaf. A very generous serving, the meatloaf sat atop of fluffy mashed potatoes glazed with an earthy mushroom gravy.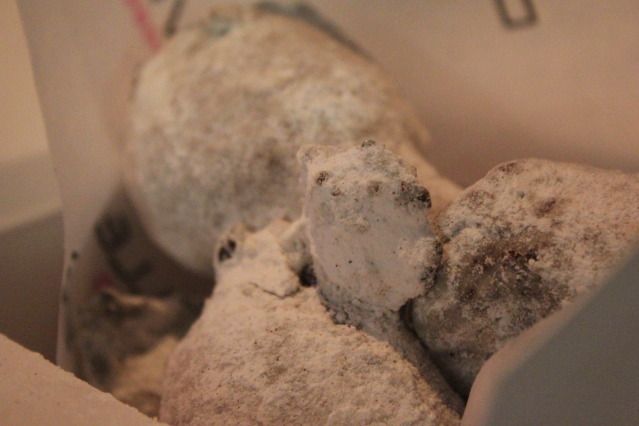 It was only fitting that we ordered dessert – dainty little fluffy beignets coated in powdered sugar. Called "The Big Easy Beignets", this dessert option was obviously a throwback to French Quarter New Orleans a la Café du Monde.

These dense little nuggets of fried doughy goodness were served with a side of a caramel praline and a chocolate-nutella bourbon sauce. Completely different than any other donut you're used to, there's no other way for me to convey my thoughts of this dessert other than… SEX. Straight up, lots of it and the kind that you're ashamed to admit to… especially when you had the amount of food that we did, and STILL polished off an order of these.
The menu at Deville Diner Bar is extensive but concise. You might think it's a bit of a contradiction to have something varied but focused, however, the kitchen is making each and every menu item for a reason. However random you might think the pairings and dishes are, I found the menu here extremely thought out and conscious. Respecting the tradition and concept of a "diner", these guys are playing off dishes that we've all grown up with. Deville Diner Bar takes those tastes that we are all used to, the flavours that we all love for sentimental value, updates them, buys them a Bluray player and an iPhone and welcomes them to 2011. They acknowledge any emotional attachments to classic dishes we have, takes you by the hand and leads you the way to show you what they've done with them.
Deville Dinerbar
514-281-6556
1425 Stanley St
devilledinerbar.com