Let it be known, I don't like soup. Why? I don't know. I think it comes from when I was a kid and being forced fed soup… murky herbal and medicinal soups that smelled like a mix of the inside of a cedar chest and a damp math textbook. The concept of soup never made sense to me; why fill up on liquids when that's just going to take up space and restrict the intake of actual food and deliciousness? As I grew up I reconciled with soup and have slowly let it back into my life in the forms of noodle soups and salsa. Letting the weather stipulate what I ultimately end up eating, I think it's safe to say that Pho, is a winter-time meal – don't get me wrong, by all means, eat it in the summer, because what you really want in 40 degrees with humidity is a bowl a steamy hot soup. A friend and I hit up this spot we both like to go to when cold is in the air and boots on our feet: Pho Tay Ho.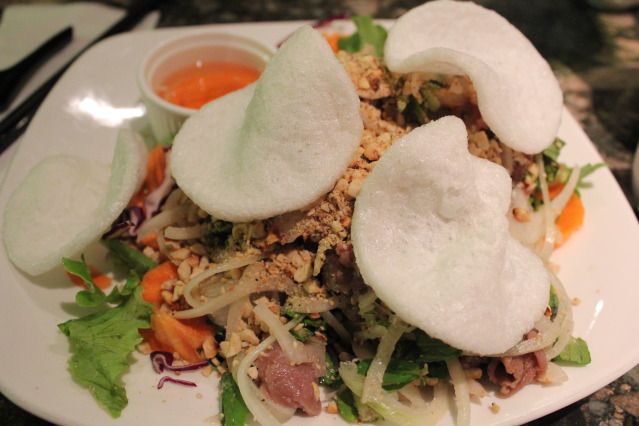 We first split a rare beef salad. A very large plate full of raw, thinly sliced beef flank, mixed with aromatic herbs and topped with fried prawn chips with a side of tangy fish sauce. If I were anyone else, I would say this dish isn't for the faint of heart, then again, if you are, you wouldn't have ordered it in the first place right? I say this dish is for the people who like beef and don't like to waste time with the concept of cooking, or those who like to roll the dice and give a big middle finger to gout. Either way, this rock star dish will bring your inner thirst for raw beef and all things holy you hold dear to refute all things evil and vegan.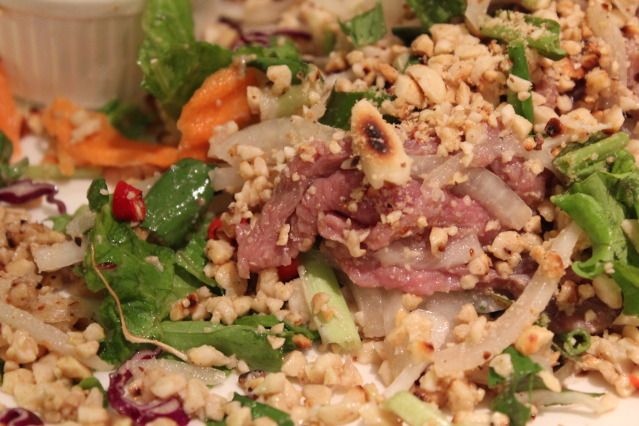 The beef is mixed with a medley of robust and fragrant herbs – cilantro, thai basil, thorny coriander and mint. With bean sprouts, scallions, Thai chilies and quick marinated onions, the dish was dressed with lots of lemon and lime juice and topped with a generous helping of crushed roasted peanuts mixed with toasted rice powder. It's needless to say that the freshness level of this salad is one that warrants being moved to Bel-Air.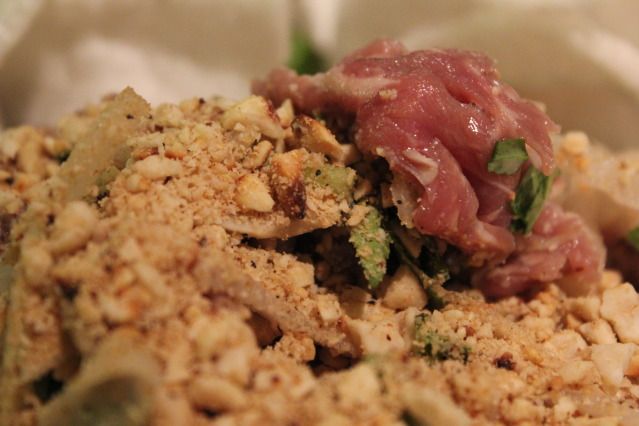 Although rare… the beef was extremely tender – due to some vegas style back-room beating but probably more because of the lemon-lime juice doing their molecular-tenderizing thang. We preferred to dip each bite into the fish sauce to assure maximum fish sauce to beef ratio distribution. You can alternatively pour the bowl and douse the entire dish with it; there are no rules, eat it how you feel comfortable… I took off my shoes and undid my belt. Also, try piling up everything per bite on top of the prawn chip and listen for the sizzle… You'll understand when you do it!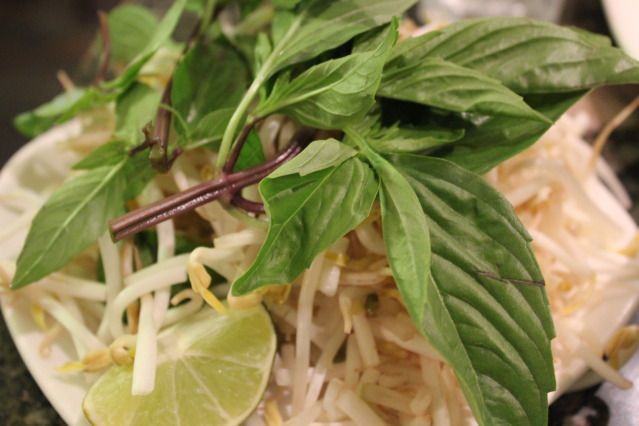 Salad was delicious and all, but we were here for the Pho. I've said before that the appeal of pho depends on each person's taste, and not everyone has good taste… Heyooo~ But seriously though, Tay Ho is not just any Vietnamese noodle spot, they specialize is Chicken Pho. A completely different animal (no pun intended… ok, maybe just a little bit of pun… like a punlette). But as always with any bowl of pho, the plate of accoutrements, bean sprouts, Thai basil, limes and chilies.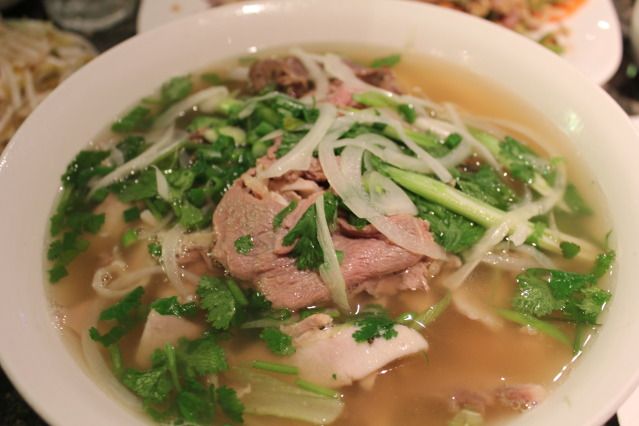 The soup base for the chicken pho is completely different from the others on the menu. Obviously a chicken based soup stock, it's spiked with ginger and lemongrass; very fragrant, very distinctive. Where the regular beef bone soup based for the other noodle dishes are deeper and more robust in flavour, the Pho Ga is sharper and ends on a floral note in the back of your throat, tickling the back of your sinuses. I'll be honest with you, I don't even like soup… but I drank this stuff up like I stumbled across of Antonio Banderas' aftershave after being lost in the desert on a summer day in Africa.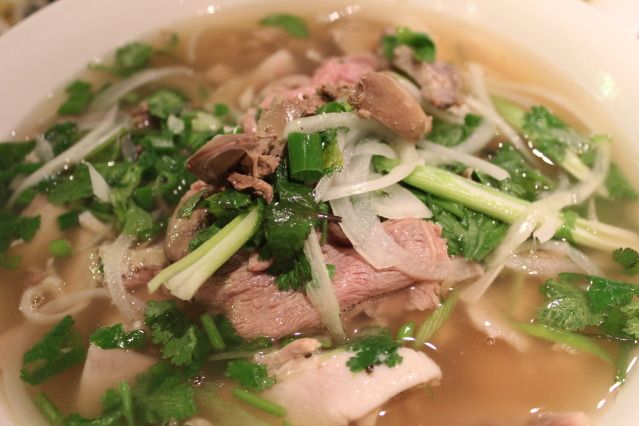 We both ordered the special chicken noodle. What makes it special? The fact that the cow rolled over the chicken that crossed the road that ended up in my bowl of noodle soup. Slices of raw beef flank topped the bowl that featured pieces of chicken both large and small. TXo make this order of Pho Ga double special, was the fact that I got the one chicken gizzard, liver and heart. I know what you're thinking, "how can one bowl of noodle soup contain so much awesome without exploding singing hot soup all over your tshirt". Subsequent soup spatter did however end up on my shirt – that's only because I'm clumsy. The added offal added a rich and deeper flavour to the soup – it's not for everyone, just the ridiculously good-looking.
Pho Tay Ho has been at this location for as long as I can remember, and as long as I can remember, the food has always tasted the same. Consistency doesn't seem to an issue for them as their formula for deliciousness cannot go wrong. Not only do they specialize in chicken pho, but subsequently all things chicken, various chicken dishes on the menu can be found. You can disagree, but like I said before, Pho is the ultimate blitz, there are so many variations that each place will surely be different from another and that's something I can guarantee. That's why you'd got to try them all before you find the one you like… like dating. 😉
Restaurant Pho Tay Ho
6414 Rue St-Denis
514-273-5627
CLOSED TUESDAYS