Happy new year! All the best to all my readers, haters and stalkers, lovers and other strangers. Now that the holiday season is winding down to an end and people are slowly rolling themselves to the gym, back to classes and cold office chairs that smell like the leftover coffee left in your mug from 2 weeks ago, it's about time we got back on track. What track you ask? The delicious restaurant track where I'm going to show you some amazing spots to eat this year. We're making big moves here at Shut Up and Eat and I"m excited to share all the up and coming news with you… when the time is right! I'll give you a clue, it involves some major awesome with some kick-assness thrown in for good luck. So if you're up to it, join me for the ride, cos it's going to be a good one. So that being said, I'm going to start the new year with two of my favourite things, noodles… noodles and hot chicks, and wouldn't you know it, I went to this noodle joint with one of the hottest!
We hit up Hakata Ramen, a Japanese ramen house in the heart of downtown. I know at the crest of commerce for the business people downtown, refuelling for the rest of their days is important. When you think of suits in board meetings at the height of multi-million dollar deals and negotiations, the first thing you think about are them slurping down big bowls of steamy soup noodles,right?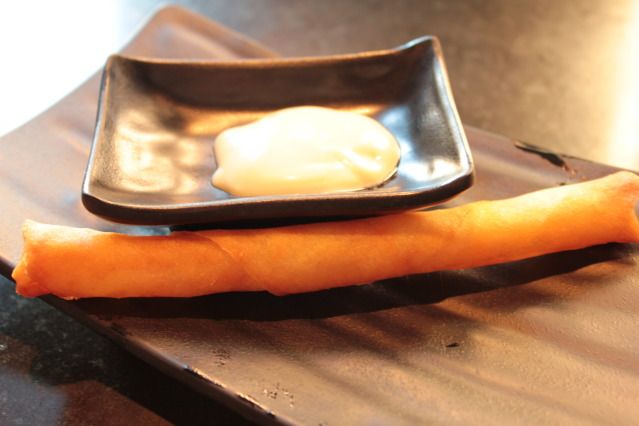 There were a few dishes that piqued my interest – one of which just so happened to be on the special lunch menu – double points! It comes with a salad and one of these things. A "special spring roll", which looked more like a lumpia shanghai. It was basically crab meat wrapped up in a spring roll wrapper served with a side of citrus mayo. Don't get me wrong, it's appreciated, especially in a lunch special, having something served to you within practically seconds after you order is a nice way to get the initial hunger bugs out of your system.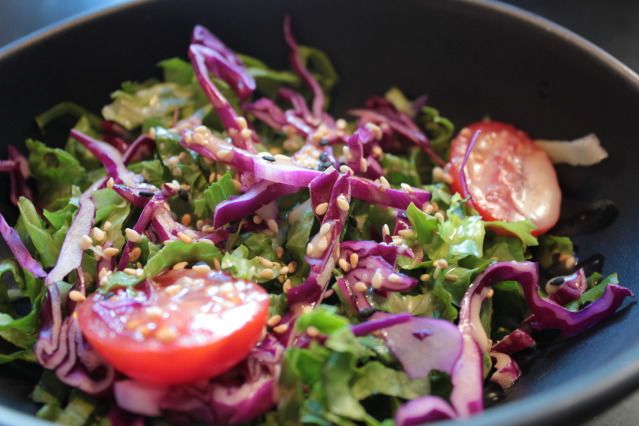 A testament to all lunch specials no matter what the cuisine or geographical location on earth, the good 'ol stand by: the salad. The classic filler and lunch special staple, this salad was a simple sliced romaine, red cabbage, cheery tomatoes topped with a sesame based dressing and sesame seeds. Can you taste it? Fresh greens drizzled with a nutty dressing kissing each nook and cranny of crisp lettuce leaves… can you taste it? Cos it's exactly what you would imagine it to be; salad… meh. Nothing extraordinary about it.
One thing managed to catch my eye on the chalkboard daily specials menu… but before reading on, please press play on the player below, I have to… I mean Dr. Dre and Snoop just has to set the mood. Let the music soak into you as you drool over the next picture.

I saw this on the menu and you know I just had to.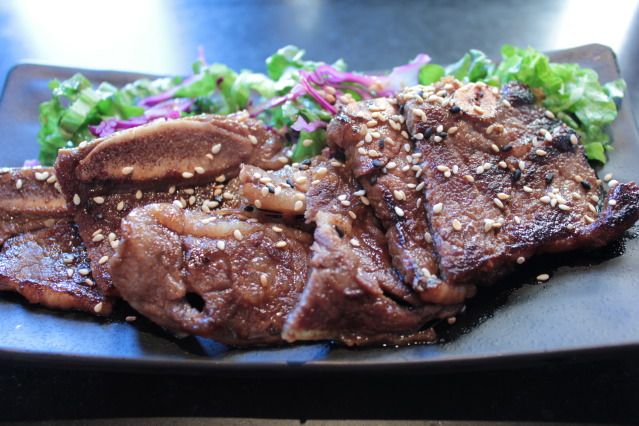 Grilled short ribs. Awww yeah, thick juicy slabs of grilled short ribs. Tender and substantial to the bite, each piece of these short ribs were beefy and bordered on paradise. So satisfying, it tastes like how you imagine it would feel like to backhand bitch-slap Justin Beiber.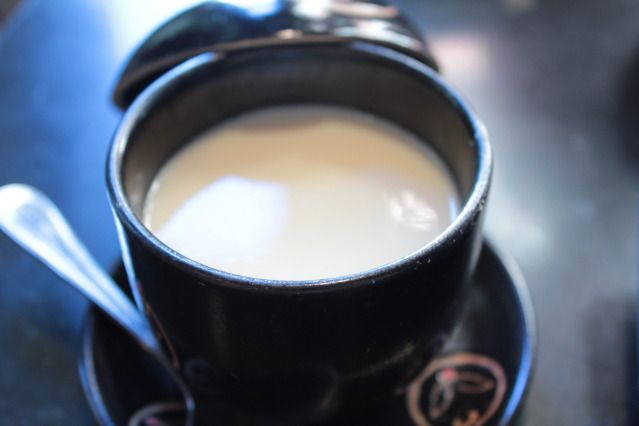 M had an order of Chawanmushi – a savoury steamed egg custard. Delicate and extremely light, the egg is mixed with a splash of dashi and usually steamed with some sort of vegetables and seafood, in this case there was a slice of shitake mushroom and some crab at the bottom. I wouldn't say it was a custard, but more like jello right before it sets. For something as light as it was, the flavour was nice.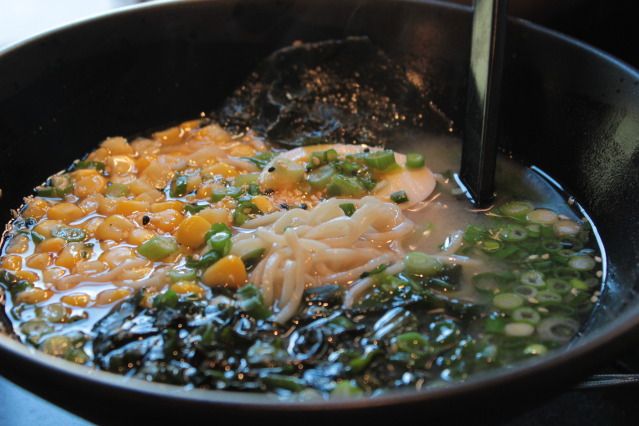 Her main dish was the "Hakata style crispy chicken" ramen. This bowl features the traditional miso based soup, a generous heaping of corn, scallions, nori and half a soft boiled egg. The noodles were chewy and had a bounce to each bite and this was highlighted by the fact that it was swimming and bathing in a pool of perfectly proportioned miso soup busting at the sumo-seams with umami.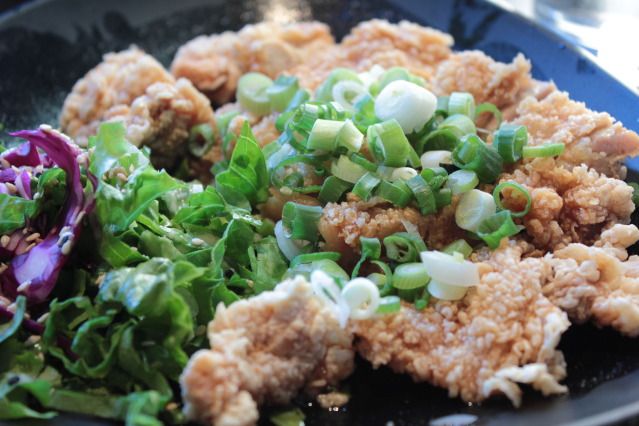 This is what makes the "Hakata style crispy chicken ramen" the "Hakata style crispy hicken ramen". Tenderized and pounded out pieces of chicken, battered and then tempura fried then topped with a sweet and sour soy sauce. The crispy coating crunched and gave way to steamy and moist chicken slices. I mean, who doesn't like fried chicken right? But to cluck it up a few notches, a mix a panko and batter was used to assure its full crunch quotient.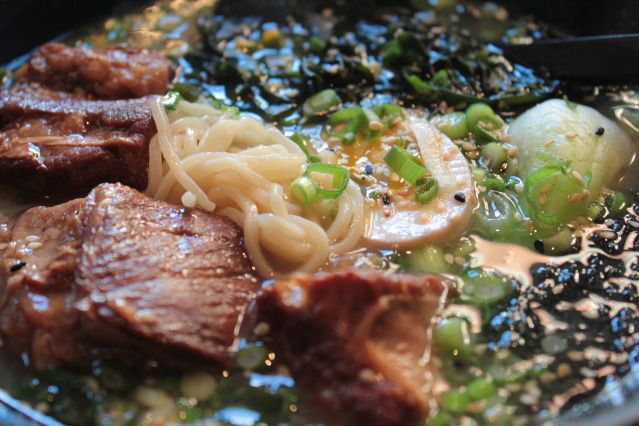 I had the "Tendersous rib ramen". If you stopped that previous audio track, I suggest you turn it back on, cos this noodle be a G, son. The beef is stewed down to a simmering mess, like when chicks see cute puppies, or when I see Anne Hathaway bikini pictures.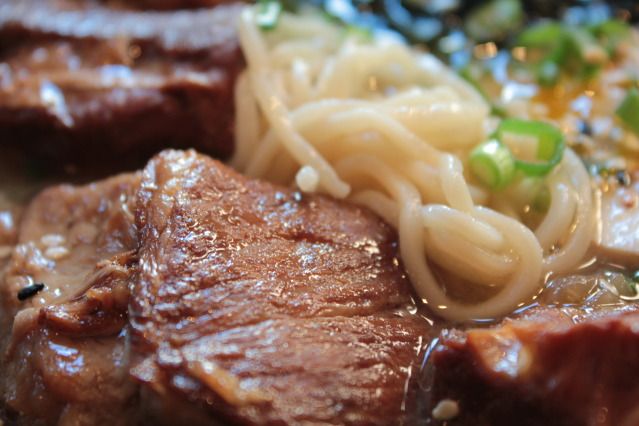 Tendons: fiberous connective tissue that attaches the muscle to the bone. Beef tendon: the same thing, but it holds a cow together. So you can imagine how tough and sinewy it can be unless it's properly cooked down. The obvious highlight of this ramen was the delicious Engrish name of this bowl, "Tenderous". Forgiveable mistake to describe the tendonous rib, the meat was equally tender and full of flavour. What added to the bowl was the fact that some of the stewing liquid was also added into the soup. It was so savoury that I would have asked for a bowl of rice and top the gravy over it.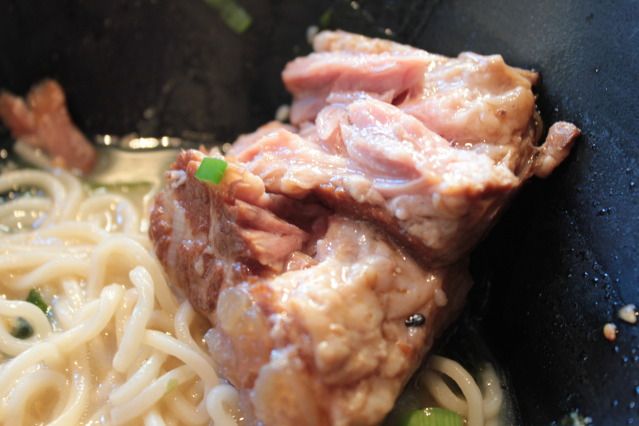 Straight up addictive, the tendonous ribs were like meth. I mean… if I knew what meth was like… ever since the court order that stipulated I have to stay away from crank or my parole is revoked. But y'know, whatevs.
I'm excited to say that I was able to add yet another place to my list of places that can serve a solid meal in the downtown core. Suits or not, there's no same in tucking a napkin under your shin and bib it up and slurp down awesome noodles. Hakata also offers a bunch of other pseudo-Japanese dishes like gyozas and fried rice and whatnots, but why go to a place that prides itself on ramen for anything else? It's like those "sushi lovers" who don't like fish that go to sushi joints for avocado and cucumber rolls.
Hakata Ramen
1216 Stanley #200
(514) 759-6688