Feeling like I've just swallowed a starch bomb that will just tick away at my waking consciousness for the rest of the afternoon before I succumb to an afternoon droolfest or fighting off the cobwebs struggling to stay awake after lunch is something I've come way too accustomed too. Praying for someone to roll me to my car or asking myself why I'm out of breath is a common occurrence for me after my midday feeding and is something I'm trying to learn to avoid. Being said, when was the last time you had lunch that was filling, satisfying, healthy, but also left you energized and feeling pretty as fuck?

I went to Miss Prêt à Manger with my lady for lunch; this cozy spot downtown right at the edge of the financial district. It wasn't my first time here, as I stopped by earlier in February for their awesome pulled lamb poutine during Poutine Week – but it was my first time actually eating here. We sat down and were greeting with a bread plate of various sliced baguettes with their homemade caramelized onion butter and were explained of the day's lunch specials.

We started with a trio of their daily salads: this their "Moulin Rouge" – red quinoa tossed with apples, walnut and mint. The apples and walnuts were a nice accompaniment to the quinoa and the floral mint complemented the woodiness of the walnuts.

The roasted beet salad was mixed with dill, feta and scallions. I know beets aren't for everyone; if you can describe the taste of beets, what would it be? My favourite description is "sweet dirt". RIGHT? Think about it! The bite of the onions added a great contrast in flavours, as did the sharp feta that brought out the inherent sweetness of the beets.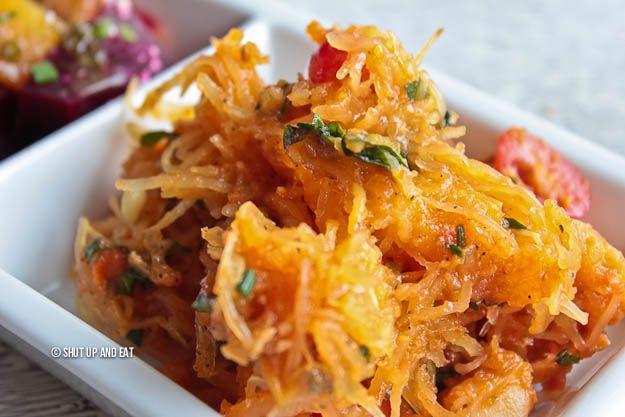 The third salad was a spaghetti squash salad with basil and tear-drop tomatoes. The sadness and dreariness of the tomatoes could not be overshadowed by the pure sunshine beaming from this option. A bit citrusy and bright as with the previous two, the salads were light and fresh, and beckoned my yearning to take off my shoes and rub my feet in dewy dawn-kissed grass… but alas, my acid-washed denim short-shorts are packed for Coachella.

My girl had the mushroom risotto. The white-man's congee was earthy and fragrant; great texture from perfectly cooked rice and tender oyster mushrooms. The remnant aroma of wine was present but the alcohol was cooked off. The starchy creaminess was tight and and didn't spread over the plate like boozed up slutty risottos I've seen in the past. Risotto for lunch usually signals lights out for the rest of the afternoon; the main reason for this is that you're served a butt-load of it – the portion size at Miss Prêt à Manger was perfect after having spit a salad trio.

I had the Asian Sensation salad… Before you read any further… listen, don't judge me, ok?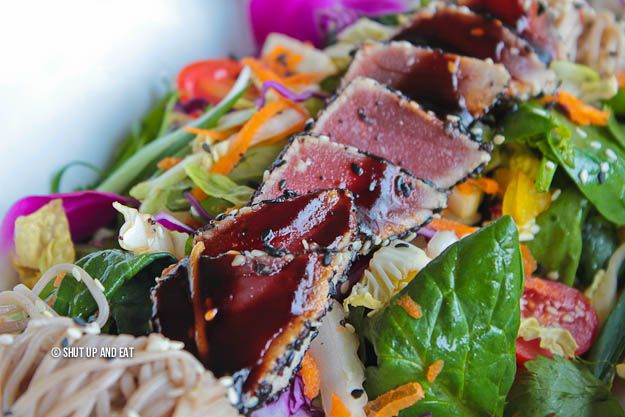 The Asian Sensasian – see what I did there? – is made up with a big mess of really fresh vegetables; lettuce, shaved Napa cabbage, scallions, carrots, celery, spinach, red cabbage, tomatoes, chopped parsley and everything good for you that you know you should be eating. The salad is topped with a bundle of sesame peppered cold soba noodles and seared sesame crusted tuna with citrusy-soy tataki sauce. Jokes aside, the thing was substantial, paired with the trio of salads to start with, my insides were burning from all the vitamins and rainbows and smiley emoticons.

I was full. Could it have been the slices of bacon or blue cheese baguette? Probably not. It's rare that I would write so encouragingly about a friggin salad, but I am – so please go out and purchase your lotto tickets accordingly. Yes, breakfast is most important meal of the day, but I strongly believe lunch comes in a close second. A meal that will provide you enough energy to sustain you through the afternoon before your evening dranks is equally as important, but not as important as keeping you awake and not knocking you out with a food coma once you get back to work. With a never ending rotating roster of inspired and healthy lunch specials, it's a great alternative for people who need a quick bite to go, or have the time to sit down for a proper lunch – all food groups represented.
Don't let the floral garnish fool you, the meals are as gangster as hell… but gangsters can be pretty girls as well.
Reservations for lunch suggested. Keep up to date on their Facebook page for their daily lunch specials.
Miss Prêt À Manger
1104 Rue De Bleury
(514) 861-6565
Website