Addiction is nothing to joke about or scoff at… unless it's an addiction so close to obsession, then the first step to face your emotional and physiological dependancy is to man-up, face it and admit to it; My Name is Jason and I am a Puff-o-holic. What is a "puff" you ask? No, it has nothing to do with any narcotic that's inhaled or smoked – well "inhaled" in a different sense of the word. Puffs are things next to Godliness; sweet, warm fried dough balls bathed in honey worthy of any ancient Olympian… and now citizens of the greater Montreal area.

Last week the great team at Mr. Puffs in Laval invited a handful of bloggers to taste some of their tasty greek specialty pastries. Mr. Puffs specializes in "loukoumades" – "honey tokens" – the same things presented and served to victorious Olympians in ancient Greece – and consequently, more recently, the Dragons of CBC's Dragon's den.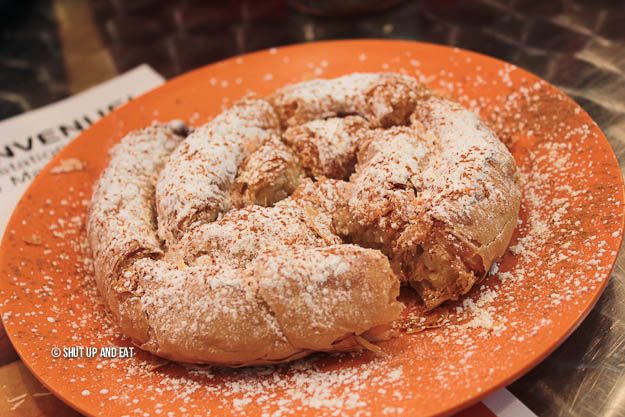 We were treated to a handful of Greek specialty pastries, including awesome galaktoboureko – custard rolled phyllo pastries – as well as spanakopita – cheese and spinach pies. Crispy and warm, these desserts were nice, but this wasn't what I was here for.

These bad boys are what beckoned. Explained to be secret family recipe, Mr Puff's dough puffs are egg­‐free, dairy-­free and contain no preservatives, additives and are vegan friendly. Hold up, I know what you're thinking, "Jason, you're slipping, diary free and vegan friendly? Are you joining the dark side?" No, hear me out, These puffs are everything that is good with the world; fried golden nuggets of puffy and chewy dough bathed in a honey syrup then topped with your choice of six different glazes – honey, sugar-rolled, creamy caramel, maple syrup, honey glazed or… Sweet baby Jesus… NUTELLA.

Our gracious hosts, Billy Siounis (owner) and his wife Marina welcomed us to their flagship store in Laval and opened their doors and kitchen to us. Explained to us that the Mr. Puff's journey started in the summer of 2004 when Billy introduced the idea of Puffs to the greater Montreal area to coincide with the summer Olympics in Athens. Making a splash in various Hellenic events and other festivals around the city to plant the initial puff seed in the minds of all food-loving Montrealers.

Here is a fellow blogger having her hand at making her own puffs! All puffs are first rolled in a honey sizzurp before they are drizzled with your choice of sauce. Fried in high quality canola oil, the dough that's dropped into the oil through a clicking hopper literally puffs up when it touches the oil. Rolled and tended to, these nuggets are then held under for a precise amount of time then taken out when they are at the height of their ultimate crunch quotient. The puffs inside are light and fluffy and once deflated under your bite, the mouthful resists just ever so much and leaves you chewing just long enough to pick up the next loukoumade.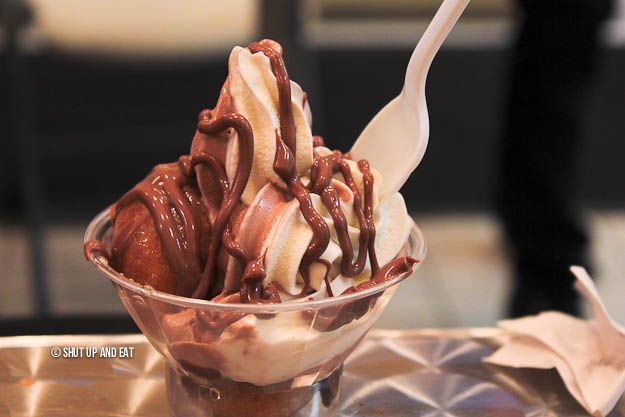 We were also introduced to the Mr. Puff's "Mount Olympus" – their new summer time frozen treat, which sees fresh puffs topped with soft-serve ice cream and then – again – drizzled with your choice of topping. This will be a guaranteed hit on their festival circuit when they roll out their 21-foot trailer and set up a fully functional mobile kiosk at the St. Jean Baptiste festivities, F1, Just for Laughs souk, Osheaga…

Touted to contain less calories than it's closest competitor (the Tim Bit), the Puffs also proudly boasts to be additive free, preservative free, dairy and egg free and the ultimate "healthier" alternative.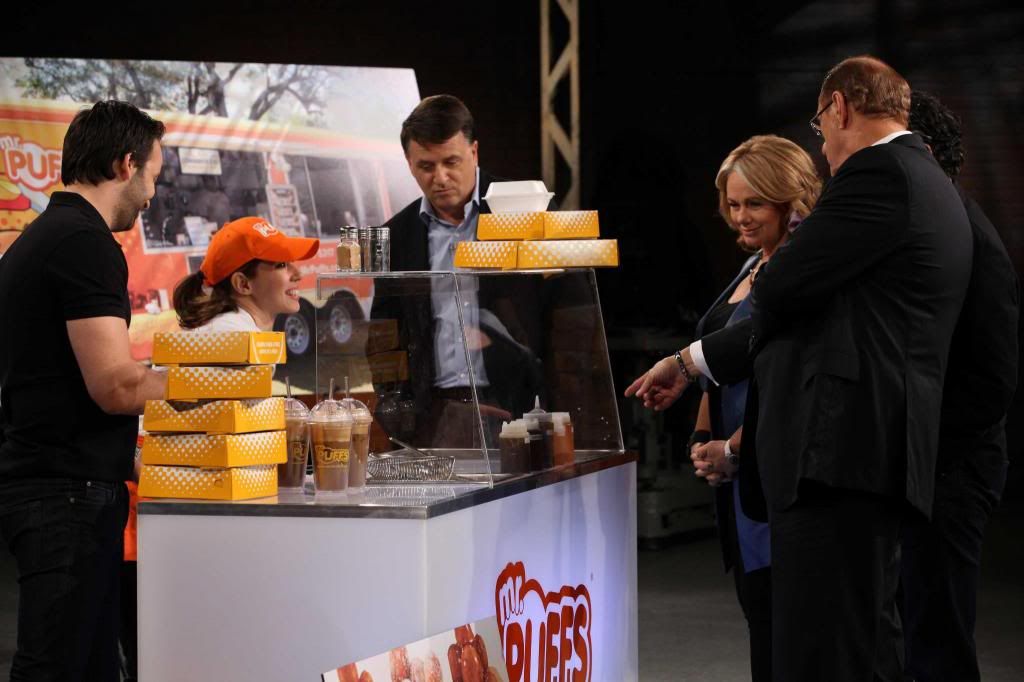 This simple and honest dough puff exemplifies the Mr. Puffs brand and philosophy. Humble and modest, Billy and his team is not only bringing Montreal this beloved Greek dessert and baked specialties, but more importantly sharing his family recipe and introducing this Greek tradition to mainstream Montreal. Coincidentally, a tradition in which recently saw Mr. Puffs facing off with a panel of Dragons on CBC's Dragon's Den. Mr. Puffs ultimately signed tentative deal with Jim Treliving (of the T&M group – Chairman and founder of Boston Pizza brand.)
A little bit off the beaten path, Mr Puffs is in the works for opening up three to four new stores soon and hopefully one near you… if not, you can always check them out at your favourite Montreal summer festival or look out for their imminent Puffmobile (their food truck coming soon!) I'm not a big coffee drinker, but I think I'm hooked on Mr.Puff's frappés – blended iced coffee… this explains me downing three of them while I was there, then pushing my car home down autoroute 13. A big thank you to Billy, Marina and team for a delicious evening of culture, desserts and caffeine. Your enthusiasm and graciousness is infectious and is reflected
in your products – your passion is unparalleled, ok I lied, nothing compares to my lust for your puffs.
Mr. Puffs
4879 Notre-Dame
Laval, QC H7W1V3
(450) 934-7007
Website
Facebook