There's this saying… "Sex is like cold pizza, even when it's bad, it's still pretty good." What kind of self-loving forever-alone son of a bitch came up with this garbage? I'm not going to compare cold pizza to getting laid, why? If you're satisfied lying down next to something cold, ridged, crusty and that was man-handled and felt up by some hairy dude with sauce on his shirt the night before… then you really need to get off the computer and meet new people.
From 99-cent spots on popular intersections to more traditional Italian joints, our city so has many great options and here are my top five picks to cop your favourite slice or pie.
Amelios sur Bernard


One of my favourite spots is Amelios on Bernard. Derivative of the original in the McGill ghetto, this spot is a real slice when you're looking for awesome pizza. He crust is something to be experienced; light and chewy, you can "knock" on the crust as you would on a freshly baked baguette, that eats like cake. An inherent sweetness to the bread is an ideal vessel to carry cheese and toppings into your face. The "Florentine" – spinach and cheese pizza with a signature artichoke sauce – cheese, creamy and delicious.
Amelios sur Bernard – (Original review)

1205 Bernard ave. W

---
BEVO Bar+Pizzeria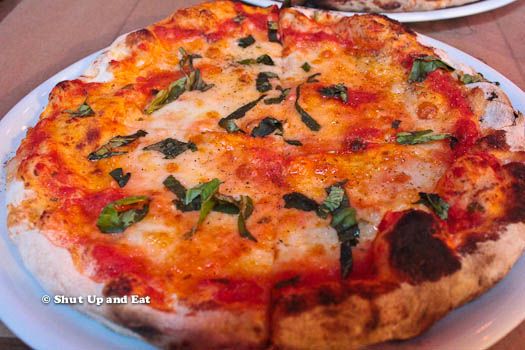 BEVO in the old port popped into the pizza scene last summer to the delight of neighbours and local food critics. Don't be fooled by the location; legit pizza exists next to souvenir tshirts and pewter statues of maple leaves and canned maple syrup. Their wood-burning oven at over 700 degrees churns out pizzas in 90 seconds flat; which yields soft and pillow crust with singed bubbly bits that adds character. The traditional margherita is a great way to go, don't forget to save room for their dessert nutella pizza!
BEVO Bar + Pizzeria (Original review)
410 Rue Saint Vincent

---
Pizzeria Napoletana


Featured on travel shows and the like, this famous player in the Montreal pizza game has been serving up pies and pouring wine for almost 60 years. Pizzeria Napoletana in Little Italy and has been pumping out 41 different kinds of pizza. A popular place to bring your own wine, get here hungry… but not on an empty stomach; with a no reservation policy, be prepared to wait; especially on a nice night when their tables line the sidewalk. Try the "Primavera", mushrooms, mozzarella, anchovies, olives, calms and artichokes.
Pizzeria Napoletana (Original review)
189 Rue Dante
(514) 276-8226
Cash only! – ATM available.
Bring your own wine

---
Pizzeria Magpie


Down the street in the Mile-end is Magpie, right off St. Laurent; a modest size pizza spot serving microbrews, oysters, and food-fired pizza. With all the classic characteristics of pizza kissed by fire, charred bits and a dusty smokey crust, their menu is concise with great weekly specials. Remember to ask for the chili oil! "Proscuitto"; fluffy dusty crust, topped with cherry tomatoes, bocconcini cheese, arugula and prosciutto. Classic combination, this pizza is a perfect mix of salty ham, creamy cheese and sweet sauce.
Pizzeria Magpie (Original review)

16 Rue Maguire

(514) 507-2900

---
Pendelis Pizza


One of the most oldestschool-oldschool places in the city – Pendelli's Pizza. With various locations, this would be the only "chain" pizza joint I would dare order from. Keep your chicken wings and fries and two for one specials, Pendelli's makes pizza, and that's the only thing you should order; and when you do, order the Pendelli's special. Known for their weirdo pepperoni sliced lengthwise, the special is an all dressed pizza with the addition of olives, onions, bacon and anchovies. Extra points for rocking the pizza dough ball on a take out pizza.
Pendelis Pizza
1541 Avenue Van Horne
(514) 271-5406
Honourable Mentions:
– Pizza Villa – 6672 Ave Papineau
– Il Piato Pieno – 177, St-Zotique E.
– Vinizza – 150 Jean Talon St E.
– Manzo – 1033 90e Av Lasalle
Where are your go to pizza places?