A couple of weeks ago, the great people at Lincoln Motors contacted me concerning their reimagine/reinventing campaign around the Lincoln Motor brand to share with Montreal the kind of stuff they've been up to. They got in contact to inform me that they were pairing up with three local acclaimed restaurants to host dinner events and that they were inviting guests to test drive the brand spankin' new 2013 Lincoln MKZ. Over 200 guests in three consecutive nights were treated to special tasting menus created by the chefs and teams at Helena, Apollo, Chez L'épicer and a wrap dinner event as a pop-up dinner at the Parisian Laundry with special guest Chef Stéphanie Audet. With a long sign up list to take a spin around the block, Lincoln Motors and Shut Up and Eat teamed up and I was given the opportunity to take one home for a couple of days and really give it a go. I know what you're thinking "How does this have anything to do with a restaurant review?"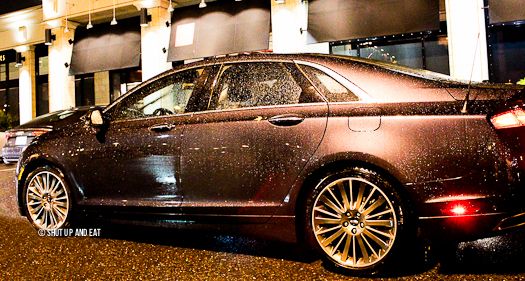 …because of where I went with it. It just so happenes that I am in the market for a new car; and this opportunity couldn't have come at a better time. As opposed to driving it for 10 mins at one of the dinner events, I knew I had to really open it up on the highway to get a better feel of the car. One of the few places I could imaging being on par with a beautiful Lincoln MKZ was 40 Westt in the Westisland. I took this chance to take my dad out for the evening to a spot we both have not been to before in a tricked out ride that could possible be a contender for my next panty magnet, I mean… sensible 4-door sedan with state of the art safety features and where the luxury and sexy is standard.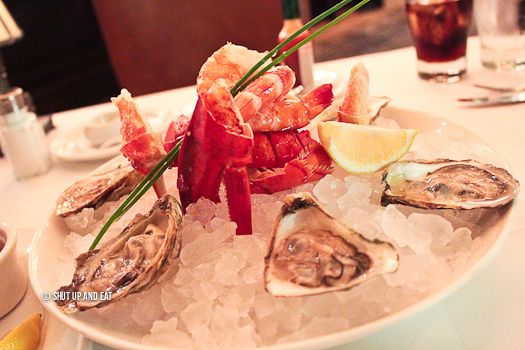 We started with the seafood sampler. This luxurious cold starter featured half a dozen oysters, two gigantic shrimps, half a pound of Alaskan King crab, two lobster claws, and a lobster tail. A classic dish, it was served with a simple mignonette, lemon wedges, their homemade spicy cocktail sauce, fresh horse radish and traditional accoutrements. I soon realized that this dish would set pace for possible dropping a first month's car payment on dinner. It was worth it; Incredibly fresh seafood will undoubtably whet anyone's appetite on a long over due date night with their dad. Yeah, that's right, I went on a date with my dad, and what?

We ordered off the sharing menu: the 32 oz tomahawk bone-in rib-eye which came with two appetizers and two sides. I started with the iceberg wedge salad. The crispest and coldest wedge of iceberg topped with a blue cheese dressing, crumbled proscuitto and a lonely sliced cherry tomato. I like blue cheese and I know not many people do as the taste can be overpowering and can completely envelop your palate rendering every future bite feety and pungent. The balance of dressing to the lettuce was perfect, with the sharp salty hit of proscuitto to cut through the creaminess.

My dad had the lobster bisque. An gigantic bowl which would boarder on being a meal in itself topped with a dollop of creme fraiche and studded with tender nuggets of lobster. Incredibly rich, the soup was profound in flavour and aroma; something only achieved I imagine, through tirelessly tending to over the course of a few hours at least.

The menu said 32oz tomahawk for two, but it could have easily fed three people… or a Liger. 40 Westt boasts serving the finest corn-fed Ontario beef. This bone-in rib-eye is dry-aged on location (the meat locker situated right at the door when you walk in next to their open fish market) and yields an unbelievable robust flavour; obviously much "beefier" than your ordinary steak. Asked for medium-rare, the meat was tender and juicy and sliced like butter; it had to have been butchered off a dinosaur because this bad boy was huge.

The roasted potatoes were reminiscent of the Greek style roasted potatoes – soft centre fragrant with oregano drizzled with olive oil and lemon juice.

The fresh cut fries were served with a side of garlic aioli. The fries weren't mind blasting, their French fry game isn't particularly strong.

We also had an order of the grilled portobello mushrooms. Same preparation as with the potatoes the sharp acidity bought out the earthiness of the mushrooms that complimented the steak.

For dessert my dad had a slice of 40 Westt's homemade raspberry cheese cake. This guy is one of those rare Asians that can actuate tolerate lactose… I guess when you run a company full of employees and a large family with kids and screaming and yelling grandchildren, you can pretty much tolerate anything. The cheese cake was light and not dense and the raspberry coulis, warm. The addition of fresh ripe berries was mindful and appreciated.

I had the chocolate soufflé. With an open kitchen, you can see all the action that's happening in the kitchen when the "behind the scenes" is put on a stage for everyone to see. We were fortunate enough to watch the lone pastry chef behind the counter, work her way through whipping the egg whites to making the ganache to finally baking the soufflé. It was sinfully molten in the centre and decadent. Chocolatey and perfectly semi-sweet, the soufflé was served with vanilla ice cream.
Our first experience at 40 Westt was definitely a memorable one. Was this fine dining steakhouse redefining the wheel and knocking our socks off with gastronomic revelations that sit on the cusp of culinary revolution? No, because they are a steakhouse, a steakhouse that stands behind the quality of food and attentive service. We dined in the main dining room on a slower weekday night so the ambiance's potential bustling and liveliness was a bit subdued in the cavernous space, but it was a great opportunity for me to come clean without the shame of witnesses about that time in seventh grade when I got bust for smoking in the girls locker room. I'd like to thank the Lincoln Motor Company for dinner and giving me the chance to reconnect and dude it up with my dad over meat and fire and hot hostesses.
40 Westt
2305 Transcanadienne
(514) 428-9378