I like how when people say that they can eat spicy and how everyone's spice tolerance lever varies to the pipsqueak tongue tickle that people overreact to and are clambering for a glass of milk, to the fire breathers that use Sriracha as eyedrops while doing splits between two Volvo semi-trucks after snorting a line of wasabi. I like to believe that I can handle my spice; I mean I'll bitch and complain and make a scene about it, but I can take the level of heat that's just short of sweating oil and seeing sounds.
I hit up this Indian spot in NDG that's been a fixture in the niehgbourhood for many years. We visited a little bit later in the evening when the rush had already passed and we were one of three tables left in the restaurant. The waiters were courteous, mindful and answered all questions I had about the menu as well as offering some recommendations.

We started with the appetizer plate for two. This party platter saw two onion bhaji, vegetable pakoras, samosas, shami Kebab and salad that was served with a tamarind sauce, hot chili sauce and a creamy coriander sauce. The samosas were packed with a pillowy filling of potato and chickpeas. The baji were nice; crispy fritters of crunchy fried onions. The shame kebabs were a bit dry. The salad was a nice break from the monotonous textures and with a sharp hit of vinaigrette to cut through the batter and oil. Very generous assorted appetizer plate for two.

Probably the most typical dish used to introduce novices to the cuisine, the butter chicken sees large pieces of chicken marinated in spices and yogurt, skewered and cooked in a large clay tandoor oven – tandoori chicken – then mixed with a rich sauce of butter, tomato, cream. The chicken was tender and juicy and spicy, not in the tongue singing sense of the word, but aromatic in spices and came through through the thick creamy sauce. Maison India's version was a bit different than ones I've had before; their cream sauce is coconut based, which added a completely different level of sweetness to the dish.

That's right… we ordered the General Tao of Indian cuisine… Butter chicken. The dish by which non-Indians define the infinite wonders of Indian cuisine. I had an epiphany; could this be what it feels like to be the butt of jokes when jerks like me make fun of non-Chinese who order nothing but General tao chicken and sesame beef in Chinese restaurants? Had karma placed me in this situation to make me understand that words hurt when I'm scoffing at people ordering the same dishes over and over again? Probably not, you can't hear the words that are being said in my head when I'm sitting at the next table secretly judging you. 😉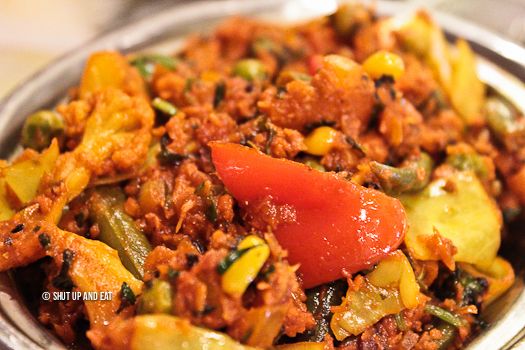 We also ordered the vegetable zhalferizi – a mix of sautéed onions, tomatoes, fresh chili peppers, bell peppers in a fragrant blend of herbs. What came off predominately was coriander, cinnamon and clove which coincidentally will be the name of my next boy band. The heat in this dish was at a medium – it'll give you the sniffles – it was sweet and sour from the tamarind with a subtle perfume on the palate.

The nan was thin and a lot lighter, rather than the thicker, chewier ones I've had before. It was great either way to have something to sop up the butter chicken sauce and this way was a lot more polite, as asking for a straw and glass is probably frowned upon in public.

Aromatic was a theme throughout all the dishes, typical of traditional Indian cuisine. We gave our palates a rest this meal and decided not to test our sweat glands as to how much cooling power our bodies can muster to go easy on the spiciness of our dishes. Indian restaurants are scattered around the city and the best part about this is that there is a probably a spot close by when the mood for Indian food should strike. Serving a lunch time buffet this family run restaurant shows you what it's like to welcome you into their home.
Maison India
5868 Rue Sherbrooke W
(514) 485-2122
Website