Picture it… you're sitting at your favourite Chinese restaurant and your order arrives at your table. An order that's wafting with steam that tantalizes senses of tables that line the walkway from the moment the waiter kicks open the dual swinging doors from the kitchen where if you looked at the right moments, you can catch a quick glimpse of fiery woks masterfully manipulated by deft hands, and random men in white short sleeve shirts and paper hats counting lotto tickets and calculating sports odds. Placed in front of you are the collection of the most colourful menu items listed; various deep fried meats in fluorescent coloured Kool-aid reduction sauces; General Tao chicken, lemon chicken, sweet and sour pork and honey spareribs. You look over to the next table and see some guy ordering without even looking at the menu and in 15 mins is presented with an array of dishes that you don't recall seeing on the menu. Could it be? The mysterious "Chinese" menu? The menu by which all Chinese people order from that most non-asians will never see? YES…! And I was that dude.
Late one evening (11:00pm) I hit up one of my most favourite Chinese spots in all the city, Restaurant Beijing. Located in Chinatown, this spot has been a personal favourite of mine for their Cantonese dishes, quick service and for the fact that they're opened late. I went in the with a mission; carb the fuck up, not to OD on MSG, and try not to regret having eaten so late when I wake up the next morning.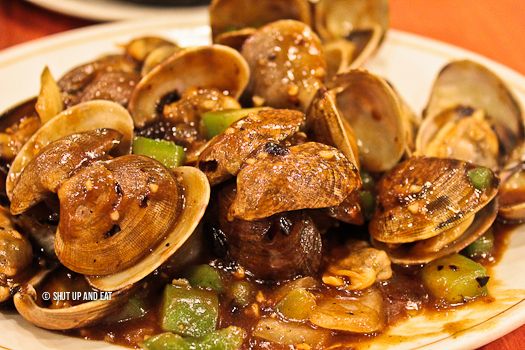 One of my favourite dishes, fresh clams in spicy black bean sauce. Before you get all, "BEANS?!?" on me, the black beans are fermented with garlic; wait, before you get all, "BEANS FERMENTED WITH GARLIC?!" it adds the most profound depth in flavour – packed with umami – the main seasoning ingredient is sautéd with onions and green peppers and then made into a sauce that coats and glistens over the littleneck clams. Put down the soy sauce and make sure you over extra rice to eat with the sauce.

One of my most favourite dishes – not listed on the regular menu and probably not seen by most. This "chicken pot" is made with fried off-cuts of bone-in chicken, gizzards, onions, scallions and chive sautéed with shaoxing cooking wine, soy sauce, oyster sauce and sugar. Out of curiosity I asked the waiter what this dish is called in English. He said that they never gave it an English name! In Cantonese it's called "啫啫雞煲" (jeh jeh gai bo) – named phonetically after the actual SOUND the dish makes, "雞煲" meaning "chicken pot" and "啫啫" taken from the sound of the sizzling "jeh jeh" contents of the pot. I guess in retrospect this dish could be named "Sizzling chicken pot", but since it was never really meant to appeal to non-Chinese, I guess the attempt was never made.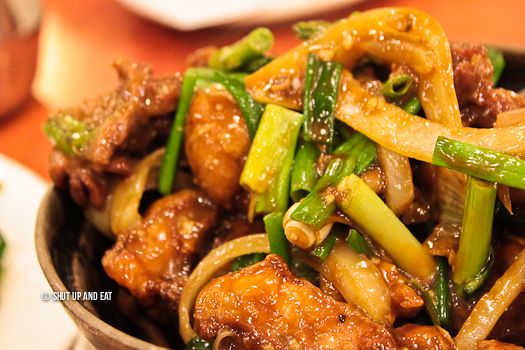 Look at it… majestic, noble and proud. The sautéed gizzards add a great contrast in texture and is a welcomed inclusion as it's something rarely seen in any mainstream dishes. It's scored and fried first before added with the rest of the pot; leaving it tender and a bit toothsome to the bite. The bone-in pieces of chicken are parts of the wing, thigh, and backbone. Traditionally stewed in a clay pot, this metal pot still did the trick. So does it taste better knowing that no one else can order it and it's so secretive? No, but it's fucking delicious. It's one of those strange dishes that no one knows exists and is so far off the menu that the menu looks like a dot to it.

Traditionally, every Chinese meal includes a vegetable dish, mainly greens of some kind. We ordered snow pea greens with garlic. Plain and simple, sautéed in a wok with a bit of seasoning and garlic, the vegetables are juuuuust cooked so that they still have a crunch to them. A bit peppery, it's a great palate cleanser if you're eating something thick and ladened in sauce. I know a lot of people focus the vegetable intake of your Chinese meal to the shreds of shiitake mushrooms, carrots, bean sprouts and other filler of mu shu dishes and Cantonese chow mein, but next time you're at your favourite Chinese restaurant, ask the waiter what Chinese vegetables they have. Their answer will change daily as what's available and what the restaurant bought that day. Fresh greens and fresh variety of greens is paramount and is one of the most important elements to any Chinese meal. Doesn't hurt to ask, who knows, maybe you'll discover Shanghai bak choy, choy sum, tong choy for the first time!
There is so much more to Chinese food than what's listed in your neighbourhood's Top Menu Publisac circular. Not that there's anything wrong with the General Taos and sweet and sour somethings (I'll admit that those dishes can be some of my weaknesses at times.) But next time, take an extra two minutes and ask the waiter for something more typically Chinese and or take the time to look through the menu and order something that you may not have ordered before or scares you, chances are it'll be delicious.
Restaurant Beijing
92 Rue De La Gauchetiere
(514) 861-2003