You know what I really love? When I ask people for recommendations for a specific cuisine or dish and my earholes are filed with answers like, "My mom makes THE BEST enchiladas," or "Oh! There's a spot in Ville St. Laurent that made THE BEST tacos… but now it's a Jean Cotu." So unless you want me to ring your mom's door on an off night where my visit isn't scheduled, don't tell me that she makes the best burritos because I'm going to go looking for some. Recently I asked around looking for tacos. Honest, simple and true to the bone kind of tacos. Questioned with a warning of an imminent slap to the face if answered with a location that isn't accessible, I asked my people for the good tacos.
My Mexican connections pointed me in the direction of Le Petit Coin Du Mexique for authentic Mexican tacos that are found outside of "mi casa."
My girl started with the fish ceviche. A tostada of pulled white fish mixed with tomatoes, onions, cilantro, lime, topped with slices of avocado sitting on shredded lettuce on a fried corn tortilla. Really fresh and light, it didn't taste fishy as the sharp hits of lime quelled any salinic brininess of the fish itself. We broke the tortilla into chips and used that as a vessel for ceviche face stuffication.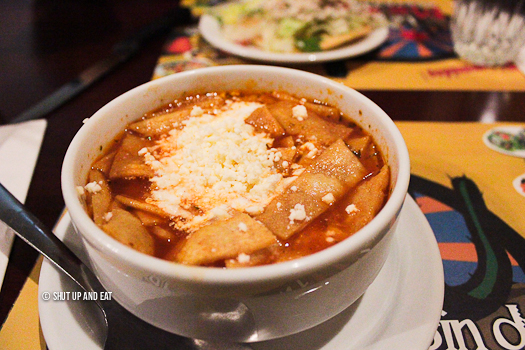 I started with the tortillas soup… which is hilarious for those who know me because I hate soup. So why did I have the soup? That's a great question. I don't know. I was compelled to order the soup – perhaps it was the testicular synching polar vortex that was creeping in up my pant leg, but my body craved hot liquids. Topped with tortilla chips and queso fresco, this tomato based soup was zesty and bright. Again, tart lime juice and smokey cumin and spicy peppers were the highlights in each spoonful.
We split an order of the cochanita pibil – which happened to subscribe to the Mondrain and minimalist school of food plating.
The lonely warm folded tortilla enveloped nothing more than the braised pork. We were given a tray of fresh onions, cilantro and two types of salsa to dress our own tacos. The slow roasted pulled pork was fragrant in oregano and achiote and was juicy and flavourful – not that it didn't benefit from some freshly cut accoutrements.
We also ordered the tacos al pastor cooked on a vertical spit or "trompo." Marinated in chilies, the pork had an inherent sweetness to it from the use of pineapple in the marinate (as well as garnish.)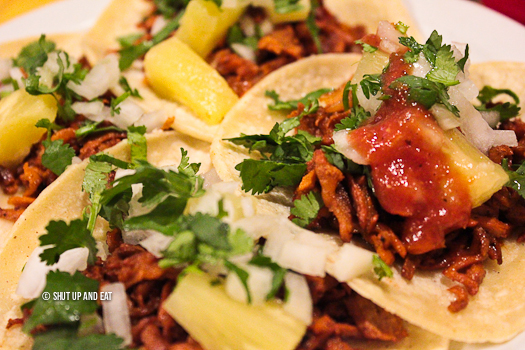 The thinly sliced pork had a good mix of tender pieces as well as crusty nuggets of end pieces that gave each bite great texture. The smokey adobo marinade was brought out by the spicy salsa I used and balanced out by the sweet pineapple and sharp squeeze of lime.
Although I'm not Mexican or have any sentimental or emotional attachment to the food, I can understand why this type of food is probably made and tastes best at "home." The simplicity of the food and the humbleness that is actually palatable is something that can only come out when prepared by someone who's sharing something with you on a personal level. At Le Petit Coin du Mexique, I felt like I was invited into your abuela's kitchen being fed food that soothed the soul.
Le Petit Coin du Mexique
2474 Rue Jean-Talon E
(514) 374-7448