Asian recipes can be quite intimidating; which could include ingredients that you may or may not be accustomed to, like medicinal herbs grown by blind Buddhist monks on the foothills of the Himalayas, baby tiger shark pancreas, unicorn tears and good 'ol thinleaf milkwort root. In reality, most Asian pantries (more particularaly Chinese pantries) consist of a handful of staple ingredients that when used in different combinations with each other, make up the backbone of most of your favourite Chinese recipes. To help you narrow down the items that are versatile that are guaranteed to be used more than once, here's my list of essential Asian pantry items for common Chinese recipes
Soy sauce
The life blood of Chinese cuisine; soy sauce is added to sauces, stir-fries, marinades and dipping sauces for that unique flavor and aroma associated to most Asian cuisines. Soy sauce can be used in replace of salt, but to a point; it's a completely different kind of "saltiness" than salt.
Dark Soy sauce
Used mostly for colouring, dark soy sauce isn't as salty as regular soy sauce and often gives most sauces and dishes its deep rich colouring; also called mushroom soy sauce.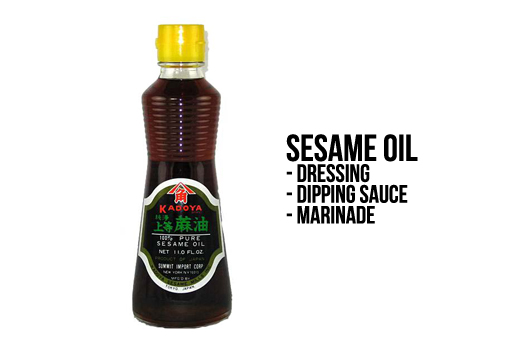 Sesame oil
With its inherent smokey flavor, sesame oil should be used sparingly to added the "je ne sais quoi" factor to your dish. Add sesame oil to your salad dressings or dipping sauces.
Hoisin sauce
This thick soy-based sauce is great in stir fries and is often used in marinades and as a glaze for meats.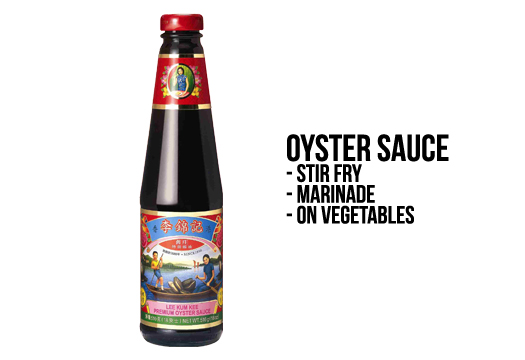 Oyster sauce
This sauce is made with actual oyster extract that when added to marinades and stir fries, imparts a certain umami to any dish it's incorporated in. Vegetarian options are available and are made with mushrooms.
Chili sauce
Most Chinese kitchens use Koon Yick brand chili sauce (the kind you find at most Cantonese restaurants or at dim sum.) The heat is not intense but it does tickle the tongue. Alternatively, recent pop culture has made the Huy Fong Foods brand Sriracha sauce a cult following. Used as a condiment, dipping sauce, in marinades, contact lens solution, mouth wash, there isn't anything sriracha can't be used for. Stock your favourite chili sauce.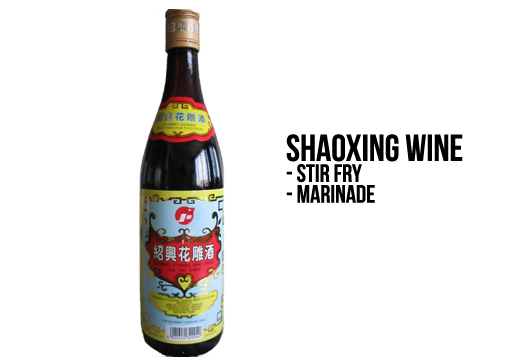 Cooking wine (Shaoxing wine)
Cooking wine is used in everything from marinades for meat, stir-fries and even soups, this salted cooking wine heightens all dishes with subtle aromatics.
Black Vinegar (Chinkiang Vinegar)
Use for dipping dumplings or added to marinades, this Chinese black vinegar is more floral and aromatic than plain white vinegar and is comparable to a young balsamic vinegar.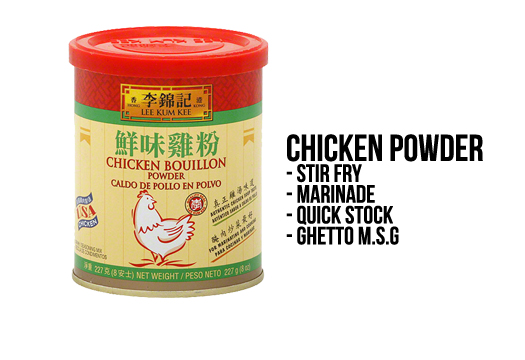 Chicken powder
Used as a quick stock (sprinkled over food with a splash of water) it adds another level of flavouring to any dish; vegetables, stir fries or even meat – an alternative to using straight MSG.
Cornstarch
Used as a thickener for sauces and soups. A Chinese kitchen secret for the perfect thickening slurry is equal parts water to equal parts cornstartch. It can also be used in meat marinades to tenderize as well as seal in marinating flavours.
Shiitake mushroom
Often sold dried or dehydrated, these mushrooms keep well and when reconstituted lend any dish deep and robust woodsy aroma. Best used sliced in stir fries, minced in dumpling filling or steamed with vegetables.
Scallions (spring onion, green onion)
Used as garnish or recipe ingredient, the spring onion is mild in flavor, but imparts a distinct freshness to all dishes. Used in soups or stir fries, dumpling fillings as or sliced thinly as a finishing topping.
Fresh ginger
A coin sized slice sizzling in oil before you add the rest of your recipe's ingredients adds a zesty perfume to your dish. Minced in marinades, or grated fresh over vegetables, fresh ginger is versatile in every way in a Chinese kitchen.
Coriander
Used as an aromatic in different dishes, it's floral aroma is used to highlight and compliments other ingredients. It's used mainly in seafood dishes.
Rice
A classic accompaniment to all Asian cuisines, short grain, long grain, sticky, jasmine basmati, keep your favourite on hand.
Noodles
With so many different kinds of noodles, (rice noodles, wheat, soba, ramen, somen, udon…) like rice, keep your favourites on hand, fresh or dried. I suggest Wing's "Yet-ca-mein", a dry wheat noodle that is versatile and works well for most noodle dishes – lo mien, stir fry or soup. Bonus points for being made right here in Montreal's Chinatown.
These are the bare essential pantry items that are fairly versatile in most Chinese dishes. Have I missed any? Let me know! Here's my Asian Grocery Store Round Up to help you find the nearest Asian grocery store near you.