I've been frequenting this spot for a while now that I've been keeping to myself because it's so strange. Not one of those weird restaurant travel shows kind of strange – but "unique." This Chinese restaurant is so low key, that you would only know about it if you were actually in Japanese restaurant and needed to go to the washroom – I know it sounds weird, let me explain.
The place is Kanda, but it's not what you think. What you know of the Kanda chain is that it's an all you can eat Japanese restaurant; yes, you're right, but not the location on Decarie and Jean Talon it's a two-storey restaurant deception – Japanese/sushi upstairs, then full on Chinese restaurant downstairs. You walk in, smile at the pretty hostess at the hostess stand, walk right past her towards the sushi bar and then walk down the stairs to the basement. If you continue down the hall, you'll end up in the washrooms, turn right and you'll be greeted by another hostess in a completely different restaurant.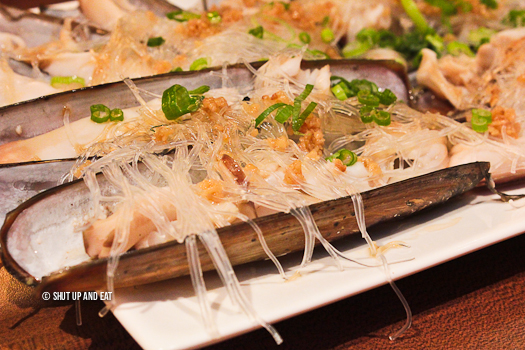 Every time we go, we often start with seafood – there's really no reason not to (unless you don't eat seafood, or have an allergy, or you don't like seafood…so it's understandable,) anyways, the server will most likely tell you what fresh seafood they have in for the day. We started with the steamed razor clams served with cellophane noodles topped with fried garlic and scallions. The clams were steamed perfectly, they were nice and tender, naturally sweet and was complimented with a drizzle of seasoned soy sauce.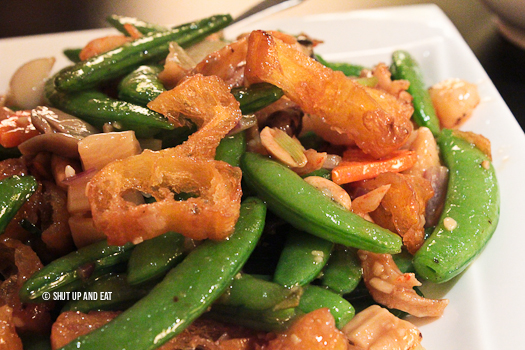 Called the "prince stir fry" this dish consists of snap peas, shiitake mushrooms, pickled mustard greens, dried shrimp, peanuts and Chinese Youtiao (fried cruller.) A bit savoury and a bit sweet, this dish is a clusterfuck of flavours and textures that all worked curiously well with each other.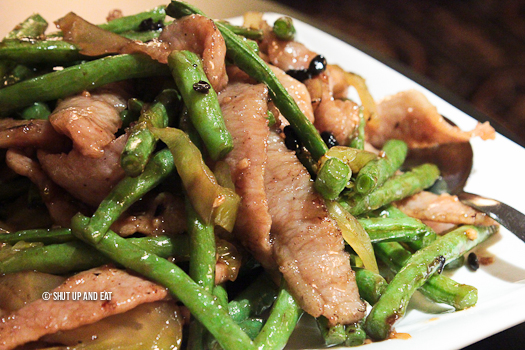 Pork jowl stir fry with Chinese long bean and sweet pickled radish. Long tender pieces of pork that was juicy and relatively lean (it had a slim sliver of fatty fringe) tossed in a mix of garlic and fermented black beans and onions. If you are lucky enough to get a little bit of everything in each bite, the sweet and sour pickle subtly pokes at the salivary glands in the jowls of your own and pierce through each bite of porky goodness.
If you've never had Chinese beef stew before, I highly recommend it – it's one of my most favourite dishes. Large pieces of brisket, dry-seared and braised in a mix of light and dark soy, oyster sauce, shoaxing wine, with a bouquet of aromatics which often includes, anise, ginger, scallions and rock sugar, it's stewed for hours in a clay pot with daikon and bean curd. Hearty and robust in flavour, I can usually eat it alone on rice for days.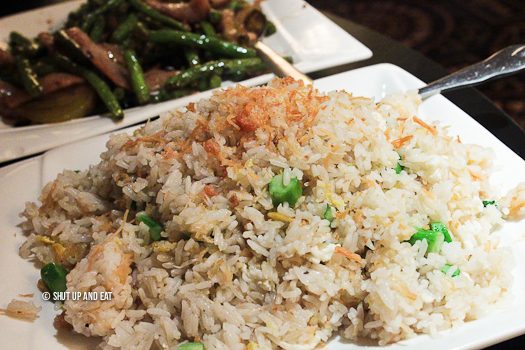 My favourite fried rice – dried scallop and egg white fried rice (my own recipe featured here in the recipe section). Probably one of the two fried rice dishes that I would order only when I'm eating out. The rice is incredibly fragrant from the fried dried scallops; al dente and toothsome, the rice was in fact day-old rice – ideal for fried rice dishes.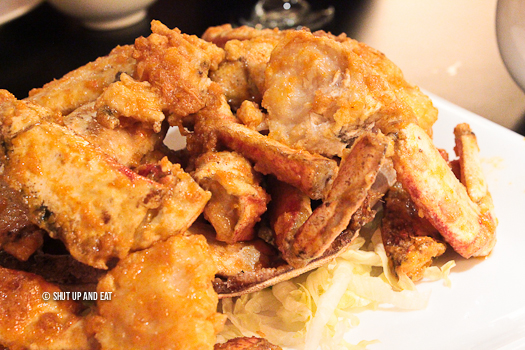 The server informed us that they had fresh dungeness crab that day. We were down and we ordered one cooked à la "golden sand". Kanda offers a bunch of ways and styles they can prepare fresh seafood and this preparation is one that not many other restaurants do. This dish is prepared by encrusting the crab with salted duck egg yolk and frying it. "Golden sand" refers to the intense colour of the salted duck egg yolk that turns opaque and is yellow (golden) in colour when cooked. Powdery and dusty on the tongue, the egg yolk is subtly salty and doesn't take away from the naturally delicate flavour of the crab. This is certainly a dish that needs to be eaten slowly and savoured – make sure to scrape off all the coating of the shell.
We ordered a lobster in the same preparation. Like the crab, the flavour of the dish is equally as intense as it's colour and the pronounced salted egg yolk did not hinder the inherent sweetness of the tender lobster.

Like a Chinese restaurant speakeasy or some sort of deceptive restaurant mullet, Kanda on Decarie is not your average, run of the mill all you can eat sushi restaurant, granted their signage does say, "Cantonais, Szechuan, and Thai". It's ambiguous and can mean anything from the kind of food they serve, the kind of people who go eat there, or are just throwing up random Asiany words to evoke the idea of a Asian restaurant. I'll admit, the concept is pretty far out there, but the food is fucking delicious – I can't say much for the sushi, because I've never been to "Kanda Sushi" for the actual sushi.
So go; go in and ignore the hostess, walk straight, down the stairs and hang a right… trust me.
Kanda Sushi.
7373 Decarie
(514) 735-7888
Bring your own wine