How was brunch created? How is it an actual thing that we've come to embrace? I have a strong theory. Brunch was created by a mysterious breed of people known as the "jerks-who-wake-up-early-on-weekendians" who once made an arrangement to go have breakfast with their friends. But their friends were overcome by a spell while they slept cast by an evil force known as "weekend modetiosis". They waited and waited and waited until their friends awoke from their slumber at an hour that was too late for breakfast, but too early for lunch. And thus, the meal named "BRUNCH" was born, abiding by no rules with the ability to rationalize eating breakfast foods late into the morning, and justifying eating lunch foods before noon.
I was on CJAD 800 last week talking about brunches and soda (audio link here) and this was one of the places that due to time, we didn't have time to talk about.

I recently hit up this quaint little spot in Ahuntsic, La Bête à Pain – second establishment of Marc-André Royal of Le St-Urbain – the neighbourhood restaurant's neighbourhood sister boulangerie selling baked goods, artisanal breads, ready made meals and homemade charcuterie. What's unique about La Bête à Pain is their brunch service; a six-course brunch menu for $22. Somewhere between a cafe/restaurant, you order and pay at the counter, grab your utensils at the self-serve water station and find a seat and servers will bring you your food.
Our brunch started off with the buckwheat crepes served with strawberries, basil, honey and homemade ricotta. The crepes were light and didn't prove to be filling (I should hope not, there are five more dishes to come). The slight tartness of the Quebec strawberries was tamed by the sweetness of honey and creaminess of the ricotta. This dish was a great way to awaken my senses on a Sunday morning. By "awaken", I don't mean, blatantly rocking my senses awake with a caffeinated coffee bomb like any other day; this meal caressed my senses, nibbling on its ear and explained in a foreign language how beautiful it was.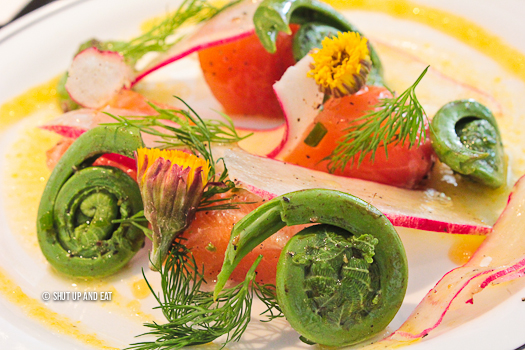 Smoked salmon, sautéed fiddle heads, radish and citrus. The firm cubes of salmon were sweet and was great with the earthy fiddle heads. The sharp citrus sting cut through the salmon and was balanced by the acidic radish shaving. I'm not a big fan of fiddle heads – they creep me out.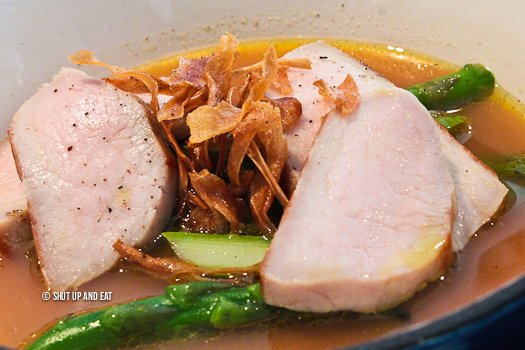 The main course was a smoked pork loin served in an aromatic asparagus broth topped with fried radish chips. The pork was tender, juicy and perfectly pink in the centre. Paired with vibrant and inherently sweet asparagus and swimming in a pool of aromatic bouillon, this dish wasn't overly heavy for a morning meal.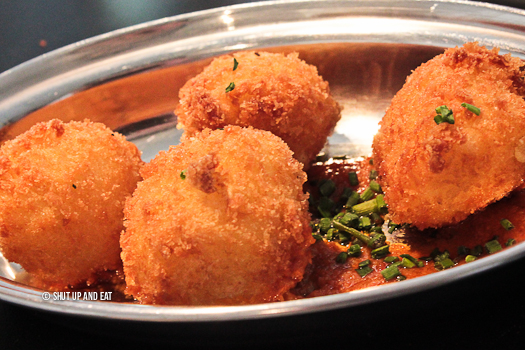 The pork was served with polenta croquettes in a romesco sauce. The fritters had a nice light crispy crust which when you bit into it and gave way to a creamy cornmeal centre. The subtle nuttiness of the romesco definitely complimented the pork.
The pork was also served with a side of haricot salad of green and yellow beans, snow peas, carrots in a light anchovy vinaigrette.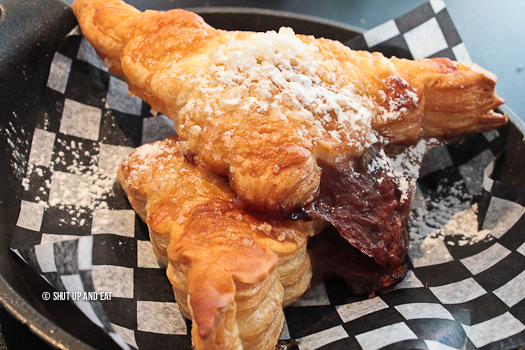 For dessert were freshly baked to order rhubarb turnovers. Not overly sweet, the pastries were a nice conclusion to an awesome brunch experience at La Bête à Pain.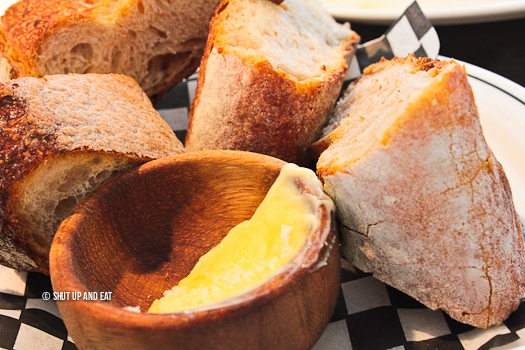 The menu was a clinic on local and seasonal ingredients used at the proper time to yield the brightest and freshest flavours. The ingredients are simple and expertly handled and prepared. The ingredients are not over worked or drastically transformed in anyway – finding appropriate pairings of tastes and flavours result in a dishes that highlight and feature every component on the dish itself. The progression of the dishes were very well thought out; starting from a sweet dish, that transitioned into a sweet and savoury dish, then to the savoury dishes and into dessert. The menu is inspired by what's seasonal and available, so it's possible that by the time you decide to hit up La Bête à Pain for their awesome brunch, their menu would have already changed. But use this as an indication of the kind of wholesome and delicious food you can expect.
La Bête À Pain
114 Rue Fleury Ouest
(514) 507-7109
Website