I try to actively search out places that offer unique dishes and thoughtful mid-morning meals. Too many are the places that serve up griddlecakes that resample rubber mouse pads and overcooked fried eggs encompassed with crispy inedible bits that look like the dry sheets of white glue you let dry on your palm in grade-school. For example, instead of offering inspired menu items like that ones seen at Biarritz (homemade corned beef and patatas braves hash) or Régine Café's "Un Peu de Tout" (a little bit of everything) a platter of homemade pastries, crème brulée made with yogurt, homemade compotes and jams, my local cookie-cutter breakfast joint is now offering VALET service… please, try not to be too obvious by making up for your menu shortcomings by offering to park my car for free.
I checked out this little spot in the Plateau that's billed as a neighbourhood restaurant, but accolades justified me diving from the other side of town for a mid-week late breakfast and early lunch. Situated on a small side street a block away from La Fontaine park is Bistro Passé Composé. A smallish bistro du quartier, this spot serves up some mean brunch plates focused around eggs – fried, poached, and omelettes.
My girl had the Oeuf poché canard – two beautifully poached eggs on top of a potato hash with butternut squash, parmesan, chives, topped with a white port gravy and homemade waffle chips… hold on, did I mention the homemade waffle chips? Large pieces of shredded duck was folded in with the potato and squash, which added a perfect salty hit to each bite. The white wine sauce was buttery and complimented the dish well. Oh yeah, the dish was topped with homemade waffle chips, which added a great crunch to the mono-textured plate.
Served with a side of fresh fruits and berries and a shot of their smoothie of the day, this dish comes with a toasted English muffin that can be substituted with a croissant or Montreal bagel. I got the bagel but didn't ask where it was from, I didn't want to ruin my breakfast by potentially hearing the wrong answer.
I had the Oeuf poché Gaspor – again, two awesomely poached eggs, atop a fricassé of Gaspor pork shoulder braised with white wine mixed with potatoes and aged cheddar. It was dressed with the white port sauce (as the duck confit) and topped crispy pancetta chips… BACON.CHIPS. Served with the same garnish of fruits and shot of berry blood, it wasn't enough to remotely ease anyone's conscience and rationalize the idea of filling my body with pork products so early in the morning, especially when bacon chips are involved.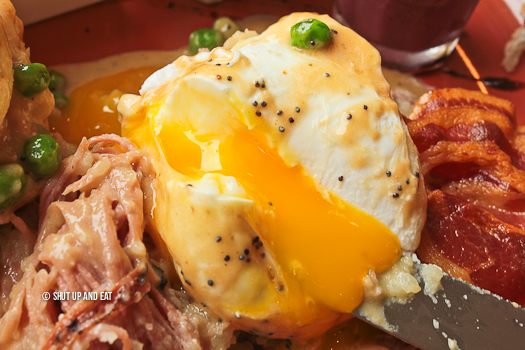 Topped with green peas and peppered with poppy seeds, the dish was balanced with the right amount of sweet and savoury. The large unctuous chunks of braised pork were tender and moist (which completely out-proportioned the potatoes). It took on a whole new meaning of lusciousness when eaten with a dollop of broken yolk glazed with the white porto reduction sauce that laid across the dish straddling the potato tower.
With encouraging menu items like homemade waffles with maple caramelized apples and a glimpse of the "Le pain doré panko" our neighbouring table ordered that rivalled the size of a kleenex box, a return visit is in order – and has already been planned.
Bistro Passé Composé is a slice of Paris in the city that you can escape to in the middle of the day for an exceptional meal. I don't know, maybe it was the fact that we were both ditching work to go have brunch, but the atmosphere and courteous service made our experience at Bistro Passé Composé that much better.
Bistro Passé Composé
1310 Boulevard de Maisonneuve Est
https://www.facebook.com/bistrolepassecomposemtl/