What's the one thing that we've been seeing popping up all over the city faster than you can say foraged bitters? Hipster bars? No, not that. Random unfounded Montreal "Best of" lists researched via Yelp? No, but yes, that too. What I'm talking about is one of the marquee dishes that put Montreal's gastronomy scene on the map, no, not terroir or market cuisine inspired by locally sourced produce and seasonal ingredients; guess again. If you said dumplings, you're absolutely correct! The heart, soul and epicentre of traditional Chinese cuisine is rivalling the timely casse-croute and bidding to redefine the term "steam-mei".
I hit up Yi Pin Xiang in Ville St. Laurent. Opened since January, this modest spot on Decarie has been satiating the dumpling cravings Uptown and bringing a tastes of the far east (and Downtown) all the way north of the Met.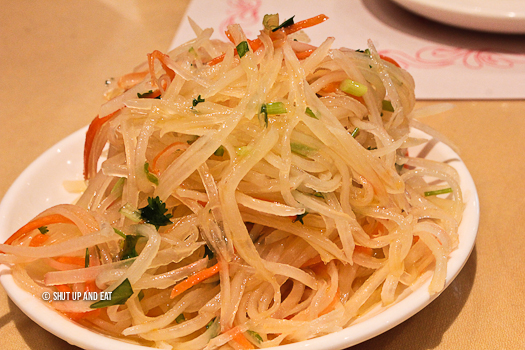 We started with the sliced sweet and sour potatoes. This dish was of impossibly thin julienned potatoes (soaked and bled of starch) quick fried in a fragrant chili oil then dressed with a mix of sesame oil and vinegar. Tossed with carrots and cilantro, the dish is served cold and is crisp and delicious. Sweet and savoury with a great texture, start your meal with this… but only if you sexy.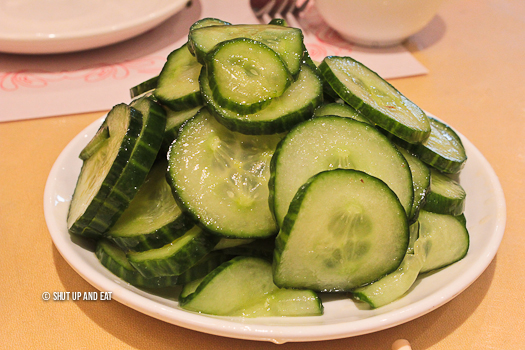 The sweet and sour cucumbers is another great treat to start your meal. Brined then dressed in the same dressing as the potatoes, the cucumbers are not much to look at but these little wilted pickled coins are something that is both a great starter to whet your appetite or accompaniment to your meal.
We also ordered the hand-made chicken noodle soup. A hearty bowl of sautéed chicken with bean sprouts, Shanghai bak choy, and onions, in a pool of savoury chicken broth.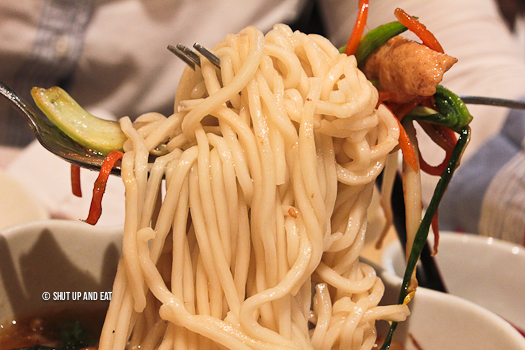 Freshly pulled (made to order), the noodles were toothsome and chewy and perfectly blanched. Being made in-house, it goes without saying the the portion is extremely generous and was enough for two to three people at two to three bowls per person. The soup was savoury and albeit a bit oily (from the stir-fry) the additional fat added something to cling onto the noodles as you pull them out of the soup.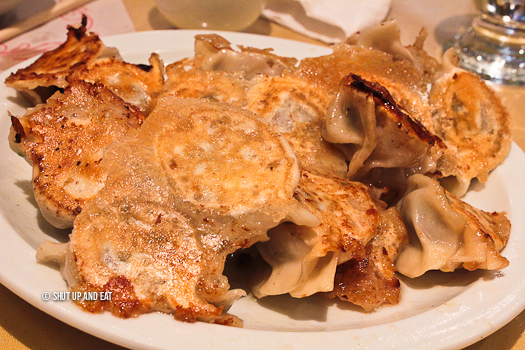 Yi Pin Xiang boasts over 40 different kinds of dumplings. We ordered the pan fried lamb and coriander dumplings – classic pressed dumplings pan-fried and boiled. The filling was flavourful and had great texture which led me to believe that they hand-chopped the meat as well. The dumplings were nice and crispy with awesome chips of starchy goodness on the underside. Presentation saddened me a bit; opposed to have them flipped over and displayed as one gigantic crispy sheet, they lay scattered like the morning after of some dumpling Vegas bachelor party, lying in shame with some filled with holes bleeding succulent dumpling soup.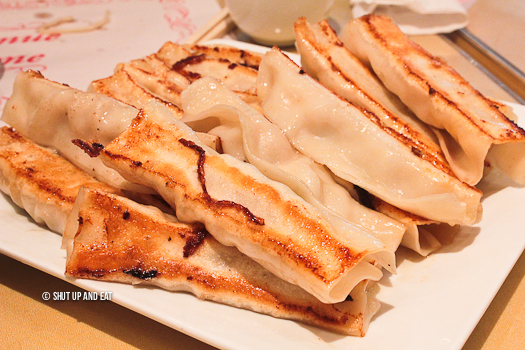 We also had an order of Yi Pin's "Special fried dumpling" with pork, Chinese cabbage and shrimp. These oblong shaped dumplings are unique to Yi Pin – only place that I know of, or have been to in the city that serve these style of dumplings. Typical of Northern China, these dumplings (pot-stickers) are opened on each end and have a thicker wrapper opposed to the steamed or boiled dumplings which have a thinner and more delicate skin – like myself. Pan-fried dumplings use a "cooked-dough" wrapper – it uses boiled water to make the dough to scald the flour and cooking it partially – this yields a firmer and chewier texture in the dough to help the frying process. Because the dumplings themselves are longer in shape, they have more filling and generally larger then the other ones on the menu.
With 40 different kinds of dumplings on the menu, it's tough to find something that you're not going to be easily satisfied with. With awesome choices which include vegetarian options to get your dumpling on Yi Pin is a dumpling oasis in a part of the city where dining options are scarce. The owner explained to me that his family owns a chain of dumpling restaurants in China; although not operating by the same name in Montreal, the recipes are the same. If you're able to open, operate AND have a chain of dumpling restaurants in the dumpling mecca of the world, that says a lot. Delicious food, service with a smile, courteous and helpful in explaining the menu, the owners are passionate about dumplings and you will be too!
Restaurant Yi Pin Xiang
735 Blvd Décarie
Facebook