Day or night, summer in the Old Port and Old Montreal is filled with tourists, wedding photo sessions, sun burnt people on duck boats, and first dates. With so many different kinds of people roaming the streets, there are equally as many eateries and restaurants that meet all their gastronomic needs. From snack bars and casse-crouttes to high-end fine dining, Old Montreal has it all. For this week's review, I hit up one of the two spots that are representing the strong Portuguese community in the area.
It's only been a few years that a Portuguese dining option was available in Old Montreal (Restaurant Helena), and now the newest endeavour of the same MTL Cuisine Restaurant group sees veteran Montreal Chef and cookbook author Helena Loureiro overseeing the kitchen and menu conceptualization of Cantinho de Lisboa (The Lisbon Corner). Hot lunches and awesome sandwiches and a plethora of Portuguese specialty products line the wall as well as a glass-enclosed temperature regulated curing room for their specialty hams. I stopped by for a quick bite and to take advantage of their "lunch box" special.

Their "Boîte à Lunch" special is a combination of the entrée of the day or a choice of salad, and any sandwich or their plate of the day – which is most often a vegetarian option – as their sandwiches are all made with meat with a Portuguese touch. My girl started with the soup of the day which happened to be a velouté of eggplant. The soup was loose which was great as her sandwich proved to hearty and filling. Earthy and savoury, the soup was garnished with a drizzle of olive oil and chives.
The Prego sandwich is made with thinly sliced beef, garlic aioli, cheese, topped with a poached egg and served in an awesome toasted crusty roll. The sandwich is served with a side of fried shoestring potatoes and a three-bite salad. The bread was light and airy and was perfect for being a steak-juice sponge. The acidic dressing complimented the savoury beef and cut through the richness of the broken egg yolk when you bit into the sandwich. Let's be honest here, knowing that there is an undercooked egg (poached or fried) on top of your sandwich is like foreplay; you know what's going to happen once you bite into it, so you carefully pinch and squeeze your sandwich until you make your way up to the inevitable. You adjust your grip, anticipate the money shot and prepare for the sweet release of yolk that will cover your hands, sneak into the corners of your mouth, dribble down your chin and eventually down your shirt.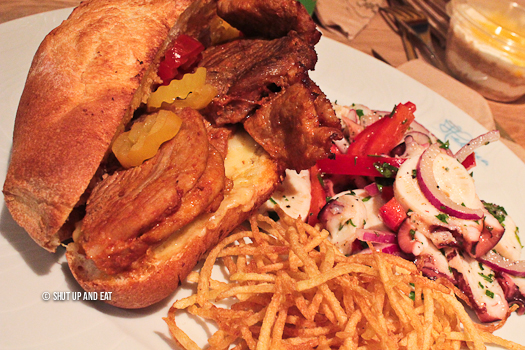 I had the classic Bifana sandwich – succulent and moist pork cults marinated in a sweet and tangy mixture of white wine, tomato, garlic and chili, grilled and served with pickled chili peppers and cheese in the same traditional portuguese "papo seco" roll. This plate came with the same fried potatoes and I ordered my lunch with a side of salad; I chose the octopus salad.

The side salad was a generous portion of large coins of roasted octopus; tender and juicy, the octopus was perfectly cooked and was tossed with red onions, red peppers, parsley and a light white wine vinaigrette.

The lunch specials come with a dessert of the day, and on this day they were serving serradura – a traditional pudding made à la Helena with coconut whipped cream layered with a cookie crumble. Light and fluffy, the dessert didn't weigh you down to be the catalyst of your midday nap or seven-mile stare through your computer monitor at your desk.

No trip to a Portuguese anything would be complete without a Pastel de nata – a Portuguese egg custard tart. We each downed a rich and creamy sweetened egg custard tart baked in a flakey shell that's perfectly cooked in our dessert bonus round.
A lunch counter, sandwich shop, bakery and specialty store, this modest spot is nestled amongst the exposed stone buildings of the narrow streets in Old Montreal. The cobble-stonned streets and relative time machine that is Old Montreal definitely adds to the charm and Cantinho de Lisboa. With counter-seating this place is ideal to sneak out of the office for a quick bite during the day or pitstop while browsing the galleries and getting ripped off at the souvenir shops.
Cantinho de Lisboa
356 Rue Saint Paul Ouest
(514) 843-3003
Website