If you happened to catch my post a couple of weeks ago, Pizzeria GEMA was handing out free pizzas at their shop on the corner of St-Dominique and Dante where hundreds of people showed up to cop a free pie. This event wasn't to coincide with an opening per se, but it was a chance for the owners to give back to their friends and family and community in a show of gratitude for all the support they've been given. Recently, the modest pizzeria of the dynamic duo from Impasto (Stefano Faita and Michele Forgione) quietly opened their doors and realized Forgione's childhood dream of owning a pizzeria.

An acronym made up of the first letter's of the duo's children, GEMA serves up a roster of 10 different kinds of pizzas including a monthly special and an awesome two or three service lunch option.

GEMA's lunch menu is simple and straight forward; entree, pizza and dessert. Lunch includes one of two entrées. That "third" service option is actually a test; a test of will and moral humility to see if you're capable of stuffing your pizza pie hole enough to leave room for dessert and not make a public scene.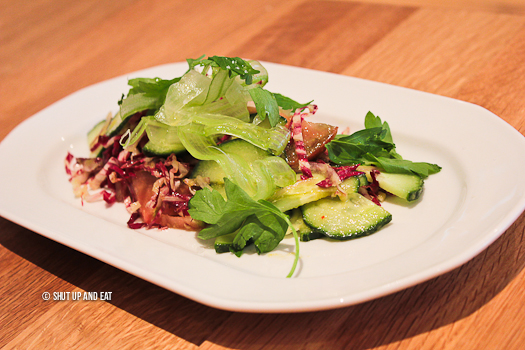 The MJT salad comprises of fresh produce sold from a two-minute walk around the corner at Marché Jean-Talon (hence the name.) Light and vibrantly fresh, I can imagine the salad will change with the seasons reflecting what's available at the market. Heirloom tomatoes, radicchio, cucumbers, shaved celery and parsley with a simple vinaigrette; sweet and refreshing.

The fried calamari was lightly battered and served with nothing more than a lemon wedge – it really didn't need anything else. Simple and delicious.
The "Emilia", mushrooms, onion and thyme infused cream and lardo. The earthy velvety mushrooms was complimented by the robust herbs of the creamy sauce and salty hits of the lardo.

The "Impasto" features Impasto's famous porchetta, hot cherry peppers, smoked caciocavallo and topped with salsa verde. A hearty pizza with a bit of a kick, the savoury pork was tender and flavourful; the rosemary went well with the subtle heat of the spicy peppers.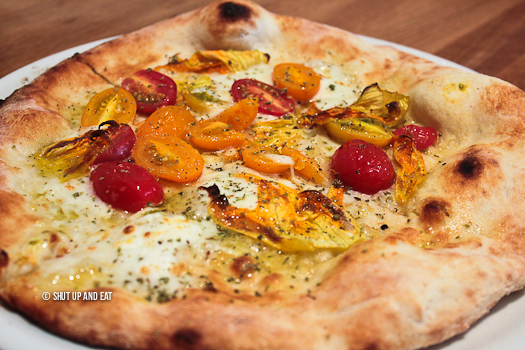 We also managed to snag a pizza of the moment courtesy of Chef Forgione – a market inspired pizza with fior di latte, plump cherry tomatoes, zucchini blossoms and drizzle of olive oil. Without the pretentiousness, the pizzas have a certain level of elegant honesty to them which stems from the simplicity in which they're made and in the combination of toppings.
The sorcery in which Chef Forgione makes his pizzas and the ability to not only make a dough whose crust is soft and pillowy, but once cooked, is pliable, thin and crispy, defies all laws of logic and reason. It's hard to explain other than the fact that he possesses some adept ability to manipulate the proteins in risen dough to make it his bitch and cook how he wants it to cook… like a fucking boss.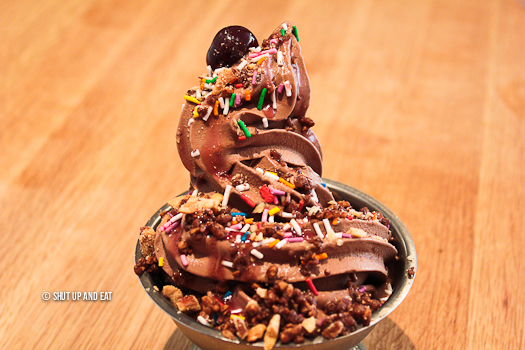 The third service in the two or three service choice of their lunch menu is whether or not you want dessert. But really… what kind of idiot passes up frozen custard. FROZEN. CUSTARD. Made with the the milk of one of Quebec's last few independent dairy producers to create one of the creamiest, decadent, frozen desserts next to suckling the unpasteurized teet of a Richelieu cow in the middle of February. Comes in vanilla or chocolate with a choice of eight different toppings.
Pizzeria Gema isn't reinventing the wheel. With six other pizzerias in the immediate area, instead of offering twenty different kinds of pizza, they're putting their own spin on things and Chef Forgione is making pizza the way he wants to, the way he likes to eat it and exactly the way he envisioned it would be like when he was a student in culinary school with a childhood dream.
Pizzeria Gema
6827 St-Dominique
514-419-4448