Is it just me, or do you become a belligerent five year old when you're hungry too? When failed attempts of being comforted by others often leave them with scratch marks and an earful of the mean things that people think but don't actually say? Ok, maybe that's just me. I'm glad that the restaurants in Montreal adopt the plain and simple philosophy when naming their restaurants and not force potential diners to meditate into a state of higher consciousness to delve deep into a pretentious psyche to decode a restaurant name like "Three…" or a straight up fucking smiley face, ":)" Remember that shit? That's why last week when I was hangry and carried a "Beware of Hungry" sign around with me for the later part of the afternoon, I hit up a new spot in the plateau called Tacos & Tortas and knew exactly what I was getting.

This newly opened torta and taqueria serves just that; tortas (Mexican style sangwiches) and tacos (Mexican style Chinese lettuce wraps). The menu is straightforward; six kinds of tacos and five kinds of tortas – which includes a vegetarian option – not that I care about, unless they're feeding the cute cows and piggies these veggie tacos, I will not stand for non-vegan animals.

We placed our orders and were first presented with the sauces to accompany our food. Classic red tomato salsa, green salsa, and the habenero hellfire.

My girl ordered the bistec tacos. Thinly grilled slices of flank steak, sautéd onions, grilled cactus, topped with a slice of fried potato and garnished with cilantro and lime wedges. The steak was plentiful; its savouriness was complimented by the sweetness of cactus and sting of raw onions.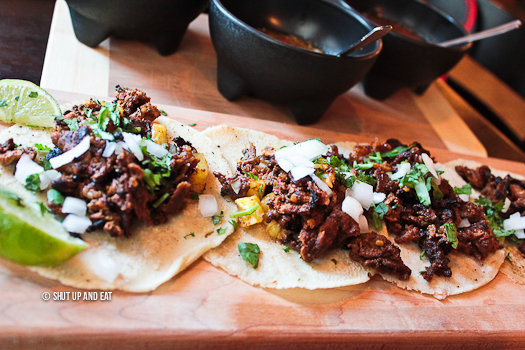 I ordered my favourite, tacos al pastor – fire roasted marinated pork loin tossed with grilled pineapples, topped with raw onions and cilantro. The meat was juicy and tender. The fruit extinguished most of the inherent spicy marinading heat from the pork. The portion of filling in both variety of tacos were generous which led to it bursting out of the corn tortillas with every pinch and bite. We were told that the tortillas are made in-house and practically to order as well – which is great news for gluten-bigots – corn tortillas are safe for you! Which raises a question, if they're homemade tortillas, why not double up and give it the real spirit of local Mexican street cuisine?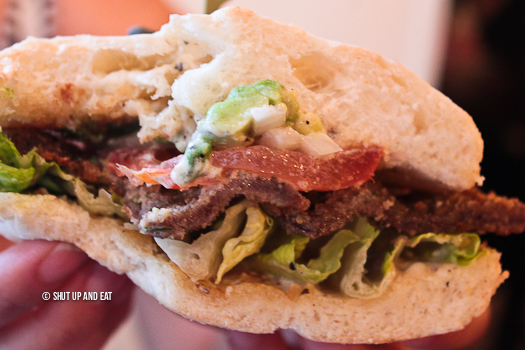 We also ordered a classic Milenesa torta to share. A traditional Mexican sandwich of a breaded beef filet with tomatoes, lettuce, avocado and aioli. The meat was tender and wasn't stringy as you would think a pice of beef would be after being pounded thin and fried. Slathered with a creamy dressing and topped with buttery avocado, the sandwich was held together with the most amazing roll I've had. The bread was pillowy with just the right amount of crust. We were told it was made my a local mexican bakery.
No frills, no appetizers, drink menu written in chalk on the wall, laminated menus and food served on planks. The prices are more than reasonable and menu is humble and fully represents legitimate Mexican street food and is the ideal place to cop some of the city's tastiest tacos without pretension. The spot makes homemade churros for dessert as well.
Some d-bag who sat down as we were leaving blatantly asked the waitress if the tacos were "authentic". He went on to say that he's been to Mexico before and know what tacos should taste like and went on to ask if the owners or chefs are Mexican. I didn't stick around to see what he thought of the place. I guess he was hungry too.
T&T (Tacos & Tortas)
51 Rachel St W
(514) 518-5331
CLOSED MONDAYS
Facebook