There's been something I've wanted to do for a long time, something that I've wanted to cross off my food list of Montreal; to eat at every single BBQ restaurant in Montreal. When I say BBQ, I'm talking about American, southern BBQ and I don't mean restaurants that just so happen to serve a random rack of ribs or a maple bacon smoked something or other. We've got a Places that specialize in the cuisine and craft like the award-winning and standard setting Blackstrap BBQ in the city, but to complete my list, my goblet of sauce had to be topped off with a small road trip north of the city; the place was far, and by far I'm talking I had to pack a snack for the car.

Ok, it's not that far; it's literally 15 mins from the city – I've tried to install new printer drivers that took longer than that. I hit up Le Fumoir Rubs Smokehouse. If you've ever been or even heard of them, they boast that they do not own any freezers or microwaves in the name of freshness and according to their radio commercial, are the "ONLY southern BBQ restaurant in the city". Southern is relative because that's not true, there are other American Southern BBQ spots in the city. "SOUTH" of Mirabel, but NORTH of the 40? You're absolutely correct. When making a claim with such conviction, it invites diners to discover this popular Laval eatery on the basis of curiosity, skepticism but overall HUNGER. I picked up my dad and we headed to St. Rose in search of BBQ.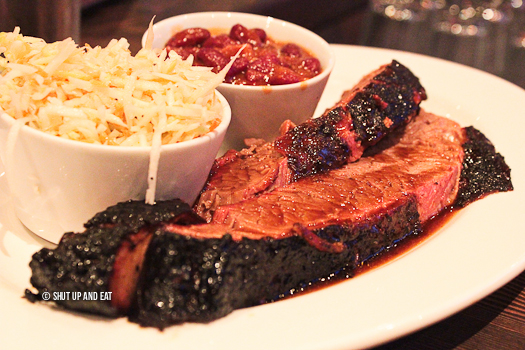 The place was happening and without a reservation was sat at the bar. He ordered the Texas style smoked brisket served with a side of coleslaw and smoked beans – a very generous portion of thick cut beef brisket who's bark was suspiciously peeling off, doused in jus. I attribute this to the fact that we were served the lean cut of meat which was a bit dry that couldn't be saved no matter how much jus to covered the brisket in. The flavour wasn't overly smokey but it was salty. I asked the manager if I had specified when I ordered that I wanted the fattier or mid section of the brisket, would they have accommodated this request. He said without hesitation. He said that not many people do, so the chef serves whatever is next in line to be cut. I highly suggest making this request.

I had the St. Louis Ribs. Again, a huge portion of pork ribs, glazed with sauce. St. Louis style ribs are often slathered with sauce, which these were not. I appreciated the fact that I was able to control my own saucing and potential laundry load. Rib tips and cartilage were also left on the rack – not a characteristic of St. Louis style BBQ, but those are my favourite bits and in no way am I complaining. But if you're going to call it something it's not, at least try to make an effort to trick me rather than just lying to me on the menu. The ribs were overcooked and seasoning was patchy – uneven rub.

The fries and coleslaw were uneventful.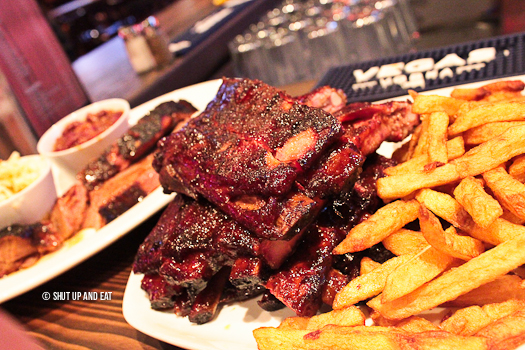 Le Fumoir Rubs Smokehouse is definitely more "commercial" than the other places in town but I wouldn't call it a "big-box" restaurant as it's the only location they have. Maybe I feel this way because they occupy what used to be a Scores, but in no way does that reflect the restaurant now nor does it have any implications of what kind of business it is now. The service was quick and courteous and nothing below efficient and friendly. "Authentic" is relative but when you make claims of being the "only" authentic southern bbq joint in the city, it's going to take a lot more than barbecue vernacular and typical terminology to try to persuade diners who are coming in with expectations and empty stomachs.
Le Fumoir Rubs Smokehouse
699 Blvd curé-Labelle
Laval, QC H7L
(450) 937-5558
Website