Forget everything you know about "Dakgangjeong." "Dakgangjeong" is korean fried chicken, and if you don't know what Korean fried chicken is, then you'll have no idea what I'm talking about, but follow me. If you can imagine it's the crispiest, mind-shattering, twice-friend, battered fried chicken that would make a handful of autumn leaves look and sound like a matzo ball. If you're looking for Korean fried chicken in Montreal, there are a few places to find it. Some of your favourite Korean restaurants serve their own signature versions, and then there are the places that specialize in it like it's their job… err, wait a minute.

Not too long ago I wrote about this other Korean fried chicken spot Dawa located on Sherbrooke in NDG, and recently another Dakgangjeongerie opened up not too far. With a full menu of over 70 classic Korean dishes, I know it's hard to say that they specialize in fried chicken, but tell that to the front page of their menu that features a gigantic picture of batter porn.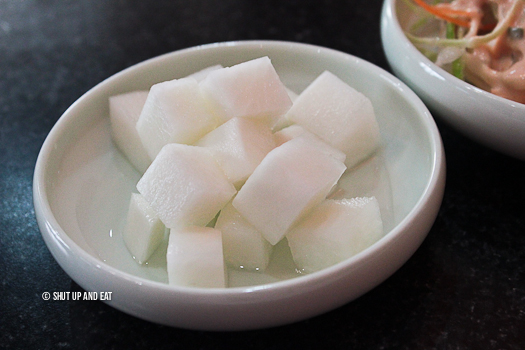 A Korean meal is never without some banchan (side dishes), even if the meal is fried chicken. Freshly grated cabbage salad with Thousand Island dressing and pickles radishes help cool he palate and break the monotony of the fried chicken.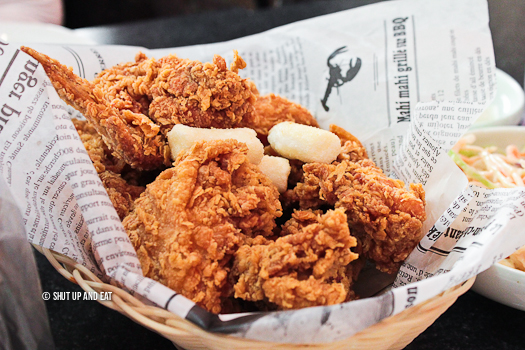 We had the classic fried chicken. Just look at it and imagine all the dirty things you would do to it, it's ok, no one is watching you. The half order of twice-fried chicken is seven pieces – more than enough to split amongst a couple of people (since you'll probably want to order more than one kind of chicken.) The chicken is moist and juicy – which is attributed to the process of frying it twice. One quick fry with starch to seal in the flavour and moisture, then the second one after a dredge to develop the crust. The meat is flavourful, hints of garlic can be picked up after the hot chicken is finished singeing off the top layer of skin in your mouth. The order is garnished with a couple of pieces of deep fried rice cake.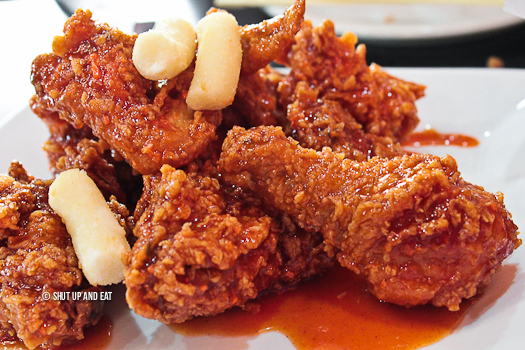 The order of "Seasoned sweet chicken" was just that. The syrupy sweet sauce had a little bit of heat to it, but not enough to bother anyone, just a kick that is completely balanced by the sweetness. The batter is something similar to Popeyes chicken (if you've ever had it); where it's almost like an order mainly consists of skin and batter and non of that pesky chicken to get in the way. It holds up to the sauce and doesn't let it to fully permeate the batter and render it soggy (I had leftovers and the chicken was still crunchy the next day!)

One of my most favourite things in the world and not seen on any menu I've ever been to in Montreal – Fried chicken gizzards. Little nuggets of golden fried deliciousness. Gizzards are crunchy and chewy and everything you think eating a 25 cent gum-ball machine super bouncy ball would taste like, but better. Sliced and marinated, the chicken gizzards are toothsome, I can imagine pounding down a basket or two with some cold drinks and a hockey game.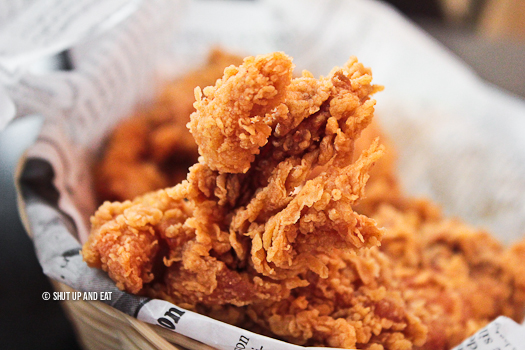 LOOK AT IT. That's what was fossilized on the end of a pice of chicken thigh. If this isn't enough to convince you that you need Korean fried chicken in your life, I don't know what is. Now that there are two definitive spots in Montreal to get your Korean fried chicken fix, don't get me wrong, they are not rivals or even competitors, but teammates in showing the city what Dakgangjeong is and how much you need it in your life.
Restaurant Mon Ami
6290 Somerled Ave
http://restomonami.com/wordpress/
Facebook
(514) 439-2580