Once in a while my sisters and I go for dinner; for simple reasons, like them getting away from their husbands and children or to gossip about our mother without the fear of being digitally monitored and out of the three-mile radius of her all-hearing "momdar". So basically a girls night out where I watch them pound a trough of pinot grigio and I do all the ordering. We recently went to a local Greek spot in NDG that has been a part of the neighbourhood for the longest time. Perched on top of Mount Monkland, Lezvos is the poorman's Santorini; replacing the picturesque white sovas houses overlooking the deep indigo Agean sea, the vantage point from Lezvos is of the rolling red tail lights of north-bound Decarie traffic and the laughter of children being taxed at Villa-Marie Metro.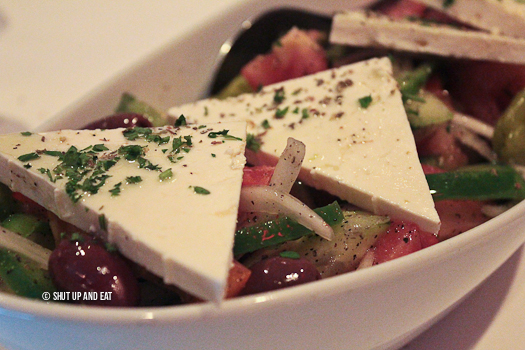 Serving classic mediterranean dishes heavy on specialties from the grill, Lezvos' menu is typical of a upscale-casual dining Greek restaurant that doesn't have a double-page spread in your local Top Menu. The Greek salad for two turned out to really be salad for four – there was leftovers at the end of the meal. It was a mix underripe tomatoes, onions, cucumbers, sliced peppers, peperoncini, kalamata olives, topped with large slices of feta and dusted with salt, pepper and fresh oregano. With nothing more than a simple vinaigrette, the salad was refreshing and had the acidity to cleanse the palate.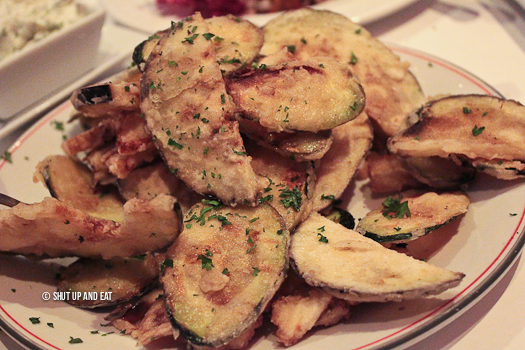 The fried zucchini and eggplant was served with tzatziki. The dusting of batter offered most chips a great crunch, where others that were haphazardly sliced, were somewhat undercooked.

Despite the random slices of undercooked zucchini and eggplant, all was forgiven after being slathered with Lezvos' rich and creamy tzatziki.

The grilled octopus featured a generous portion of roughly chopped octopus, mixed with grilled tomatoes, onions, capers, tossed in olive oil and seasoning. The pieces of octopus were incredibly tender. The sharpness of onions and brininess of capers brought out the inherent sweetness of the octopus. I'm a big sucker for grilled octopus, and as much as I tried to love this version of the dish, I've had better. It was missing something, maybe a touch of acid to brighten up the bitter char and balance the dish? It was murky and monotone.

Kefalotyri cheese, panfried until golden and blistering, the dish is completed in table-side pageantry of flambéing it with Ouzo. Melty cheese with a crust is everything good in the world and everything worth living for.

We were practically fully on appetizers before the mains came out. We ordered the grilled chicken filet with a couple of grilled shrimp. The chicken was a bit dry – white meat – and it was drizzled with olive oil. I've had the grilled rib steak and rack of lamb before which I now think are far better choices than the chicken. Serving such a lean cut of chicken, I wouldn't have served it sliced and risk bleeding out all of the juices in the meat. But since we were sharing everything, I guess they took the initiative to slice it before serving. A nice gesture in the end, but rendered the chicken into a stick of jerky.

The grilled shrimp on the other hand were great. Amazing jumbo shrimps perfectly cooked, they were plump and juicy.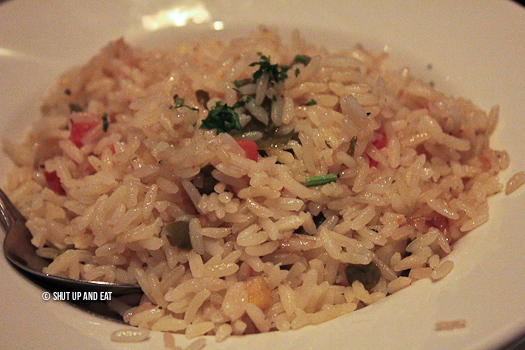 All mains are served with "Gigantes" – stewed lima beans with tomato and spices and rice. Classic fillers.

How? I don't know, but we managed to save room for dessert after all that food. Probably because we knew we would be ordering these before we even started to eat. Loukoumades – a Greek doughnut, dipped in honey, served with fruit. Light and fluffy yeast risen dough,they had a great crunch on the exterior.
Named after a small island Greek island in the northeastern Aegean Sea, I can see why this place is chose the place phonetically "Lezvos" instead of how it's actually written "Lesbos", for people who are immature like me. A staple that has been in the neighbourhood for many years, Lezvos continues to serve the locals great Greek fare in the DEEGE.
Lezvos West
4235 Boulevard Décarie
(514) 484-0400
www.lezvos.com/
Multiple locations