One of the least represented cuisines in NDG/Westmount is Thai. Why? A question that will stand the test of time along with "why isn't there any pho in the area?" and "why is it only here that people feel the entitlement to cross the street diagonally?" along with the classic, "why is there a Lululemon uniform for old ladies in NDG/Westmount?" I recently went to try and answer these age old questions starting with the lack of Thai food representation in the area. I noticed this place a while back and was skeptical, Pick Thai – located on de Maisoneuve and Northcliffe, across from the Vendome Metro station and in the shadow of the new super duper hospital, I was skeptical but impressed. Skeptical because it was the first of its kind, the one to try and set precedence to say that this area needs a taste of the Southeast and impressed for exactly the same reasons.

We started with the Som Tam – a green papaya salad with tomatoes,tamarind sauce,fish sauce, palm sugar and lime juice. Thai cuisine is a clinic in flavour combination and balance; sweet, salty, sour and bitter all encompassed in this starter. Refreshing crunchy bites of green papaya beaten into submission with a "saak" (Thai pestle) in a forced infusion of a tangy and sweet dressing. This refreshing dish will definitely awaken your palate and pique your appetite.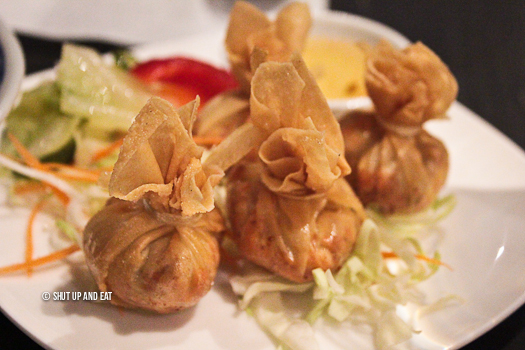 We also had the "Golden Triangle" – deep fried chicken dumplings with onion, shitake mushrooms with a sweet dipping sauce. Delicate little pouches cinched with a strand of scallion, the dumpling was somewhat muted in flavour and I found myself double and triple dipping as though the main component of the plate was just an excuse to eat the sweet and sour dipping sauce. Even though a bit dry, I still probably would have devoured these by the dozen.

We ordered the "Mussaman Curry" with beef. Red curry made with dried chilies and a variety of spices and other aromatics such as, cumin, cinnamon, cardamon, clove, stewed with vegetables, potatoes and coconut milk. I can eat spicy. I enjoy spicy foods… but a very particular kind of spicy food. When I ask for something spicy, I like it to be… I NEED it to be, "ethnic spicy". The kind of spicy where you it hits you slow and steady with a fiery heat that makes you sweat in places you didn't know you had pores. Something that eats away slowly at your consciousness that makes you relive those moments in high school you now regret as an adult. This Mussaman curry was almost there. Maybe it was because I was the only Asian person in the place and the chef hit me with some of the good stuff, but if this is typical of their curries, I'm excited to try the others.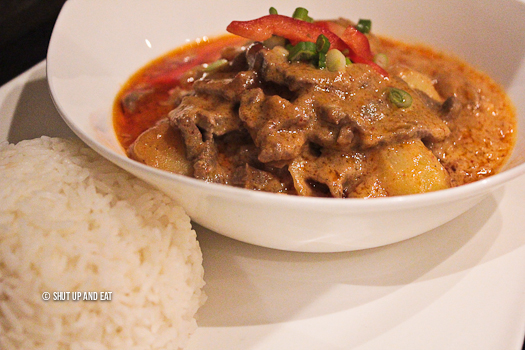 The curry is served with steamed rice. I asked if I was able to get sticky rice instead and was told I had to specify this when I was placing my order. I guess they make it to order because there isn't even a mention of sticky rice option on the menu.

A classic Thai dish of rice noodles fried with a tweet and tangy tamarind sauce, eggs and beens sprouts. I've had my favourite Pad Thai pegged a while back after a city wide search for the best. Unfortunately my go-to Thai place has since closed and that roaring fire for pad Thai has been reduced to a glowing ember. Unfortunately the pad Thai at Pick Thai failed to rekindle that flame, but it was a valiant effort. The sauce was thin and the impact was timid. To think with such an ovation the mussaman curry made, I figured I'd be setting my sights on a new favourite pad Thai. Tame in flavour, the chicken barely displayed any kiss marks of a well seasoned wok, whose smokey breath was also absent in the noodles and cubes of firm tofu.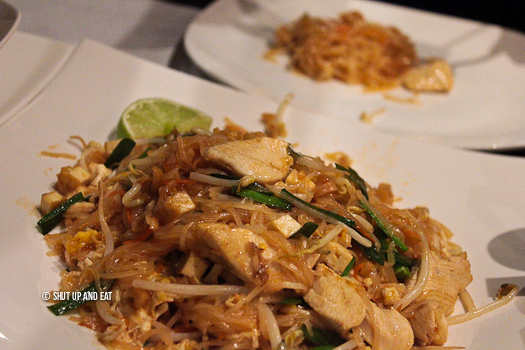 The space is beautiful; wooden decor, classy accoutrements give the place the look and feel of a ruean Thai plucked off the coast of Thailand and redecorated to fit in Westmount. Other than the curry that came out with a bang, the other dishes seemed to have had their corners tempered and rounded off. I feel the flavours were muddled in an attempt to gain acceptance by locals – perhaps to slowly introduce the tastes and aromas of a very foreign cuisine to a neighbourhood that has obviously never seen anything as exotic. But in the same breath, is it fair to compromise a very complex flavour palate to introduce a bastardized version of such an exquisite and meticulous cooking style; especially one that incorporates elements that deliberately stimulates all areas of the tongue and that consciously makes any meal a relative experience – triggering sight, smell and taste…?
Pick Thai
5221 de Maisonneuve Ouest
514-316-9696
http://pickthairestaurant.com/