Sushi restaurants in Montreal are a dime a dozen. Seems like every neighbourhood has their own local sushi joint where everyone gets their nigiri and maki fixes and lightning jolts of omega-3s straight to their veins. Sure, you're not going to meet P.K. Subban or pay for your meal with your next car or mortgage payment, you might even end up paying with your gastrointestinal tract for having raw fish that's prepared on a hot line next to fiery wok pushing out general taos and pad Thais. Don't get me wrong, these polar opposites are rare and chances are your go-to spot probably satiates any sushi cravings you may have adequately, celebrityless and hygienically. I recently hit up Kaiji in Villeray, a spot I've been to once before and promised myself to visit again if I were ever in the area.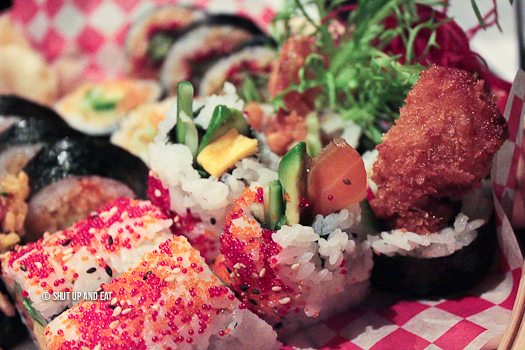 On Jean Talon, Kaiji is a modest little bring your own wine Japaneses spot run and operated by a young group of dynamic individuals who – from the looks of their colourful Instagram account and Facebook page have an overt passion for everything sushi.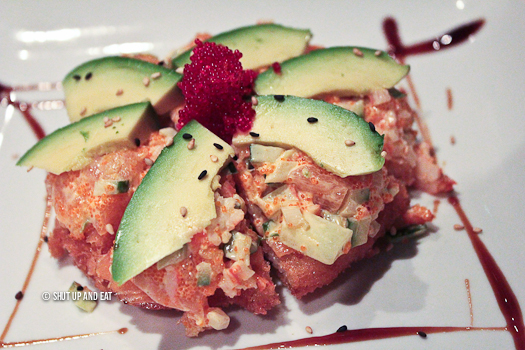 We started with what is highly considered one of the most traditional Japanese dishes that is said to predate Shintoism and speculated to be served in the Hakodate Hachiman Shrines… Sushi Pizza. Kaiji's "sushi pizza" is a fried rice cake topped with slices of a smoked salmon and salmon tartar, garnished with slices of perfectly ripe avocado and a mound of tobiko. You're right, this wasn't served in ancient Japan, but you knew that. Six slices to order, this dish was a fun way to start the meal.

Kaiji's menu has a mix of great specialty rolls as well as sashimi and nigiri so we tired to order a little bit of everything. The Sunset Maki – smoked salmon, avocado, cucumber, tomago, tobiko and masago (capelin and flying fish roe). Spider roll – deep fried soft shelled crab, massago, cucumber, smokey bonito flakes, lettuce and tempura flakes. We also had the seafood Kamikaze which was spicy salmon, cucumber, scallop, shrimp, avocado, white fish and masago.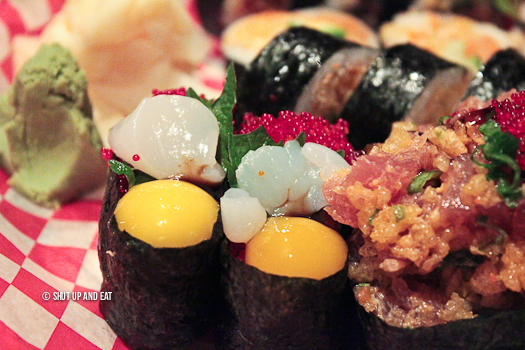 One of my favourite gunkan sushi – The sunrise. "Gunkan" meaning "boat" in Japanese, this sushi list item is in the shape of a little "boat" that's topped with tobiko, scallop, shiso and a raw quail egg yolk. I know what you're thinking; everything in your brain is telling you not to eat a raw egg yolk, but you're going to have to listen to your stomach on this one, and eat this piece first. This is the perfect bite: the sweetness of the scallop, brininess of the fish roe, mixed with the creaminess of the egg yolk cut by the fragrant shiso. I like to put a little bit of wasabi on top and a *drop* or two of soy sauce and eat it in one bite… you kind of have to unless you want to be that asshole to ask for a spoon because your sunrise gunkan broke as you bit into it and is now scattered all over your table and lap.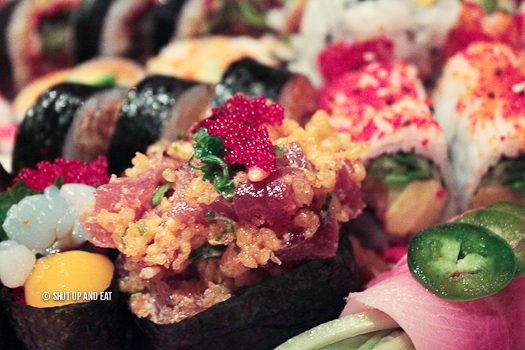 The spicy tuna gunkan was generous pieces of tuna mixed with tempura in a spicy sauce topped with tobiko and scallions.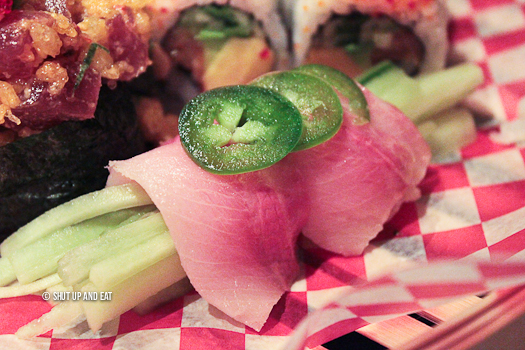 Yellow tail sashimi is also my favourite – the thin slices of jalapeño garnish was interesting. I'm not one for garnishes on my sushi, let alone sashimi – I found myself taking it off before eating. I however did try one piece with the jalapeño, thankfully the slices of hot peppers didn't have any seeds to bring the heat and completely destroy the delicate sweetness of the fish.

Kaiji also features daily specials on their blackboard including desserts. We ordered the banana spring roll. It was everything I thought it would be; a bit uneventful and uninspired. The banana spring roll was served with a scoop of vanilla ice cream, peanuts and squirt of bottled chocolate sauce and plastic tasting fruit coulis. From a place that's serving young and hip takes and forward thinking interpretations of pseudo Japanese/Asian dishes (like their other blackboard special of tuna tacos served in fried spring roll wrappers) on fun overturned bamboo steamers lined with ballpark paper, to regress into serving something as ironic as this that came off like an afterthought was a bit disappointing. Although thoughtful, but I'm convinced they have something better brewing in the back of their minds that have yet to be realized.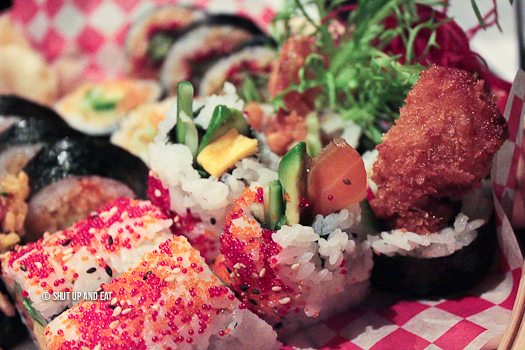 Ordering a la carte is kind of tricky unless you really pay attention to what you're ordering. Most menus and maki rolls are derivatives of themselves where an omission or substitution of one ingredient will yield a completely different name and sneak into your order if you're careful. Take the time and read through each maki roll ingredient list to find the ones that stand out. Make sure to check the blackboard for their specials as well. Kanji isn't "new" – they've been around for a few years, but it will definitely be your new spot to go.
Kaiji Sushi
2115 Rue Jean-Talon Est
(514) 722-1462
http://www.kaijisushi.com