The masterminds behind Imadake and Ichi Go Ichi E comes Yokato Yokabai, Montreal's next premiere ramen house. Japanese ramen comes in different styles and the variations are dependant on the city or region it comes from. The differences in noodles to the delicate and nuanced characteristics in broth and preparation are all claimed by different prefectures and cities all across Japan – much like the Montreal steamy where it's the same hot dog served around the city with the same toppings, the secret is in the water that it's stemmed in. I had the opportunity to get an exclusive sneak speak at Yokato Yokaba's menu and their beautiful rustic Japanese inspired space.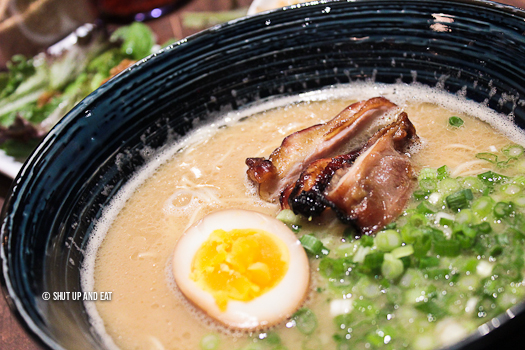 Edited: Located in the *same building as* Ichi Go Ichi E epicurean complex, Yokato Yokabai specializes in authentic Hakata Tonkotsu style ramen from the Hakata in the northern region of Kyushu; which is also where the name of the restaurants derives from. "Yokato Yokabai" is a saying that literally translates to "I like it". The menu is simple and straight forward; two types of broth, two types of meat, choices of garnishes and sides… oh yeah, there's a vegetarian ramen too.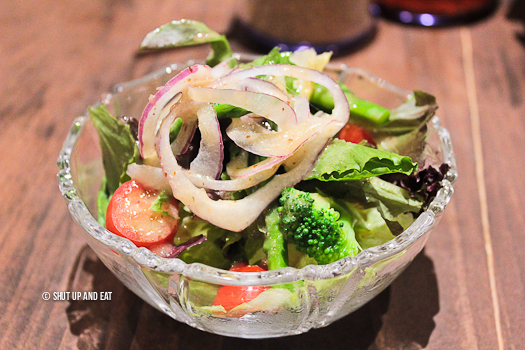 We started with the sides which pretty much ate like appetizers. The salad was a spring mix with cherry tomatoes, asparagus and blanched broccoli, topped with red onions and a citrusy ginger-sesame vinaigrette. Refreshing.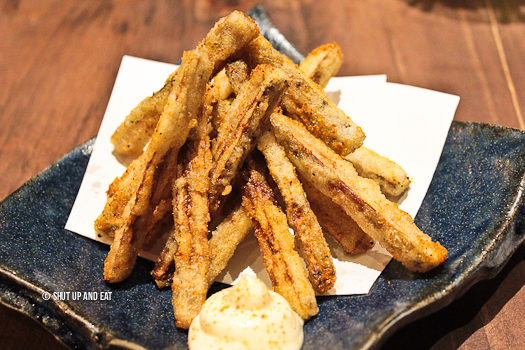 The gobo – mildly spicy burdock fries served with mayo. One of my favourite dishes at Imadake and has found itself on the Yokato Yokabai menu.

Karage. Deliciously fried morsels of crispy chicken topped with a sesame-ginger sauce. Like I said, these dishes were listed as sides so technically I would assume they should be eaten in accompaniment to the ramen. However, they showed up first and to be honest, there are no rules, so who cares. I would much rather eat these dishes first to give my undivided attention to my bowl of noodles.

Hakata tonkotsu is known for their pork bone broth. Yokato Yokabai follows tradition in preparing their own version of the soup. Head Chef Mineho's technique of boiling the stock of pork bones, and other secret ingredients goes for 12 hours before it is ready to be served. The tonkotsu pork was delicious and savoury with the right amount of fat to provide each bite with luscious unctuousness and unrivalled desire. From the check list menu, you customize the garnishes in your bowl, from no green onions to extra green onions, one to five pieces of nori, half to whole to no soy egg.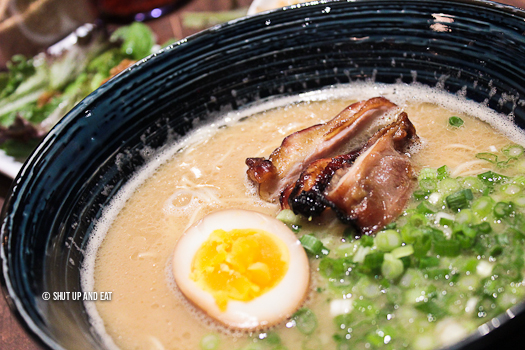 The tonkotsu chicken is served the same way. Strips of glazed roasted chicken thigh top the same formula of al dente noodles, topped with soy egg, scallions and seaweed. The ramen also comes in a miso soup option, but I suggest the tonkotsu. Each bowl is served with a small dish of marinated bean sprouts to cleanse the palate and to give your tastebuds a break in between bites of ramen and sips of soup. Be sure to try some of the table-top māyu – Yokato Yokabai's homemade charred garlic sesame oil. It's pretty strong, start with a couple of drops then adjust to your taste. They also provide a homemade chili oil.

Hakata style ramen is known for their pork bone soup and thin straight noodles. Yokato Yokobai's 12+ hour process of simmering a cauldron sucked every molecule of umami out of the pork-bones that helps develop a distinct cloudy and milky consistency that boarders on accidentally discovering something like a savoury pork butter soup. Rich but not "fatty" the robustness of favour in this soup is so profound that it's deeper than a conversation between Maya Angelou and Ghandi.

They also serve homemade ice cream of the day… out of this world. Citrusy Yuzu ice cream and a Match green tea ice cream you'll have wet dreams about.
Yokato Yokabai's industrial humidity controlled noodle kitchen in the basement is almost up and running just as soon as their transcontinental shipping container arrives from japan with mechanical noodle making goodies. Until then, their noodles are being made especially for them by an outside producer. I'm excited for this place to open but not excited for the inevitable lines that will form to get into this place because the noodles are that legit. Yokato Yokabai opens SATURDAY APRIL 4th with opening hours of everyday from 5pm to 10pm. They're not reinventing the soggy noodle wheel or trying to put their own spin on things; they are honouring a classic and respected Japanese dish of a particular style from a specific area… but more importantly, probably claiming the title of the best ramen in Montreal pretty soon.
あなたの新しいビジネスの上でお祝い!!!
Yokato Yokabai
4185 Drolet (corner of Rachel)
–
Incase you're confused by some other blog (who couldn't be bothered to research), Ichi Go Ichi E (360 Rachel est) and Yokato Yokabai (4185 Drolet) are two separate restaurants located in the same building which happens to have two different addresses as the building is located on the corner of the block.