I used to think that it was ludicrous to eat soup noodles in summer, but with more and more noodle houses popping up in Montreal I think I'm going to have to abandon this ridiculous way of thinking. I just couldn't imagine slurping copious amounts of hot noodles in steamy broth when the mercury inches above 20 degrees when I already have sweat management problems. I guess I can say my narrow-mindedness changed when I spent some time in South-East Asia where downing road-side bowls of hot noodles at the butt-crack of dawn where the temperature was already 30 degrees and a notion of "humidex" didn't exist because it was always at 100%. So as spring kicks into high gear and air is still crisp, I checked out Nouilles de Lan Zhou in Chinatown for some homemade hand-pulled noodles.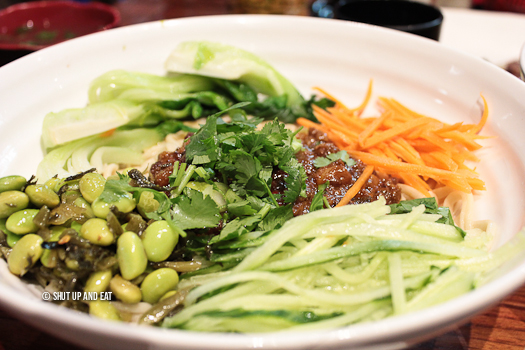 Nestled on the side of the escalator entrance to Supermarché G &D in Chinatown, sits Nouilles Lan Zhou, a modest noodle stall that is situated in the grocery store's former auxiliary Asian "pharmacy" space and supermarket vestibule. The place is named after the city of Lanzhou where their specialty noodle was founded and made popular. The menu is simple and concise; pick your type of noodle, spicy or non spicy soup, meat or vegetarian, they also have three side dishes.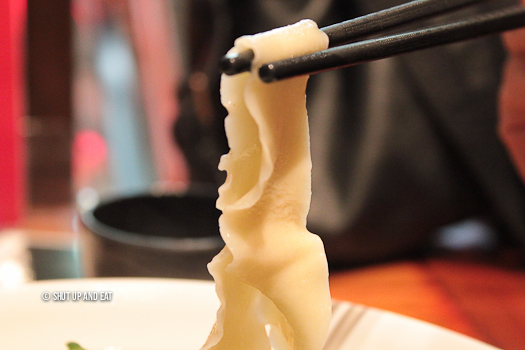 You have a choice of seven different noodles of two different styles; round noodles that come in three different diameters and flat noodles that come in three different widths.

We ordered the classic non-spicy Lanzhou specialty bowl with the thickest noodle they made. Hand-pulled to order, you can see the master demonstrating his intuitive noodle pulling skill the moment you walk in or even from the sidewalk – as the noodle pulling station is right against the window. The portions are huge; each bowl comes in a small, medium or large, format, where small is for regular appetites, large is for someone who's really hangry, and large are for people who suffer from a carbohydrate deficiency syndrome. The noodles come auspiciously in one long strand; never broken or cut. The soup was light and fragrant and the beef was abundant and flavourful. What makes the "Lanzhou laimian" is the combination of a aromatic broth, shaved slices of beef shank, pickled mustard greens and lots of cilantro.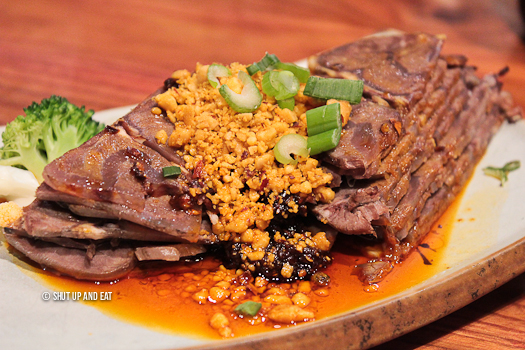 I ordered a side of spicy beef so that I can taste it on its own and not have it being diluted in the soup. A generous portion of beef shank topped with Lanzhou's chili oil and peanuts. I have a high tolerance for spiciness so I found it tame, but my dining companion found it to have a bit of a kick. Aromatic and fragrant, you can pick up distinctive hints of five-spice and cumin; very traditional ingredients in Szechuan cuisine.

We also ordered the jang jian noodles. This dish only comes in one size and it's gargantuan. Thick round noodles topped with blanched book choy, shredded carrots and cucumber and soy beans with pickled vegetables. The meat sauce was thick and when everything was mixed together, made for a very substantial meal.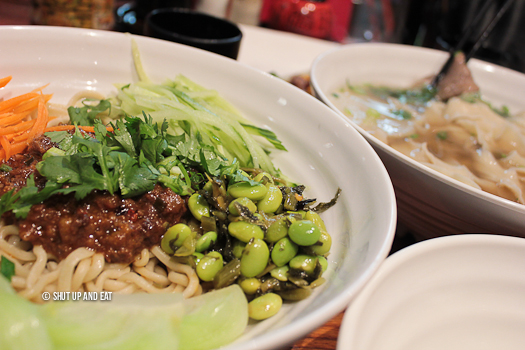 What really stands out is obviously the masterfully hand-pulled noodles; perfectly cooked, they remain stretchy and al dente. You can taste the years of experience that went into apprenticing the art of "Lamian". It takes a skilled craftsman to be able to have the skill set of being able to feel raw dough to manipulate into uniform strands of noodles. The random thumping that echoes that cavernous space adds to the authentic Lanzhou noodle experience. Nodules de Lan Zhou isn't a fancy place, but it's humble, like their noodles.
Nouilles de Lan Zhou
1006 Boul St-Laurent
(514) 800-2959