So when can we make brunch an actual "thing". A thing that doesn't only exist on weekends or have to involve mimosas and hangover sunglasses. Granted, there are a bunch of places that serve "brunch" throughout the week, but when you live in the suburbs brunch options often suck and are usually crowded with yoga pant mommies pushing strollers who talk to servers like three year olds. So when I make the effort to drive clear across the island of Montreal via highway for brunch, that restaurant must really stand out. I went for brunch at Les Affamés, a modest "bistro du quartier" … just not my quartier.
Located in Hochelaga-Maisoneueve, or "HoMa" as the cool kids call it, or "The Hoche" as the cooler kids call it, Les Afamés serves the neighbourhood and is the purveyor of organic coffees, fine homemade pastries and tasty meals.

Banana bread pain doré with chocolate-hazelnut ganache, roasted hazelnuts, caramelized bananas and créme ivoire. The banana bread was nice and moist and not too sweet. I was hoping it wasn't, especially not with that giant luscious lake of homemade Nutella straddling across on top and the supple discs of sweet bananas. The roasted hazelnuts added a pleasant crunch to each bite, but I couldn't get over how decadent and sweet this dish was. If I was looking for an excuse to eat straight Nutella, I would have used a spoon, no need to over do it on the banana bread French toast.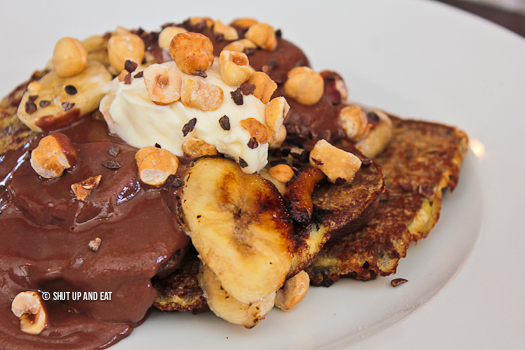 The slices of banana bread were relatively thin and didn't add to the already heaviness of the dish which was nice. But some people like over the top decadence to their breakfast meals. Whatever floats your boat… your boat on a flowing chocolatey river of homemade ganache.

Boudin, poached eggs, frisé salad, duck lardons, shredded skillet potatoes and homemade corn bread. The boudin was deep in flavour as any boudin would be. A large noble mahogany slab propped up on potatoes waiting to be conquered.
I understand that a large brick of boudin isn't the most photogenic food item and resembles more like driveway unipave, but it deserves to be showcased none the less because it's still sexy as fuck.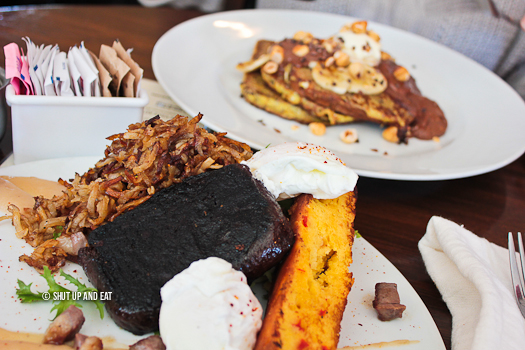 Breaking the yolk of a perfectly poached egg over anything results in something delicious, but when broken over boudin and duck fat lardons, it borders on sin… sinfully delicious. The frisé had a nice vinaigrette on it that helped cut through a lot of the richness of the dish. The cornbread was somewhat dry and I had to ask for an order of toast to serve as a boudin and drippy yolk vessel.
Les Affamés is a quint neighbourhood bistro that serves brunch daily from 10am to 3pm during the week and starting at 9am on weekends. They also offer a lunch and dinner service as well for more substantial dishes and meals. As I said in the beginning, I'd love it if more places started serving brunch during the week, and those places being local independent restaurants… Because I swear if another fucking spot with "coco" in their name opens up near me I'm going to go "coo coo"… Not to say that they don't serve tasty food, but we get it. Alas, not all culinary fantasies can come true but we can always hope. Padma Lakshmi in a bikini making burgers… amirite??!
Les Affamés
4137, rue Ste-Catherine Est
514.508.8566