When you think of iconic food from Montreal, what do you think of? Smoked meat, bagels, "steamies"? One of our culinary claims to fame that put our celebrated culinary scene on the map has been garnering international recognition over the past years popping up on menus around the world from England to Hong Kong. Poutine! Poutine is more than just French fries, cheese curds and gravy; places around town are taking this originally lowbrow dish found only in your finest greasy spoon establishments.
Expedia Canada recently contacted me after hearing about my affinity for all things poutine; eating it, cooking it, collecting poutine related paraphernalia, rolling around naked in it… They wanted to know where I get my poutine fix in Montreal. Here are some of my favourite poutines around the city.
Poutineville


One of my favourite spots for poutine is Poutineville (multiple locations). Not only for their signature specialties such as the "Poutineville" which features braised beef with red wine gravy or the "Montrealer" – a poutine ode to our lovely city that's a poutine topped Montreal smoked meat, but for their create your own poutine option. What does that even mean? A choice of four different kinds of potatoes, 10 different kinds of cheeses, five sauces and over 30 different topping ingredients, you can custom make a poutine to your liking!
Au Pied de Cochon


Local chef and Quebec culinary visionary Chef Martin Picard, was responsible for bringing the poutine to the next level. Check out Au Pied de Cochon in the Plateau Mont Royal for a soigné version of poutine. Their dish features fries fried in duck fat straddled with a generous lobe of foie gras, fresh Quebec cheese curds and doused in a foie gras gravy.
536 Avenue Duluth E, Montréal, QC H2L 1A9 (514) 281-1114
Fabergé


We love our poutine that we'll find an excuse to even eat it for breakfast! Fabergé a popular local breakfast and brunch spot serves an awesome breakfast poutine of roasted potato home fries mixed with caramelized peppers and onions, fresh Quebec cheese curds covered in hollandaise sauce, topped with a sunny side up egg. The best part about waking up to eat this poutine is the needed nap afterwards.
25 Avenue Fairmount O, Montréal, QC H2T 2L9 (514) 903-6649
Lola Rosa Parc


For the vegetarians or even those who are trying to watch what they eat, there are places out there that cater to your dietary needs. Lola Rosa Parc's poutine is a mix of Yukon gold and sweet potato fries, cheese curds topped with gravy made with mushrooms and black beans. I guess this version is kind of healthy… right?
4581 Av du Parc, Montréal, QC H2V 4E4 (514) 843-5652
Decarie Hot Dog


If you're a poutine purist, I don't blame you – countless versions of reinvented poutine can really get your head spinning – then head over to one of my favourite old school diners, Decarie Hot Dog. If you're lucky enough to snag one of the seven stools in the joint, you'll have a front row seat of what makes Decarie Hot Dog a Montreal classic. From the warm greeting to the view of the fries being fried to order, to the way veteran counterman, flips, taps and slides your canned cola to you, you can tell why this place has been opened for over 50 years.
953 Boulevard Décarie, Saint-Laurent, QC H4L 3M3 (514) 748-7213
Happy Canada Day!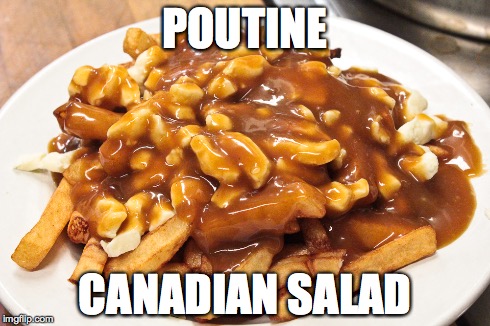 —
Written in partnership with Expedia Canada