I was the guest of Chef Daniel Boulud at Maison Boulud located in the Ritz Carlton Hotel for lunch. He was in town creating the fall/winter menu and had invited four guests to join him to discover some of the new dishes. First of all, when a Michelin star chef invites you for lunch there are a few things that go through your mind, 1) Is this a joke? 2) Are they going to serve gluten-free, vegan items? 3) Did I shower today?
I made my way downtown after clarifying the checklist that the invite was in fact not a joke, I did shower and thankfully the menu was not hippie-friendly. We were graciously received by Chef Boulud and Miason Boulud's Executve Chef Ricardo Berlotino in the beautiful veranda at the property that overlooked the garden and duck pond behind the restaurant for a preview of their new menu.
We talked and Chef Boulud was laid back and charming. He insisted us call him by what his friends refer to him as, "Danny B." He explained that concept of the menu and the new late night table d'hôte dining option being introduced at the restaurant. Diners can enjoy three courses for only $55+tax including free valet parking; a definite steal.

We started with a light melon and cucumber gazpacho to awaken our palates. Savoury and refreshing, the chilled soup opened our appetites for what was to come.

I'm a grown ass man, but nothing will make you feel dainty as eating a princess scallop ceviche with apple and celery with radish and scallions to garnish. You can't help be feel pretty when you eat something with "princess" in its name. Plump pieces of scallop bathing in a tart brine. We finished this appetizer by doing shots of leche de tigre in a scallop shell, swank.

Heirloom tomato salad with Quebec chanterelles, fresh yogurt, homemade crackers, and balsamic. A simple and elegant salad packed with flavours of our own local produce.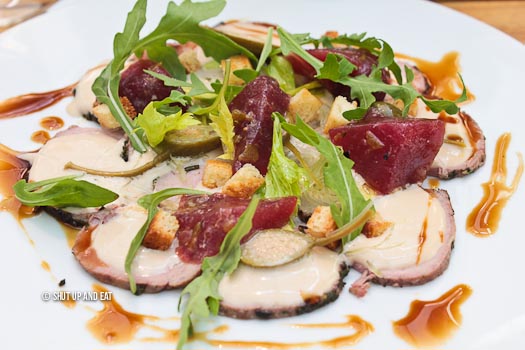 Roasted veal carpaccio with celery, caper, arugula and roasted beets. The veal was tender and soft, topped with a bright and creamy tonnato sauce. Earthy beets complimented the veal and tartness of the caper berries.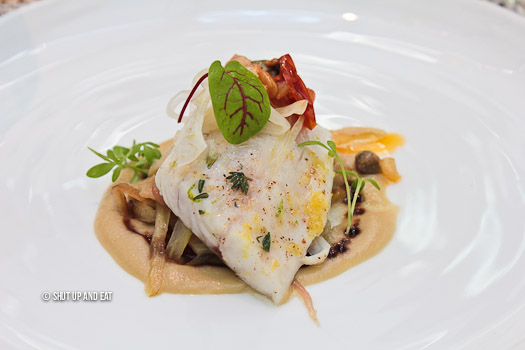 Wild caught john-dory, risotto style celeriac, black trumpet mushrooms and brown butter. The fish was nice, delicate, tender and flakey. It was perched atop pan-poached strips of savoury celery root that were translucent and toothsome.

The desserts were exquisite. Please take note that this is probably the first time that I've used the word "exquisite" on my blog and used it in the right context. The desserts had my sweet tooth by the balls (don't ask why I have balls in my mouth). The pear and hazelnuts with praliné parfait, meringue drops and and confit lemon was activating every area of my tongue and tastebuds. It was practically too pretty to eat, but I did it anyways.

Limoncello and hazelnut, gianduja mousse, praline crisp and limoncello sorbet. The favours were so concentrated and pronounced, but the dish was not heavy.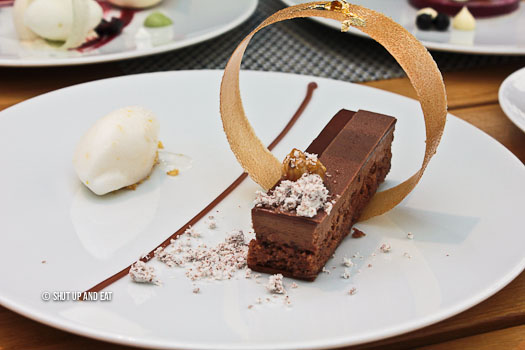 Chocolate coulant, fleur de sel caramel and caramelised milk ice cream. The last course was a clinic in desserts. You would think that layering different elements of sweetness on top of each other would push the boundary of "sweet" into cloying sweet, this was not the case. The dessert menu is masterfully executed. The varied spectrums of sweetness not only complimented each other, but the flavours held their own and as a whole, did not amalgamate into a giant single-note 'beetus ball.
Hyperbole aside, The Ritz Carlton may come off as being stuffy, up-tight and intimidating to some, but it really isn't. The staff is warm and welcoming and service is impeccable and you should expect nothing less. This late-night $55 table d'hôte special (that starts at 9:00pm) is an amazing deal for anyone looking to treat themselves or someone special to a
ritzy
experience. Maison Boulud is opened daily until 10:30pm with complimentary valet parking (with dinner at the restaurant or bar.) Ideal place to dine after a show or hockey game and not worry about parking. Thanks again to the great team at Maison Boulud for the sneak peak at their Fall/Winter menu!
Maison Boulud
1228 Rue Sherbrooke O.
Website
(514) 842-4224
Reservations recommended.
Ps, Chef Boulud isn't really called, "Danny B." But I heard they call him "D. Bizzle" in the streets. Just kidding.