Everyday when I wake up, I get down on my hands and knees and thank the powers that be that I can eat dairy. Can you imagine a life without ice cream, pizza, poutine or cheeseburgers? I can guarantee that I'd be a lot more unpleasant to be around. I would be way more crankier than I already am if I couldn't eat some of my favourite foods. Near the top of that list of favourite foods is mac and cheese. I recently checked out this new spot in The Village called Macbar et Fromage that will guarantee to scare the lactose intolerance out of you.
If you couldn't already tell by the name, Macbar et Fromage specializes in one thing: macaroni and cheese, 11 different kinds of it. Unless you have you can't eat dairy, how can you not love mac and cheese?

We ordered the "Cheeseburger Mac". A mac and cheese of cheddar, ground beef, lettuce and onions topped with a drizzle of burger sauce – similar to big mac sauce. This definitely tasted like a cheeseburger and was a great interpretation on a traditional mac and cheese.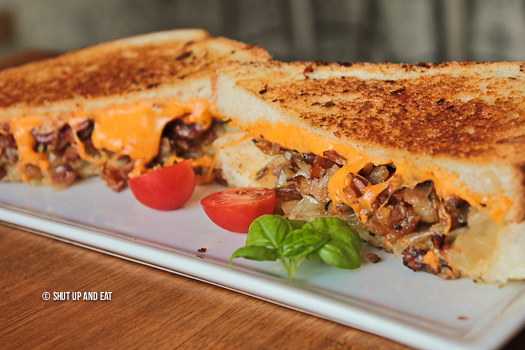 The "Le Philly Grill" grilled cheese sandwich. Philly steak, caramelized onions, sautéed mushrooms sandwiched between yellow cheddar and brie. The bread was thick-cut and perfect. Buttery and crisp on the outside and fluffy and chewy in the centre. I'm always conflicted when I eat grilled cheese sandwiches. If there's something else in addition to the cheese, it immediately stops being a "grilled cheese sandwich" and becomes a melt. But that's just my opinion, and coincidentally, the proper classification and definition of said sandwich category. Whatever you want to call it, we can agree to call it delicious.

Macbar's double cheese burger. Cheddar (orange and white), lettuce, tomato, onions in this classic rendition of a burger. It was good, it was a solid burger. I don't like romaine lettuce (shredded at that) on a burger. Iceberg lettuce is where it's at, and where it's at, is where every burger should be. I mean, at least it wasn't… *shiver* mesclun. Take note: a restaurant secretly hates you if they serve you spring mix in your burger.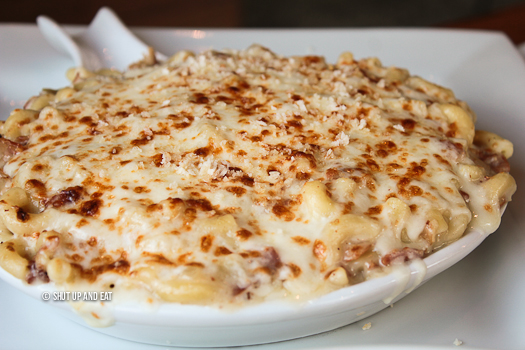 We also tried the mac and cheese with hickory smoked honey bacon. Mixed with caramelized onions, herbs and baked with a generous pile of local Quebec cheddar and sprinkled with panko. Really good. The bacon was smokey and had a hint of sweetness to it. Each cheesy mouthful was luscious and creamy. Tender pasta laced with a thick obey-gooey cheesy sauce, straddled with even more cheese then baked. Oh mommy… sprinkle some pepper on me and call me Jack.

I get it, riffs on things made with cheese is cool. Stunt sandwiches and giant burgers stuffed with mac and cheese ("Le Monstre Mac") is hokey and fun. But the essence of Macbar et Fromage is macaroni and cheese. With 11 different versions of it, they have successfully brought it off the side dish menu. Their effort in highlighting macaroni and cheese as an entity of its own is commendable.
Macbar et Fromage
1345 Ontario E.
514-303-6622
Website