I had a friend the other day come up to me and say, "hey did you know it's only 318 days until Christmas?" … HAD. Are you sick of winter yet? I am. We live in a place where the air literally hurts your face, the fucking AIR. Our winters are long and tedious but Montrealers are resilient and soldier through it. As shitty as our winters are, there is that proverbial light at the end of the tunnel. Summer and more importantly what's the best part about summer? Short skirts and crop tops? Sure, but let's be honest here, I'm talking food festivals. There's no denying that our city revolves around food. Our gastronomy scene is second to none. Being said, food festivals aren't unique to summer. The hyperborean months between Christmas and Easter are host to some of the year's best food festivals like, La Poutine Week, and Happening Gourmand.
I had the opportunity to check out the Happening Gourmand festival and experience one of the city's happening restaurants. Wait, I know what you're thinking. "Great, you jerk, don't tell me you're going to write and tell me about some food festival after the fact. What is that going to do for me now that it's over?" I knew you'd say that. But you can still go! Here's how!

Let me explain. I was invited to check out one of the restaurants that was participating in the event. After looking over all the menus, I chose Maggie Oakes – located in the new swanky William Gray. For many reasons. For one, the regular menu was heavy on locally sourced products and seemed more than a typically "safe" hotel restaurant menu. Also, the event menu featured items on their regular menu. A great indication of them putting their best dishes forward rather than conceptualizing something gimmicky for this event.

Started with the seared salmon "gravlax" served with green tea vinaigrette, fried seaweed and marinated ginger.

Plump, succulent pieces of marinated salmon spiked with a smokey dressing. Hints of brine highlighted with a tinge of spicy ginger was a great way to pique anyone's appetite.

On the menu was grilled arctic char, served with red quinoa, squash, green beans, fennel salad and soppressata. The cook on the fish was great, grilled on the outside and just on the verge of opaque inside – the flesh was tender. The sweetness of the acorn squash brought out the inherent earthy nuttiness of the red quinoa. The fennel slaw was nice and fresh that helped cut through each buttery bite. A bit too earthy for my liking, but the fish was on par.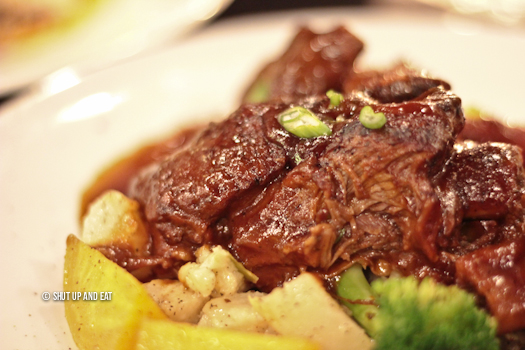 We also tried the braised veal short rib with smoked maple lacquer, celeriac smash, and roasted market vegetables. Barely holding onto the bone, the meat was incredibly tender. Paired with winter vegetables, the duo made each mouthful hearty and comforting. The barbecue sauce was sweet but not overly cloying as to take away from the natural delicate flavour of the meat. The veal however was still robust enough that it stood up and took to the smoked maple very well. An awesome winter dish.

Desserts change on the daily. The day's special was a Nutella tart, served with berries, candy pearls, hazelnuts and berry coulis. Not overly sweet, it was refreshing and light.

But this chocolate fondant though. Dark chocolate fondant, Alunga milk chocolate liquid centre served with a homemade brown butter ice cream.

The chocolate was decadent and bordered on sinful. The brown butter ice cream was smoother than the silk spun by blind nuns.
I had the chance to catch up with the chef, Chef Derek Bocking – Top Chef contestant and local restaurant scene veteran. I asked what was the thought process in featuring their existing menu items on their festival menu. He said that these two dishes are a couple of his favourites. Favourites to make, and favourites to eat. Plain and simple. It makes sense to want to showcase the dishes that you enjoy because for a lack of a better term, Chef Bocking's passion for food comes through. Instead of some loveless stunt poutine or experiment conceptualized for the sake of "fun". From an in-house dry age room, living green wall, extensive wine list and to decor, it's easy to see that Maggie Oakes pays close attention to every aspect of a guest's experience.
Although the festival is now over, like I mentioned, the dishes are in fact on the regular menu. Chef Bocking's warm love for garden vegetables and big meat paired with a commitment to local farmers and purveyors will definitely help you get through these next few cold winter months.
426 Place Jacques-Cartier
514 656-6000
http://maggieoakes.com/en/
—
I was a guest of Maggie Oakes. Thoughts and opinions are my own.