Fried chicken is often considered comfort food. Comfort food rarely ever considered fancy food. What's there to make fancy? A dismembered bird, bathed in its children, floured and deep fried. It's usually comes with a side of fluorescent coleslaw and served in a bucket. It's the best kind of food. It's everything you want it to be; greasy gluttonous comfort food eaten with our hands. Lip smacking, guilt inducing take-along batter pops. It's perfect. So how does fancy fried chicken even exist? I recently checked out Le Bird Bar, the newest hot spot in Griffintown proving that fancy fried chicken is a real thing, and making fried chicken is their thing.
If you're ever going to eat fancy fried chicken, it's going to be at Bird Bar, and if was anyone to ever make fancy fried chicken, it would be Kimberly Lallouz – Head chef and proprietor of two other happening restaurants,
Monsieur
and
Miss Prêt à Manger
. Griffintown's newest hotspot is not only a place for fried chicken, but fried chicken paired with champagne and cocktails.

From the small plates menu, we started with the fried mac and cheese balls served with marinara sauce.


The marina dipping sauce was sweet and subtle, but the mac and cheese was missing a vital ingredient. Five crunchy fritters of devoid of ooey, gooey, cheesy goodness that one looks for in mac and cheese.

We also had the Wagyu pogos. Wagyu beef corn dogs served with corn and tomato jam, pickled jalapeños, honey dijon and crumbled Fritos. Delicious. The batter was light and not cakey highlighted by subdued stings of the tart pickled chili peppers. The dressing added a sweet heat and the crunchy crumbled Fritos added a nice touch of texture to each bite.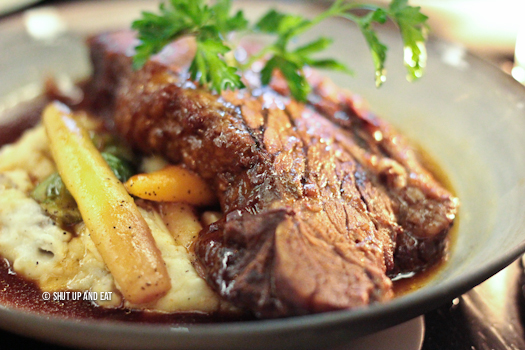 The Brisket à L'ancienne, traditional five-hour braised brisket au jus, served with dirty mash and sautéed market vegetables. Hands down, one of the better briskets I've had in a very long time.


Generous portion of the most incredibly tender beef swimming in the most robust jus I would have drank with a straw or have hooked up to me intravenously. I needed it in me. Sautéed veg was sauteed veg.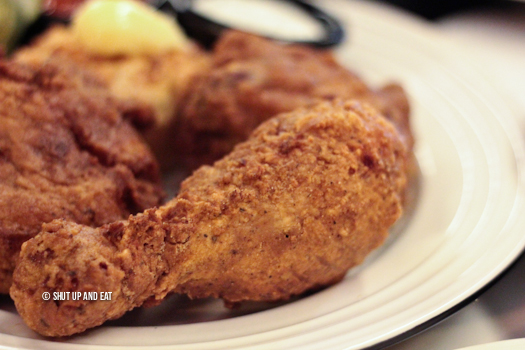 Dishes from the "small plates" and "large plates" section of the menu was nice, but we were here for the chicken. So what is fancy fried chicken you ask? Great question. Le Bird Bar serves socially responsible chicken – high-quality, free-range, local vegetable grain-fed chicken exclusively from Ferme des Voltigeurs. They also use a special cooking technique that boasts 40-60% less grease absorption in their fried foods. What does this mean? 40%-60% more chicken to eat! Bird bar serves their chicken with a choice of 13 different sauces; maple-sriracha, ginger-soy, bourbon, spicy mango, truffled white gravy to name a few.

Off the bat, the crust on the chicken was literally that; a crust. It was thick enough that it held together but also shattered when you bit into each piece. The chicken was juicy and tender. They offer 13 different sauces. We had the ranch, and the "bumburn", which if you could't guess by the name, was a spicy sauce. I'm happy to report there was no burning of the bum. All chicken is fried to order (as it should be) so there is a bit of a wait, but it's well worth it. Each other comes with jalapeño corn bread as well as a ridiculous honey butter which I would buy by the pound if available.

We had the watermelon and feta salad. It was fresh and cool and helped bread though the heat of the well insulated the chicken (it was piping hot).

We managed to save space for dessert, the "Roman's rocket". Chocolate-banana and pecan cake covered in warm salted caramel, served with whipped cream and berries. Decadent and over the top. Louis C.K. says a meal doesn't stop when you're full, it stops when you hate yourself. I was full two bites into my first piece of chicken, but couldn't stop. The cake enticed me out of my imminent food coma to teach me how to hate myself on a whole new level.
We visited in the middle of the week and the place was jumping. People cocktailing at the bar, seats filled with fried chicken eaters and oyster slurpers, it's safe to say that Le Bird Bar is definitely the place to be right now in Griffintown. Even if you're not a fan of fried chicken, the menu has you covered. Baked bone marrow, truffled mac and cheese, shrimp & grits… I mean come on! If you can't find something that's going to pique your interest, stay home. Le Bird Bar is also open for weekday lunch as well as weekend brunch. Fried chicken and waffles? Yes please, in my mouth, with my lips and my tongue. Check out their own little speak easy in the basement, the "Hen Den". Chic, quaint and and slathered with a thick layer of fierce. Gorgeous space, gorgeous food, gorgeous people, and me… fancy.
Le Bird Bar
1800 Notre Dame West
https://www.facebook.com/LeBirdBar/