They say a sign of getting older is brunching harder then you party. Actually, I'm not really sure who "they" are or if this is a real adage, but I'm saying it now, so it's a thing. What better way to end the weekend and mentally prepare yourself for a work week ahead than with day-drinking, because brunch without booze is just a sad sad late breakfast. I'm confident in saying that Montreal's brunch game is on point. In any corner of the city, regardless of the neighbourhood, there will always be a local café, big box chain, or bistro du quartier serving a weekend brunch. An area that is often is overlooked is right under your nose; The Golden Square Mile, AKA, Downtown! Amidst the new wave brunch spots, sits various O.G. go-to's that pillar the scene with brunch classics. That's exactly what you'll get at La Société.

La Société Montréal is headed by chef Gilles Tolen and is situated in the heart of downtown in the Loews Vogue hotel – steps away from the historic La Maison Ogilvy. Bathed in natural light from an impressive stained glass ceiling, the space at La Société is reminiscent of a traditional French bistro, accented in mahogany and marble. I had the opportunity to check out Chef Tolen's weekend brunch menu which featured signature cocktails and reenvisioned brunch classics. The Marrakech Mimosa – pulpy fresh-pressed Orange Juice, lemon-Marrakech extracts, rosewater, prosecco garnished with an orange slice and anise.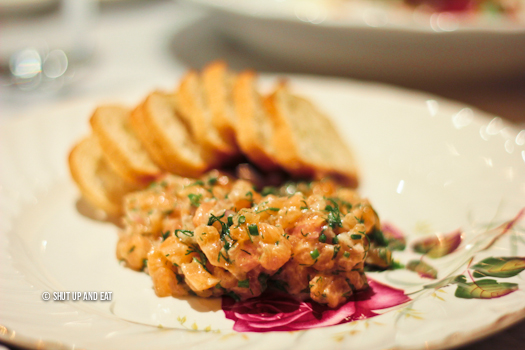 We started with a classic salmon tartar. Generous portion of supple salmon laced with dill, chives, capers and citrus. Served with coutons, this dish is everything you want it to be, fresh and delicious. Each bite was aromatic and flavourful.

The brunch menu often features a daily special. This day was a pain perdu served with crème anglaise, whipped cream, wine poached apples and maple syrup. The French toast was fluffy and had a nice crust to it. The apples were inherently tart but dulled by the deep flavour and subtle nuances of the wine. Each bite was bright and highlighted by the cream and savoury floral aromatics of the bitter micro-greens. I normally refer savoury brunch items, but do enjoy pancakes, and French toast on occasion.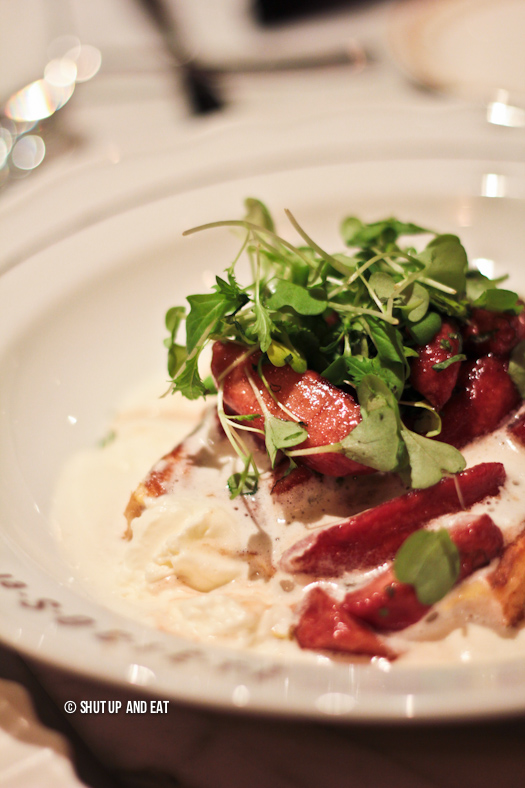 This dish was light but lacked punch. The only thing that was missing was a strip or two or three or seven of thick cut bacon that would help plough through and balance each mouthful. Not to take away from this dish itself – it was tasty and well composed. But I would have enjoyed a salty hit of something. I know, not every brunch dish needs to have meat in it, but some dishes need bacon.

Lobster Benedict served with breakfast potatoes.

The lobster Benedict were great. Large pieces of sweet and tender lobster, sautéed spinach, a perfectly poached egg and hollandaise sprinkled with cheese. I wasn't a fan of the hollandaise – it was tight and just sat atop the eggs. I prefer it to be looser. Silky and tart sauce that mixes into the undercooked yolk of the egg adding another level of buttery creaminess. There's something about a runny broken yolk over lobster on a Sunday morning. It's soigné. It's a French bistro on the weekend for brunch. It encompasses the ability to render your dinner plans quivering in the corner with its legs crossed.
La Socété should not be overlooked as a legitimate contender for a spot on your weekend brunch rotation. Easy to get to by transit or by car (yes, if you go early enough, there is parking available on the street). The menu features other delicious classics such as traditional breakfast plates, omelettes, vegetarian options, a raw bar that opens at 11am as well as bottomless mimosas and ceasars. Located in the heart of Downtown, what's better than finishing brunch and then have the rest of the day to do your shopping? Take in the sights and sounds of the city, go on an extended walk and work it off in preparation for your next meal… Lunner!
La Société
1415, Rue de la Montagne
514 507.9223
http://montreal.lasociete.ca
Cover photo: ©La Société