Remember the last time you were at the Asian market picking up your pickled mustard greens, pork trotters, salted fish and bottle of lye and saw stacks on stacks of aluminium tins with old Asian aunties huddled around them making deals and trading back and forth like they were gambling plaques from Macau? That coveted aluminium tins house one of the season's most illustrious treats – Moon cakes! But what are they and why do we eat them at this time of year?

When I say "Moon Cakes" I don't mean a booty that's out of this world on an interstellar level worthy of a comparison to adult film star and feature dancer, Jada Stevens, but baked goods that not only are tasty, but have a pretty awesome story behind them as well. A mix of folklore and old wives tales, the variations of the history behind the moon cakes cover the gamut of hokum like the story of a young man who saved a goddess and was rewarded with an elixir of immortality, then whose wife took the potion to escape murder and floated to the sky – leaving him to enjoy cakes and sweets as an offering to her when the moon was at its brightest (in order to see her better). As well as messages being baked into the cakes and designed on the top as a form of ancient telegram during the Ming Revolution overthrowing the Mongol rulers on the 15th day of the eighth lunar month.

Since the mid-autumn mood festival happens more of less around the same time every year, I've forgone the folklore and story telling to gauge the presence of moon cakes at the grocery stores as a signal that it's only a couple of weeks left until thanksgiving and a long weekend from school. Although there are many different kinds of moon cakes – some that are harder to come by and more expensive around here – I'm going to give you the run down on four of the more popular and traditional varieties.

Black sesame – Black sesame is ground into a very fine paste and mixed with sugar, shortening – lard – and strained and condensed into a thick filling paste.
It is common to see a salted duck yolk in the centre of the cake. The contrast of extremely salty egg yolk and sweetness of the filling as well as the powder like finish of the egg yolk against the smooth silky texture of the filling is something you need to get used to. The sesame variety is a bit smokey and nutty. It isn't for everyone both taste and texture… only if you're awesome.

Lotus seed filling with egg yolk.A bit different in colour and flavour; a lot more sweeter and aromatic than the sesame. Again, with the salted egg yolk – representative of the moon.

My favourite moon cake of all, the red bean paste. A thick red bean paste that's denser in texture and heavier in flavour. I know it might be difficult to wrap your head around the concept of a sweet bean, but it's killer and amazing… and since it's my absolute favourite, I can attest that sweet red beans do not come with the bean "phenomenon"… if y'knows what I'm saying.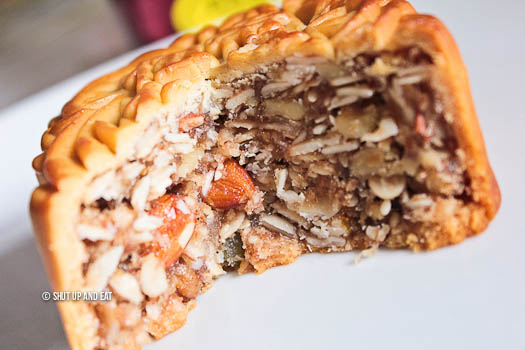 The most different of the four, the five nuts moon cake.A mix of sesame seeds, almonds, pumpkin seeds, walnuts, dates, candied melon; some varieties add salted and preserved pork – yes… in a cake – truly a mix of sweet and savoury.
Traditionally, moon cakes are enjoyed a sliver at a time with a cup of strong tea, a nice oolong or black tea. As tasty as they are, remember some varieties can reach up to over 1000 calories EACH, per cake! So eat them sparingly. Moon cakes are now ON SALE!!! Sold at almost $20 a tin at some stores, now that the season is coming to an end, I've seen them being sold as low as $5.99 a box. So get out there and celebrate the crap out of that mid-autumn moon!