If you've never had Korean barbecue before, I'm sorry to tell you that we can't be friends until you do. It's not only a meal, it's an experience you must have at least once in your life… or every other week. Imagine plates upon plates of different cuts of marinated meat, fresh seafood and vegetables piled high, banchan side dishes like kimchi, marinated cucumbers and pickled radishes all surrounding a fiery hot grill that sits recessed into the middle of the table waiting for your command. I recently had the chance to check out Montreal's Kalbi BBQ, the newest go-to Korean BBQ joint where you do all your own cooking and you eat all that you can.
Kalbi is an all-you-can-eat Korean BBQ restaurant. Their menu consists of cold and hot appetizers, choices of different cuts of beef and pork, to chicken, seafood and vegetables as well as a modest sushi list.

As I learn from every outing to an "all you can eat" restaurant, this declaration IS NOT a challenge, so order accordingly. Each order equals out to about a portion per person. I suggest your first order to be everything and anything your heart desires and then start streamlining your next order after reassessing how hungry you are and which dishes you liked. There's a penalty for leftovers, so don't be afraid to order a little at a time.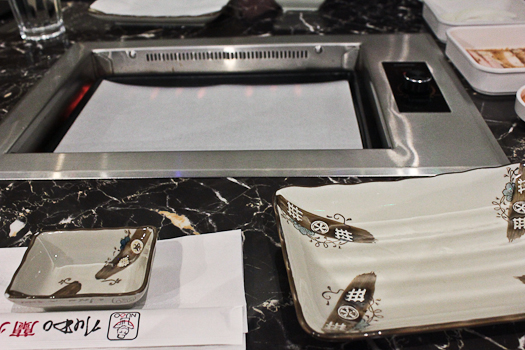 Kalbi BBQ is introducing a new style of Korean BBQ that's all the rage now in Asia and is the hottest export out of Korea since Psy and his Oprah's Gangbang style; paper grilling. What's paper grilling? I'm glad you asked. A thin sheet of parchment paper is laid atop the grill (that still transfers heat and allows the meat to sear) to soak up excess fat and oil that's being cooked out of the meat.

The oil soaked paper is changed out after every round of cooking. I wouldn't call it this version of Korean BBQ "healthier", but definitely significantly better than other places where your food is essentially simmering in fat.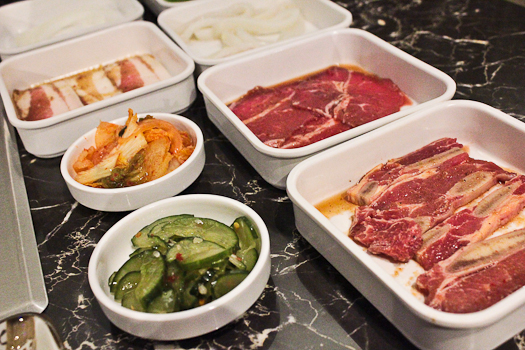 The quality of meats are great. The tabletop sweet garlic and soy dipping sauce as well as the signature Korean gochujang hot sauce was a plus. We tried almost everything on the BBQ menu except a few random vegetables. Beef, short ribs, pork, pork belly, mild and spicy sausage, lamb and beef tongue, everything was delicious.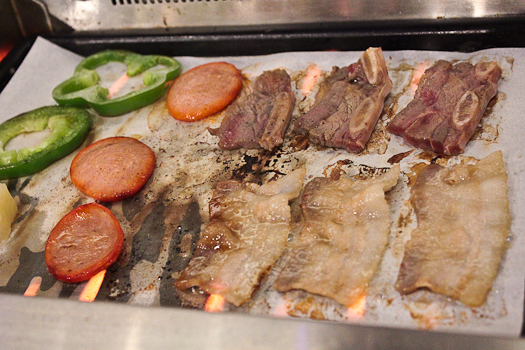 Honestly you can't go wrong with Korean BBQ, well you kind of can if you undercook your food. But there's instructions for beginners on the menu where it warns you to be careful of the doneness of your meat – Cook your meat well! They also suggest using two tongs for your cooking; one for cooked and ready to eat foods and another for raw meats to reduce the risk of cross contamination, after all, common sense isn't always so common. I'd also like to add this Korean BBQ pro tip: order chicken last, or cook it last before changing the paper; ain't no one got time for salmonella.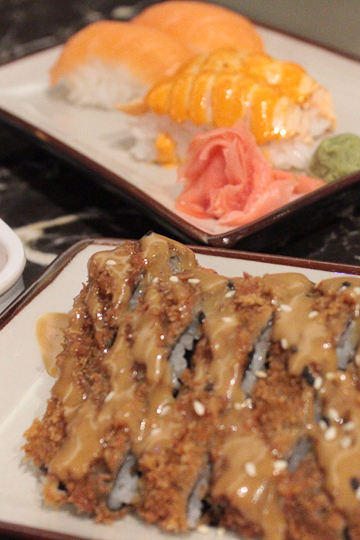 Simple nigiri as well as specialty rolls (like this Sushi "pizza") are a great accompaniment to the BBQ – you're not coming here for an authentic Japanese sushi experience or anything.
Seated at a table with a built in grill surrounded by plates of fresh meat, seafood and vegetables for you to cook is only a part of the Korean BBQ equation. It's the ritual, cooking for yourself and others at your table. Taking the time to enjoy each other's company around delicious food is essentially what food boils down to – except my sister who I've watched inhale an entire sandwich sitting in traffic while shuttling her kids back and forth from hockey practices, but even then she was doing so with her kids in the car. I'm not trying to make it sound more romantic than it really is (the BBQ not my sister endangering motorists), but this meal is more than just a meal, it's an experience. Kalbi BBQ adds is definitely a welcomed addition to the already eclectic Chinatown restaurant scene.
Kalbi BBQ
1017 St. Laurent Blvd
(514) 878-3388
Facebook
P.S. Shout out to the retractable exhaust pipes located directly above the grill sucking up the delicious BBQ smoke (instead of it soaking into my clothes) and preventing stray animals following me home.