The best part about Chinatown in Montreal? The food; plain and simple. Although called "Chinatown" it encompasses tastes and flavours of all cultures in this 3 block radius in the Ville Marie borough. Looking for awesome cantonese food? Some of the city's best Cantonese lobster, braised beef with bean curd, or even black bean bitter melon can be found here. Not to mention some of the juiciest xiao long bao soup dumplings, all-dressed pho (tokienese soup noodles), korean bulgogi and even Japanese sushi and sashimi. But one thing I think we can all agree on is that Chinatown's taco game has been weak. Not until recently, La Capital Taco is changing everyone's mind.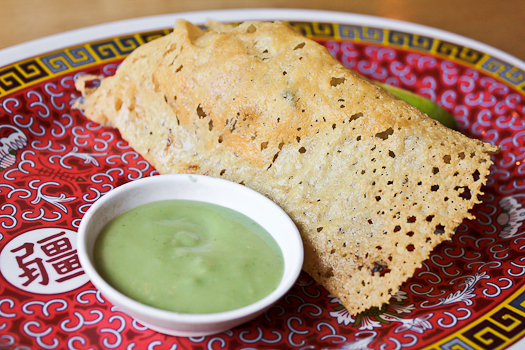 The menu is straight forward, with a handful of appetizers and six traditional tacos. What piqued my interest was the first thing listed. "Chicharron de queso" which was described as "Grilled Monterray Jack cheese". What did we get? A giant leaf of grilled Monterray Jack cheese. I don't know what else I was expecting – a giant, chewy rolled up sheet of spicy Jack served with a creamy avocado sauce. It was salty and delicious.

We ordered the guacamole which is served in two sizes. Opposed to the described "regular" and "large" sizes, they turned out to be what I considered "regular" and "bitch". It was served in a rice bowl with homemade tortilla chips on the side. A purée of fresh avocados topped with a little pico de gallo, the guac was creamy and buttery. Our server said that a "large" would be good for two people… ON WHAT PLANET? Maybe my guac consumption is more impressive than a normal person.

My favourite; tacos al pastor. Trompo spit roasted, marinated pork shaved and served on a warm toasted corn tortilla topped with onions, cilantro and pineapple. A mild heat that comes from a mix of guajillo and ancho chile and smokiness of adobo is what makes this taco so profoundly flavourful. Served with guacamole taquero, I found that this taco tastes better with a spritz of lime, as the creamy avocado sauce dulls the flavours. Al Pastor fun fact: "Al Pastor" it means "in the style of the shepherd" and is derived from the middle eastern shwarma preparation of vertical fire-roasted meat.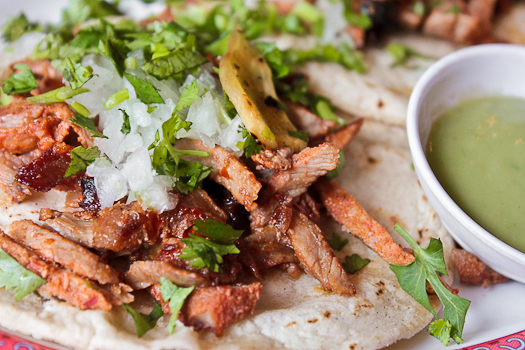 What stood out the most was the meat, besides the incredible flavour, the fact that it was still juicy and moist. If I had a dollar for every time I ate dry al pastor, I'd probably have $27. The only thing separating these tacos from the ones I've had in SoCal are the double tortillas and a lady serving me in Spanish after telling her in both English AND Spanish that I don't speak Spanish. Lo que sea.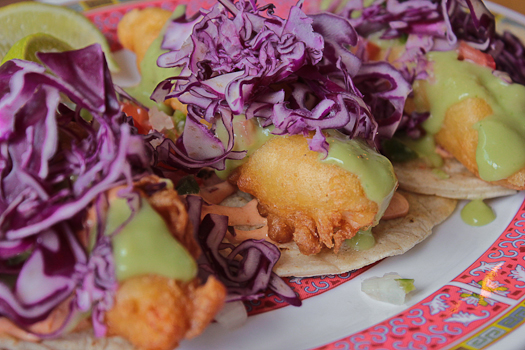 The "Rosarito" – Fried shrimp served with a chipotle mayo, topped with guacamole taquero, pico de gallo and red cabbage. In the style of a baha fish taco, the shrimp was battered and deep fried. The shrimp itself was substantial and was not dwarfed in the batter. The batter was lightly seasoned and was inherently sweet. The subtle heat of the chipotle mayo wasn't overbearing and with the guacamole sauce, gave each mouthful a creamy texture. The cabbage and pico de gallo offered great acidity to cut through the heaviness of the batter. A really tasty taco; the only problem was there was only three.

We went at lunchtime and the place was packed, the line grew long and the waitstaff grew flustered. We were visited by two servers and one took our orders. Not 2 minutes later the other server came to ask if we've eaten yet, and we told her we just ordered. I guess they aren't working by sections. What happened next is one of the things I hate the most. We were slowly working on the "large" guacamole and our tacos came. The waitress started rearranging the plates to make room on the table, and by "rearranging" I really mean, she removed and took away the bowl of guac and tortillas…without asking if we were done. Granted there was at least a few tablespoons of guacamole and four to five chips left – perfect portioning after rationing this "large" order of guac. Yes I understand you have to flip the tables especially at lunchtime, but fuck, let me finish my food. We were having lunch like anyone else in the restaurant. We were two sitting at the counter against the window, not like we were nursing a cup of coffee at a coffeeshop for three hours. We were going to eat our lunch then GTFO like anyone else during their lunch hour… ok? Chill. Rude. We looked at each other in shock and by the time we realized what happened, she had already disappeared.
The food was good, no doubt about that. I like the nod to Chinatown by serving their food on plastic plates featuring a kitschy Chinese motif. Our male server took the time to explain the menu and check in on us while we were eating, which was appreciated. I will definitely be back to make my way through their menu if the Al Pastor and Rosarito were any indication of the kind of tacos we can expect.
La Capital Tacos
1096 Saint-Laurent Blvd.
514-873-5255
Facebook