Who knew you could get delicious pizza and pasta in Chinatown in a space designed by a local award-winning firm? In the past 5 to 8 years, there have been a great variety of new restaurant options in the neighbourhood. You've got your local staples of Cantonese cuisine, Szeuchuan, to places pulling fresh noodles and buns and desserts. Now add taquerias, sukiyaki, bubble tea and now Italian to the mix. What do you get? A Chinatown that's unlike any other. This week I check out Tiramisu, the newest hotspot in Chinatown slinging pizza and pasta.
Sushi Arancini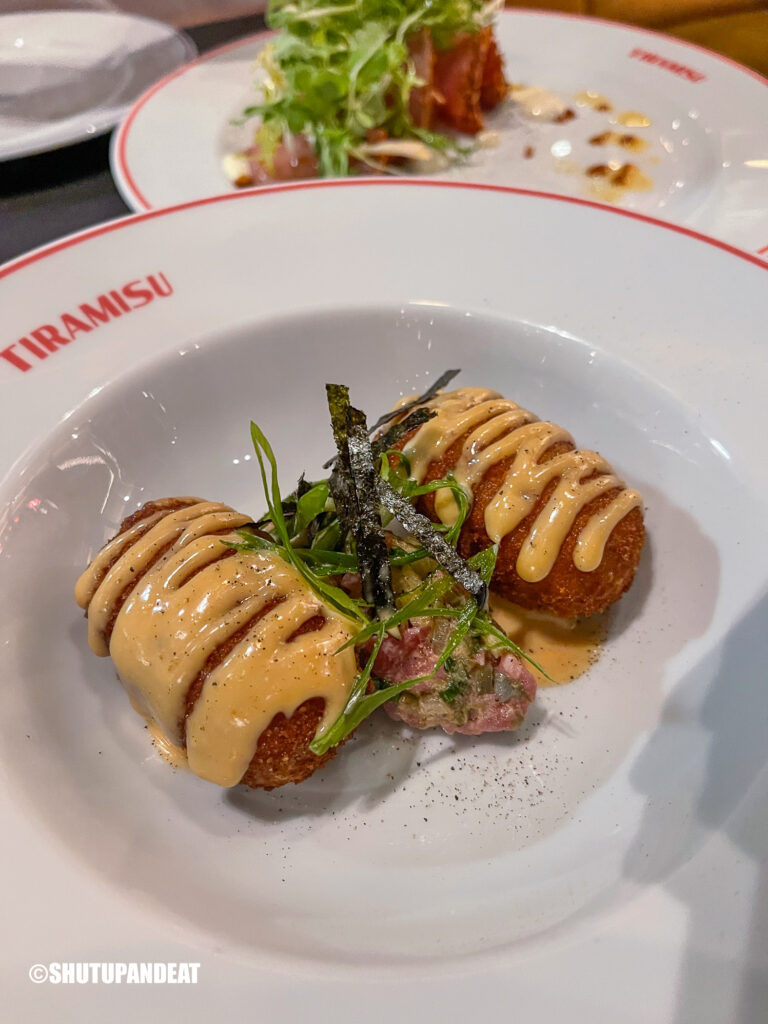 They don't consider themselves "fusion" cuisine – because they're not. Classically Italian with a nods to Japanese cuisine… or so they say – "ITALIEN DE NATURE. JAPONAIS PAR AMOUR" as it's written on their website. The menu consists of a handful of appetizers, salads, pastas, pizza and a few other dishes. We started with the sushi rice arancini. Panko crusted seasoned short grain rice stuffed with bits of mozzarella, drizzled with a miso aioli and served with beef tartare. Delicious. The rice was hot and slightly sweet and paired nicely with the chilled beef.
Tuna Takaki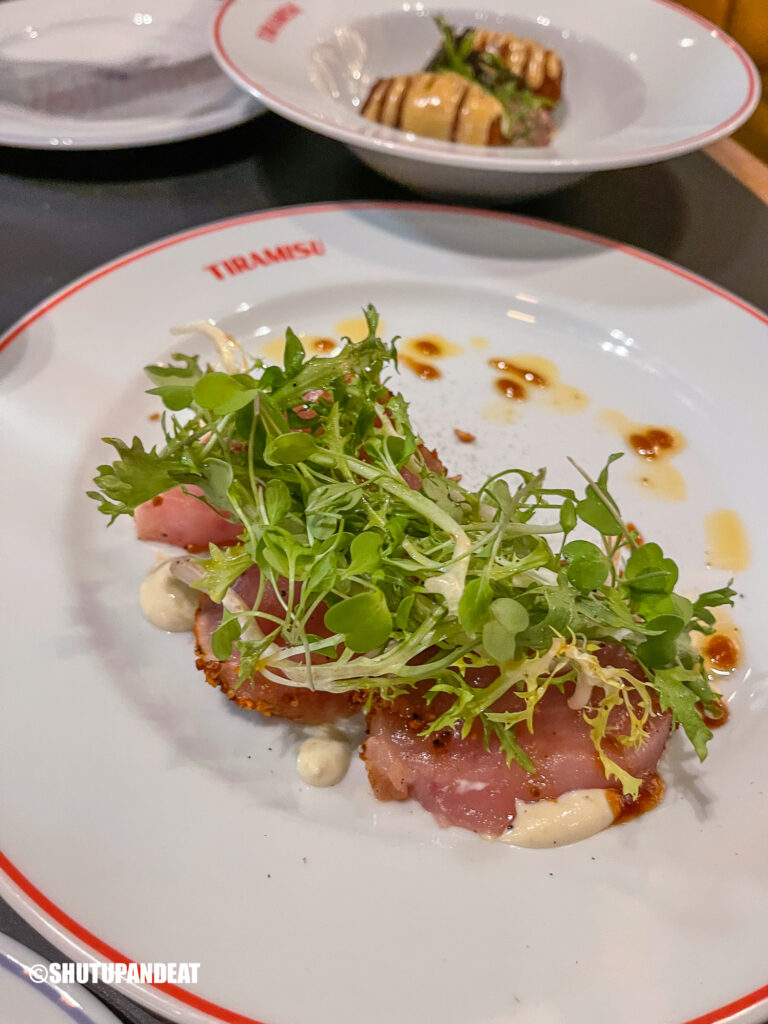 This dish was thick slices of tuna, truffle caper, ponzu, oregano, salad, and tonnato dressing. There was a little spice to the sauce and it gave each bite a kick. The fresh bitter greens also complimented the fatty tuna loin.
Rigatoni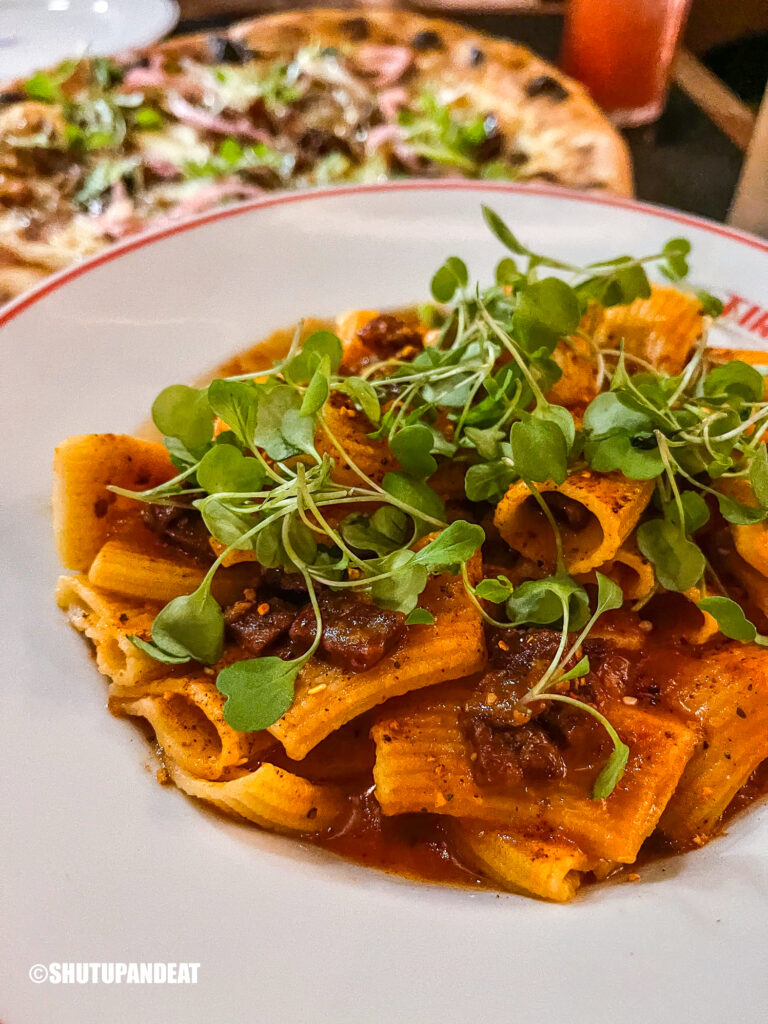 We also had the spicy rigatoni. Fresh rigatoni in a miso arrabiata sauce with sopressata, togarashi, and topped with grana padano. The pasta was firm and the sauce was spicy and enjoyable. The miso wasn't decipherable. Other than maybe being used for it's salty quality (but the sopressata is salty too), you would never know there's miso in there if no one told you. Tasty nonetheless!
Peking Duck Pizza
Juicy pieces of shredded duck topped with pickled onions on a perfectly chewy crust. There was absolutely nothing "Peking Duck" about this "Peking Duck" pizza… other than the duck – which wasn't even prepared à la Peking. Peking duck is all about the impossibly crispy duck skin that's served in a warm sesame oil pancake, slathered with a sweet and savoury hoisin sauce topped with scallions and cucumber. This in its essence was a delicious roasted duck pizza. Duck – that I may add – is sourced from Dobe and Andy which is not mentioned anywhere on the menu. Don't call it something it's not.
Tiramisu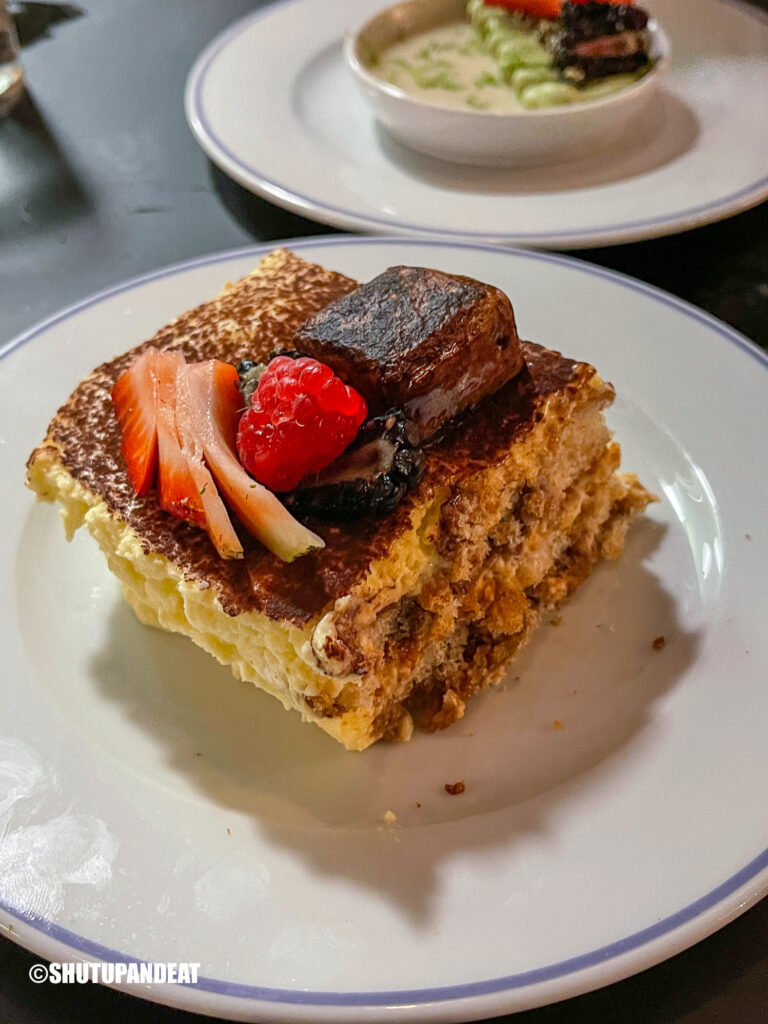 When a place is called Tiramisu, what's the one thing you'd think they would specialize in? Or at least be the home run dish of the menu? The tiramisu, right? Soaked lady fingers layered with cream and mascarpone with an over tone of alcohol that leaves you with the feeling of finishing your meal off strong. I LOVE dessert. Really, I do. Cakes, cookies, whatever's sweet, I'll eat it, and appreciate it and love it. This tiramisu was tepid and non-eventful. It was tough to feel enthusiastic about recounting my experience with this dessert because it was just ok.
Despite the lacklustre dessert and my stance on bastardizing names of meals (and dishes), or even my inability to see the lackadaisical connection between Italian food and Japanese cuisine, I enjoyed my experience at Tiramisu. The service was top notch and attentive. The space is gorgeous and inviting. Nooks and crannies that give each area of the restaurant a sense of intimacy while still feeling like you're a part of the party. A party in which the music can get loud and the lights dim as the night progresses. With the cocktails, this place is a vibe. Totally recommend the duck pizza, but ask for a side of hoisin sauce. I did and it made the difference. Reservations suggested.
Tiramisu
989 St Laurent Blvd
https://www.tiramisumtl.com/