Last week I talked about Southern barbecue – ribs, chicken, brisket and other delicious meats slowly smoked over wood fire. This week I'm talking about barbecue again, but from the east. Way east for Chinese style barbecue. I've written about Dak Hing before, my favourite place for Chinese barbecue uptown. Succulent whole roast pork with impossibly crispy and crunch skin, deep and flavourful poached free-range chicken in seasoned soya sauce and fiery red and tender barbecue pork. This time we're heading to Chinatown to a classic spot that has been serving up some of the best Hong Kong style Chinese barbecue in the city for ages – Dobe and Andy.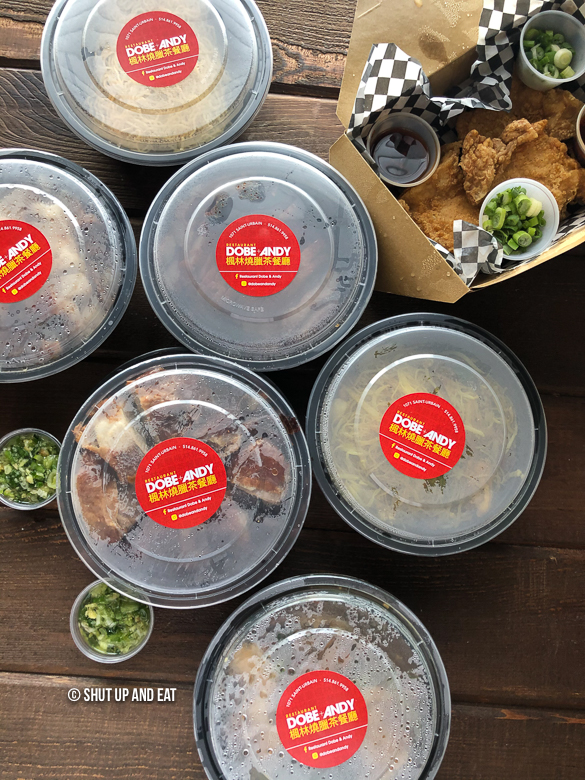 Located in a very unassuming residential/commercial building, one would think you'd have to be in the know to know about this place exists. You can't miss it, they're situated next to the main entrance. Dobe and Andy specializes in Siu Laap (燒臘). Siu laap is the name of Cantonese-style cooked meats by an open pit or fire, or that are poached or braised. You're going to find all the usual suspects here as well as some daily specials and of course other staple menu items.
Barbecue Pork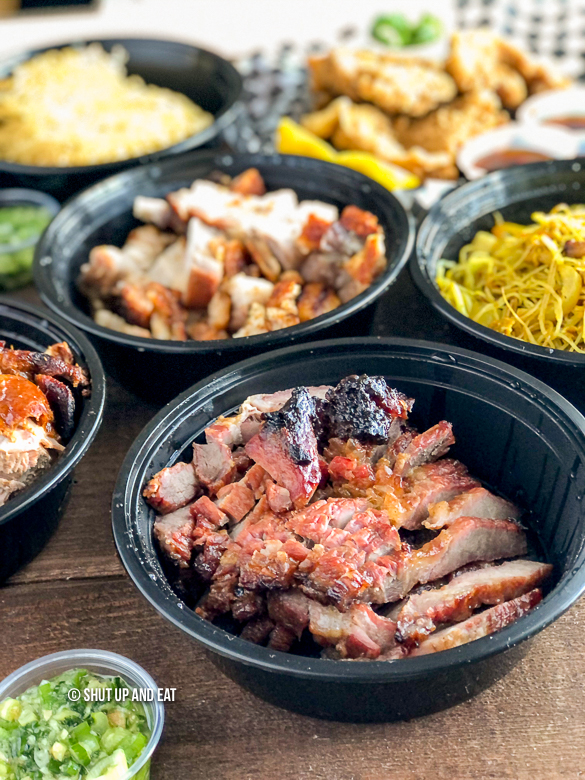 Cha siu are blabs of pork shoulder that are marinated, skewed and then roasted over fire. The slices of meat are bathed in a sweet glaze giving it a lacquered, glassy sheen. Each bite consists of the tender pork, little unctuous niblets of fat and caramelized charred edges. I often go out of my way to ask for the slices that have the burnt ends. It's my favourite. You can also ask for leaner pieces as well.



Fun fact: Cha Siu was my nick name at Saturday Chinese school; because of rosy complexion and the fact that I was chubs like a little piglet.
Not only because it's delicious but there's so much you can do with the leftovers; fried rice, in a sandwich, in an omelette, in a boat, with a goat on a moat. Now that I think of it, I'm not sure if it's actually that versatile. Or maybe I put it in everything as an excuse to eat it because I love it so much. Fun fact: Cha Siu was my nick name at Saturday Chinese school; because of rosy complexion and the fact that I was chubs like a little piglet.
Roasted Pork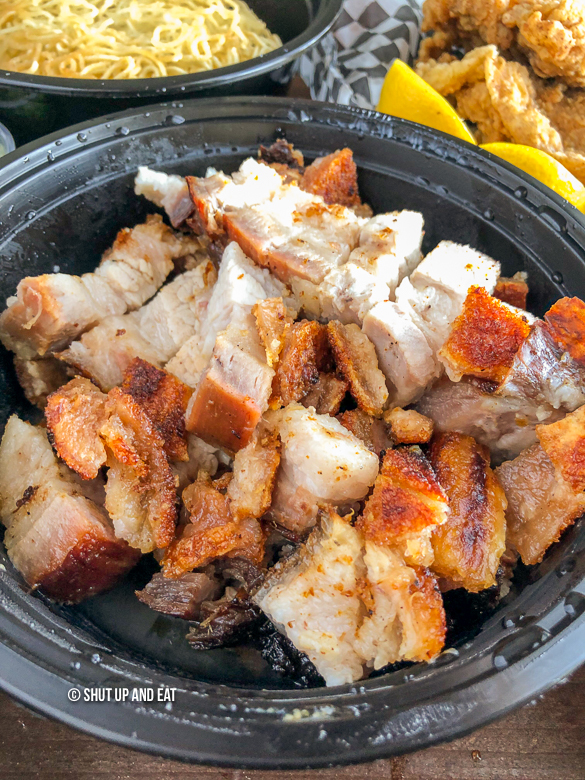 The roast pork is another classic. Fatty slices of pork belly rubbed with Chinese wine and five-spice then roasted until the skin golden and crispy. The skin is perforated (by hand) with hundreds of tiny holes so that as the fat melts out, the grease coats the skin. This means the meat basically deep-fries itself as it cooks. I've said before; a roasted pork is worth its weight in gold if the skin stays crispy. I don't know their roast pork recipe, but the skin remained teeth shattering by the time I got home all after a 30 minute drive.
Roasted Duck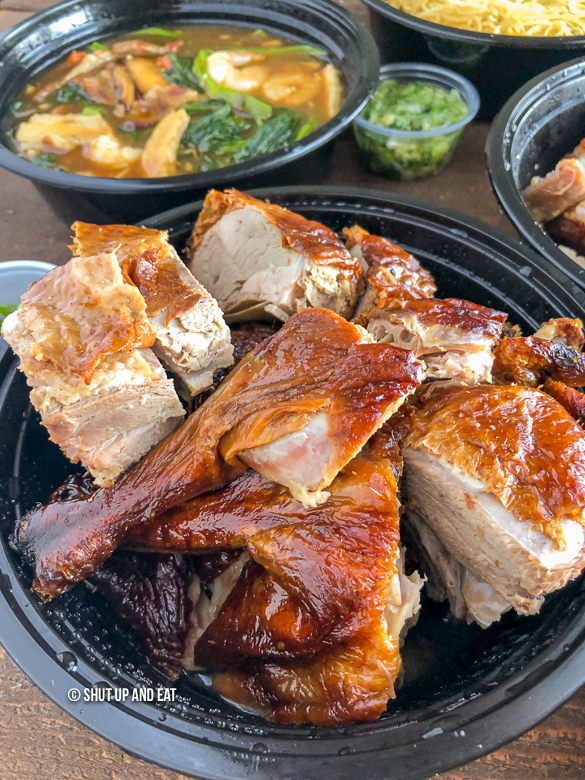 Protip: eat this (roasted duck) with plum sauce or egg roll sauce. Thank me later.
The ducks are marinated in soya sauce and a mix of spices. They are then and roasted over a flame and this is what gives it its deep amber colour. The meat is lean and firm and perfumed with the marinade mixture. Fragrant in the unmistakeable aroma of five spice. Delicious. Protip: eat this with plum sauce or egg roll sauce. Thank me later. Not to be confused with crispy skin duck, this is completely different.
Noodles
Dobe and Andy serves a classic Cantonese fried noodle. Slices of pork, plump shrimp, and sautéed vegetables swimming in a glistening garlicky gravy. Crispy noodles, slick gravy, good times.
The Singapore noodles are always tasty. Stir fried rice noodles tossed with onions, chicken, slices of barbecue pork and mixed with curry powder.
Fried Chicken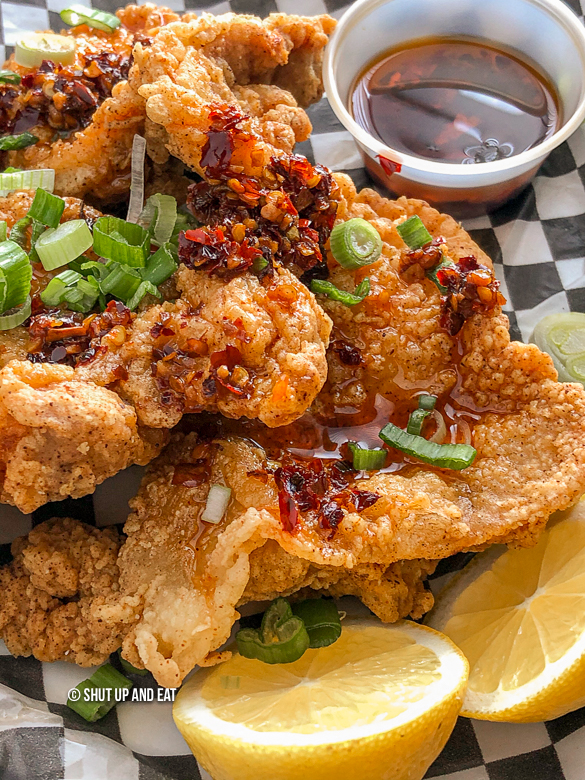 Cashing in on the fried chicken craze, Dobe and Andy have their version and it's delicious. Thinly battered pieces of chicken dusted with salt and five-spice. Each deep and savoury bite of chicken that's covered in their homemade chili sauce is brightened up by the green onion and a fresh spritz of lemon. This version of fried chicken needs its time to shine. It deserves to be recognized alongside all of the other fried chicken renditions out there. Order this. Eat it. Love it. Tell a friend.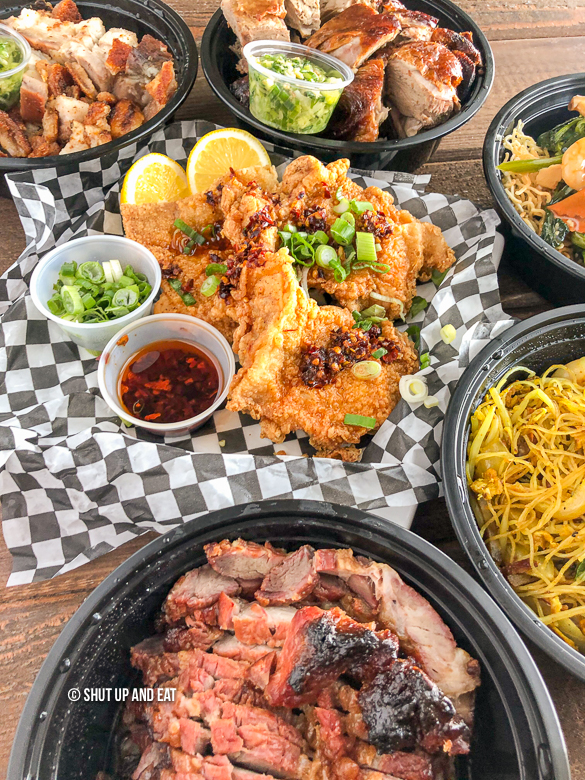 Dobe and Andy is a family business run by the Ku brothers. Second generation cleaversmiths to man the butcher block and woks dispatching some of the city's best siu laap – Chinese barbecue. Keeping the family business running is admirable, but keeping the traditions and cooking techniques alive is noble. It's refreshing to see a younger generation not only take over the family store, but use it as an opportunity to celebrate, educate and introduce this form of Chinese cuisine to the unfamiliar.
Food is a very important element to the Chinese culture. The phrase, "Have you eaten (rice) yet?" is a common salutation. Roasted meats aren't just tasty but they also play an integral role in the culture as well. Altars and memorials are often adorn with plates of siu laap; whole chickens, slabs of pork, noodles and dumplings that are all auspicious in meaning. All placed as an offering. Not only are the Ku brothers carrying on the family business, but they are helping the community carry on existing traditions their craft help uphold.
Restaurant Dobe and Andy
1071 Rue Saint-Urbain R-12, Montréal, QC H2Z 1Y6
(514) 861-9958
https://order.chkplzapp.com/dobe-andy/menus