I don't have to tell you that the south west borough of Montreal (Saint-Henri, Griffintown…) is the place to be for some of the hottest food destinations, coveted reservations that bring out the humblest of brags on social media. With spots like Arthur's, L'Avenue's new location, Foiegwa or Le Bird Bar, cuisine offerings of this area is diverse as is their neighbourhood and clientele. From modern Jewish deli-inspired food, tacos and burritos, to upscale refined comfort food, the "Sud-Ouest" has it all… except a go-to legit Asian spot (more specifically, Vietnamese) until now; Tran Cantine.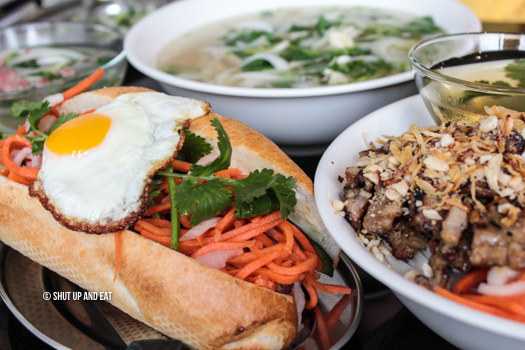 Tran Cantine opened up quietly under the radar 11 months ago filling that Vietnamese food void in the Southwest by serving up classics like tonkinese noodles and crunchy banh mi sandwiches.

The menu is concise and simple. A handful of appetizers like your standard fresh spring rolls, imperial rolls, and salads, banh mi, rice vermicelli bowls and pho. We started with the chicken salad. Juicy shredded poached chicken mixed with onions, scallions, cilantro, tossed in lime juice, served with fried prawn chips. So simple. Each bite was aromatic and refreshing. The chicken is abundant, laced with the perfume of cilantro with wisps of sharp onion, this dish was addictive.

The spring rolls were packed with rice noodles, chicken, shrimp, lettuce, cilantro and served with a traditional peanut sauce. Pretty standard. Pro tip: squeeze a shot of sriracha into the peanut sauce and unlock the next level to your Vietnamese food connoisseurship. That's not really a thing, but your shrimp rolls will taste yummier.

The chicken pho is solid. Crystal clear broth, clean and aromatic flavours, robust but light. The chicken was unctuous and tasty (unlike what normally happens to chicken when it's poached becoming stringy and dry.) I had high expectations, especially since Tran has ties to the very popular Plateau pho outpost Pho Tay Ho, I expect nothing less than an immaculately prepared phở gà, and Tran delivered.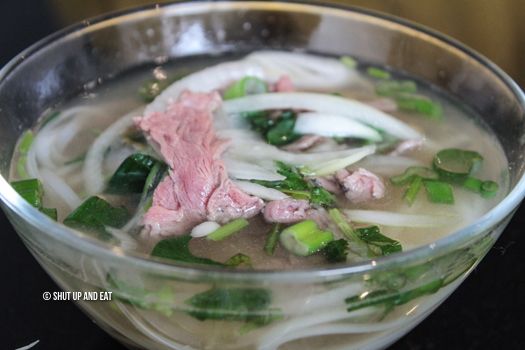 I got a mini beef pho, because when you go for pho, beef is the benchmark; and mini, because I ordered way too much food but wanted to try the beef. The mini wasn't so mini and would have sufficed as a meal with the spring roll and salad. Topped with a few raw slices of sirloin and garnished with scallions and cilantro, the flavour of the broth was delicate and wasn't as strong as I'm used to. I attribute this to the cuts (or lack thereof) of meat offered with the beef pho. I always order the "dac biet" which is basically an "all dressed" bowl which consists of beef flank, tendon, tripe, fatty brisket and beef balls – all key components to a deep and rich flavourful bowl. Nice and simple, the Tran Cantine version is for purists.

The rice vermicelli. Ridiculously generous bowl of thing rice noodles, with lettuce, cucumber pickled carrots and daikon, fresh herbs like cilantro, mint, Thai basil garnished with fried onions with a sweet and savoury Nước Chấm (fish sauce with lime juice, garlic and chili).I ordered mine with grilled pork. Pro tip: 1) pour in half the dressing, 2) mix, 3)pour in remaining dressing, 4) mix, 5) get anther fish sauce in a glass and sip on this in between bites. The bowl was a perfect balance of flavours and textures. Tartness from the pickles, freshness of the herbs, and smokey bits of juicy pork mixed with fried onions added the je ne sais quoi umami to every bite.

The banh mi is a traditional street food offering which is a sandwich served on fresh Vietnamese baguette, with pickled daikon and carrots, cucumber, cilantro, seasoned soy sauce, homemade Vietnamese aioli and at tran, your choice of grilled meats. I got the grilled beef, and upped my sandwich to the next level by including a fried egg on top – at an extra cost.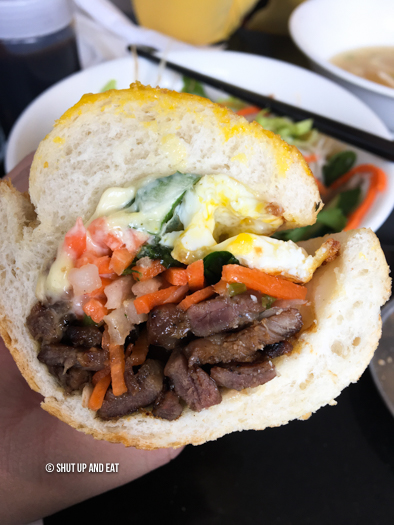 The fried egg on top is a bit unnecessary but completely necessary.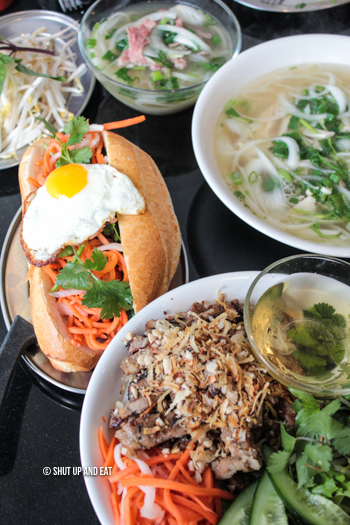 Most notable was Tran Cantine's choice of rice noodles used in their soup. Thicker than what you would get at any other Vietnamese restaurant. I found out that they source their noodles fresh and import them themselves from a supplier in Toronto, opposed to reconstituted dehydrated noodles most other places use. Watching the chefs through the open kitchen, you can see the noodles being blanched for literally 15 seconds to yield a perfectly cooked toothsome noodle.
Open for almost 11 months (at the time of this article) this Vietnamese spot shares the same block with Arthur's, Adamo Pizzeria, Tejano, and Tuck Shop. is in great company which makes up the cast of this eclectic neighbourhood.
TRAN Cantine Vietnamienne
4690 Notre-Dame St W
514) 379-4690
Facebook