Let's play a quick word association game. Ready? "Dog". Did you say "cat"? Good job! How about, "day". Did you say "night"? Wow, you're good! Here's another; "Dollar-des-Ormeaux". Did you say KOREAN BARBECUE?? WOW! You are both good looking and smart! You read that right. Besides not stopping at stop signs, most soccer fields per capita and population that considers anything past Ikea as "downtown", the West Island can add Korean Barbecue to the list of things they're known for! I checked out the relatively new all you can eat Korean barbecue restaurant, Restaurant K-BBQ.

Korean barbecue in the West island? Have I inhaled too many barbecue fumes? Maybe. But that's only because I've been crushing pounds of savoury marinaded short ribs slathered in ssamjang wrapped up in a crisp lettuce leaf. Located on St-Jean, restaurant K-BBQ is keeping DDO woke in the Korean food game.

The all you can eat barbecue menu consists of the usual suspects, various cuts of meat and seafood like shot ribs, brisket, sirloin, pork belly, octopus, shrimp as well as specialty weekend cuts like brisket, ox tongue, lamb shoulder and AAA rib eye steak. Oh yeah, veggies too, but whatever.

Some meats are marinated while others were not. The tougher cuts (brisket, ox tongue, pork and lamb shoulder) benefitted from the marinated that imparted great flavour and helped tenderize the meat.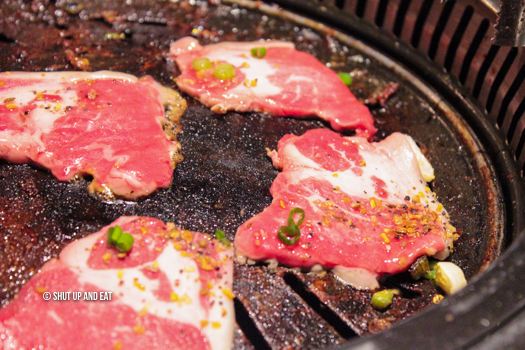 There is something to be said with the quality of the meat at Restaurant K-BBQ. Impressed is an understatement. The marinaded meat was typical of what you'd find in Korean cuisine in general. A marinade that leant a sweet and savoury flavour to the meat who's high sugar content allowed for great char to form when you grilled each unctuous slice of meat.

I'm pretty sure the hot menu items from the all you can eat menu are smaller, "abbreviated" versions of the originals. Exhibit A) I can't imagine that this would be the legit order of bi bim bap on their regular menu. I'm going to be very honest with you. The hot menu items are medium at best – leaves much to be desired. The rice was warm, the bulgogi was sparse and seemed like everything was haphazardly thrown into a bowl.

Exhibit B) The spicy ramyun. A half pack of instant noodle (don't spazz, "ramyun" is literally instant noodle) in lukewarm broth that didn't really reconstitute the noodles.

Exhibit C) The famous Korean fried chicken. When we've got heavy hitters when it comes to Korean fried chicken like Mon Ami and Dawa that set the standard high, anyone else trying to jump in the game has pretty large fry-baskets to fill. The chicken was oily (duh I know fried chicken… oil…) but oil literally pooled at the bottom of the plate. A bit bland and the crunchy crust fell flaccid quite fast.

Dessert was a choice of mango, green tea or vanilla ice cream as well of fried sweet buns. Pro tip, order it all at once and eat them together.

Restaurant K-BBQ was a surprise. Meat quality is great and price is on par with most of the other all you can eat Korean Barbecue places around town. Lunch time happy hour is a 15% discount on the regular price from Monday to Friday. They serve barbecue the traditional way, lots of lettuce, sauces and numerous plates of side dishes that include kimchi, pickled radish, marinated cucumber and sweet daikon. This place has a regular a la carte menu as well. I'm hoping the hot dishes that made their way to the all you can eat menu is no indication of what kind of food you can expect. The barbecue is solid and that's what I'm coming back for.
Restaurant KBBQ
4337 boul St-Jean
514-800-2239
Facebook