I've said this several times before, every neighbourhood needs a local pizza joint. A place that makes solid, delicious pizza. I don't necessarily mean gourmet or fancy pizza, but far from a 2-for-1 place where they charge for extra toppings but the gastro is free. Not to say that a occasional grease wheel isn't appreciated from time to time, but everyone has a soft spot for a traditional pie. I recently checked out a pizza spot in The Dege (N.D.G.) that's serving classic Neapolitan style pizzas – Pizzeria Melrose.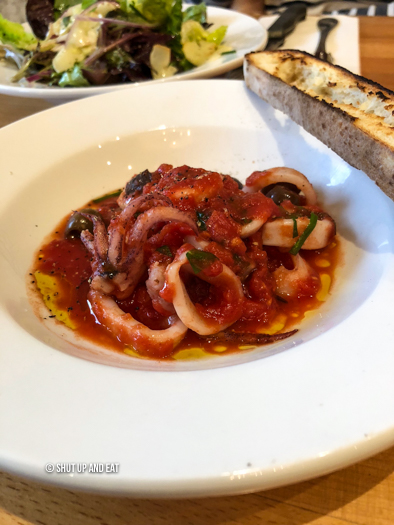 The menu at Pizzeria Melrose is plain and simple, a handful of starters and pizza and couple of desserts. We started with the braised calamari. Tender ribbons of squid served in marinara. Each bite was sweet and briny. The fresh basil brightened each mouthful. Simple and uncomplicated. Delicious.

The green salad was green and was a salad. Sherry dressing. Mesclun, Boston lettuce and shaved carrots. Very green, much health.

The "Co-op", tomato sauce, eggplant, mint, mozzarella, almonds and lemon zest. First, the eggplant skin was papery and was a nuisance to eat. I gave up pulling the tough slivers of eggplant skin out of each bite and said fuck it and just ate it. The almonds were interesting – I've never had them on pizza before. Pine nuts, yes, but never almonds. Pine nuts are inherently tender and soften when cooked, chopped almonds do not. Dull crunchy texture to each bite.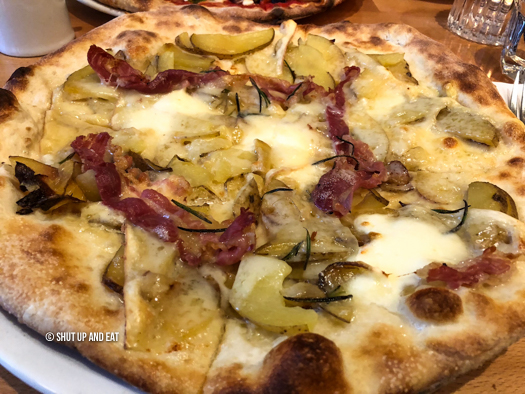 What's your wildest fantasy? Mine is eating carbs on top of carbs topped with cheese and bacon. BOOYAH, "The N.D.G." – White sauce, potatoes, pancetta, mozzarella, gruyère cheese topped with bacon and rosemary. The pizza was aromatic from the rosemary and funky cheese. Call me fat, but I found that the bacon to slice to bite proportion was off. Three slices of bacon to four slices of pizza equals to about one bite of bacon per slice. Regardless, the pizza was tasty.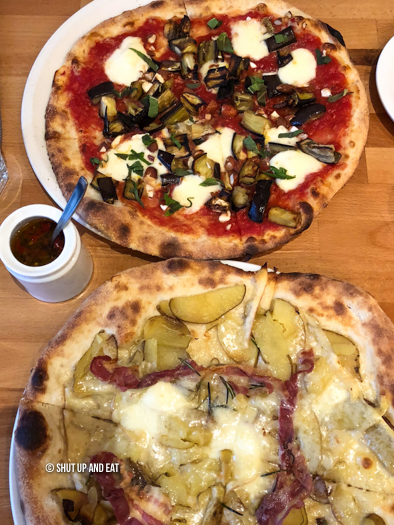 I went against my better judgement when I didn't order the pizzas well done. As this was my first time at Melrose, I felt that I should not make any modifications. I should have ordered it well done. The dough was everything you want in a pizza dough; easy to bite through with a little chew.

Dessert was a ricotta cinnamon crumble. Meh. It was three bites and very rich.
Straight up, it's not the best I've ever had, but it's also not the worst. It's a decent spot for pizza in the neighbourhood. They've got a few other pies that seem interesting that I would try, The Tranzo with sausage, fennel, spinach and mozzarella or the Jos Pappos with rapini, sopressata, garlic and fresh mozzarella. Pizzeria Melrose is not only a family friendly pizzeria but multi disciplinary space, they house a gallery in the back that can also be turned into a private dining area. Great addition to the Dege.
Pizzeria Melrose
5779 Sherbrooke West
438.385.6968
https://www.pizzeriamelrose.com