I'm often asked for my opinion on restaurants or if I've been to a particular spot – I'm always up for a restaurant talk. I like finding out why someone thinks one place is good and not another, or standout menu items that would justify a trek out of the way to cop a certain dish. If I'm convinced, it usually means I'll add it to my ever growing list of restaurants to visit, but what I don't do is check out their public online reviews of ratings. I like to go in not knowing anything other than what was suggested that I order and form my own opinion. The most recent restaurant I checked off that list is the Syrian destination in Laval, Beroya.

I came in with a rough idea of what I was going to order, dips, salad, and grilled meats, as per usual for me at most Middle Easterns restaurants. I'm a big fan of mouhamara, by far one of my most favourite cold mazas. A rich sweet and savoury dip made with walnuts, Aleppo peppers and pomegranate molasses, drizzled with olive oil. Every bite had a mild undertone of citrus which balanced each mouthful – perfect. The eggplant moutabbal was a mix of mashed grilled eggplant, yogurt, tahini and garlic. This dish was smokey and creamy and extra garlicky, delicious, but not for date night. Or maybe for date night, I guess it depends on how it's going so far or how you want it to end. Served with fresh homemade pitas – amazing.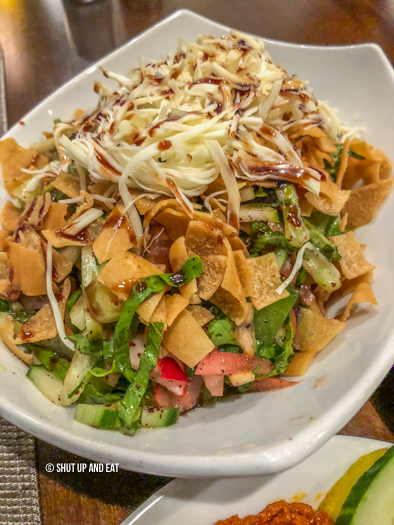 The fattouche was a mix of fresh vegetables, topped with fried pita, drizzled with vinegar and pomegranate molasses seasoned with sumac and a pile of Armenian braided cheese. By far one of the better fattouche salads I've had in a while. The vegetables were not over dressed and the tartness was offset but the delicately sweet pomegranate molasses and salty string cheese peppered with black cumin seeds.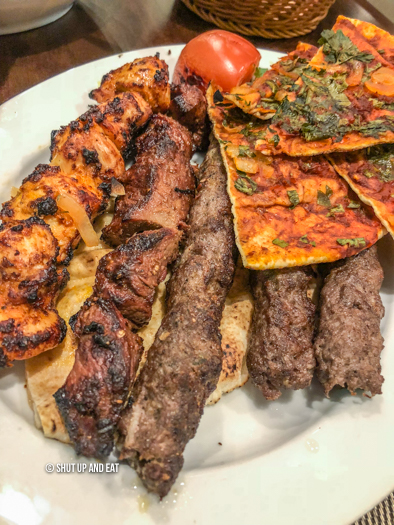 We ordered the mixed grilled plate for two. It consisted of two Aleppo kababs, one chicken chiche-taouk, a kabab Khach-khach that was served with grilled tomato sauce and a filet mignon kabab. The meat on all skewers were flavorful and had that undeniable tempting aroma of being grilled over charcoal. The filet mignon was incredibly tender and the chicken was juicy. The dish was served with a mixed of sliced onions and parsley, with grilled tomatoes and jalapeños. If I'm eating somewhere new and there's an option like this, more often than not, I'd order it. It's a great way to sample many things without being locked into one specific order. It's also usually cheaper too.

This. This is the move. Grilled pita dabbed with grease drippings from the grilled meats.
I've always said great service will almost always make up for bad food. But great food will never make up for bad service. Being said, I would have definitely come back to Beroya for the food, if it wasn't for the awful service.
The hospitality was abysmal from beginning to end. It was so bad that I would have thought we were on some hidden camera show. Major shout out to the busboy who went above and beyond to pick up the slack from the completely incompetent server. I will not go into details, but it sucks that first experience at Beroya was so disappointing.
Going back to what I said about avoiding reading reviews before I go somewhere. I do however like to read them AFTER. Doing a little research online, I found that shotty service with delicious food is the norm at Beroya. So did I actually get an authentic Beroya experience?
Beroya
3455, boul. St-Martin O
Chomedey Laval, QC
H7T 1A2
https://www.restaurantberoya.com