I get excited every time I hear about a new restaurant opening in the West Island. I don't live there, so why do I care? Because that part of the city deserves it. Spots like Grill Seleect, Nolahor KBBQ prove that there is space in the West Island for legit dining establishments and these types of places dismisses any stereotype that anything west of the 13 is devoid of quality restaurants. So you can imagine my excitment when I heard about a new dumpling restaurant that opened in Kirkland – Dumplings Hinata.

I was excited when I heard about a new dumpling spot. Not any dumpling restaurant but a legit dumpling restaurant.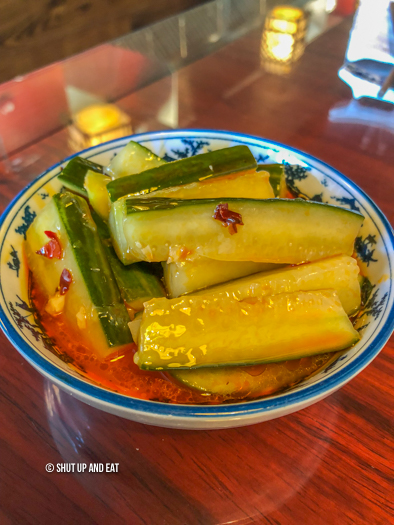 The menu is pretty straight forward and standard. Three soups, a handful of cold appetizers (salads), grilled skewers and three categories of dumplings. We started with the "hot and sour" cucumber salad. If it was anything like the hot and sour cucumber salads I've eaten hundred times before, I know it was going to pique my appetite and get me ready to crush some dumplings. Steeping in chili oil, I found out quickly that this dish was all show and no go. Tasted more half-sour than anything and the chili was mild and disappointing. Sure, some people who can't handle spicy foods may be able to enjoy these, but the refreshing crunch of the pickle left an unpleasant oily feel in your mouth. With the slightest hint of garlic, these "hot and sour" cucumbers were… bland. How is that possible?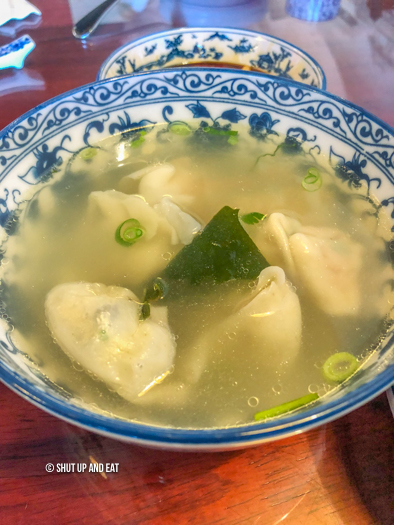 The pork, shrimp and leek wonton soup came in two sizes, small (six wontons) and large (15 wontons). The soup was light and delicate, clean.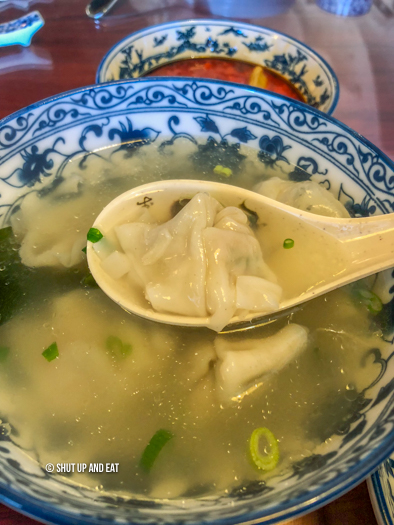 They were ok. The filling was on flavourful, the aromatic leek bloomed in each mouthful. Full points for having a whole shrimp (small, but full) in each dumpling.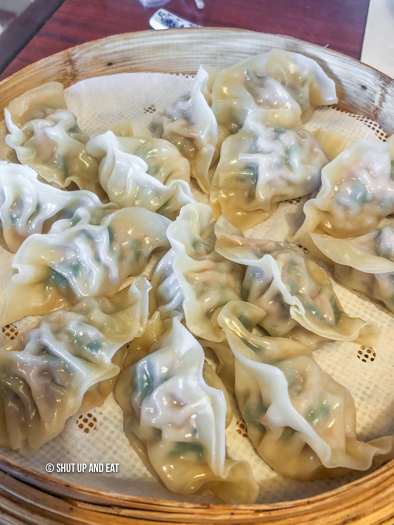 I was curious and ordered the pork, leek and shrimp steamed dumplings (yes, the exact same filling as the wontons) because I wanted to see how they differed. The filling was spot on, they were flavourful and like the wontons, each dumpling featured a whole shrimp inside. But there was something about these dumplings that stood out. The wrappers. They were thin and undeniably pre-made and store bought. This was confirmed when I saw the dumpling makers behind the counter take the wrappers out of its package – coincidentally, the same brand I use at home.
I LOVE Friend dumplings. Supple top wrapper that holds juicy dumpling filling with a crisp bottom crust that's a delight to bite into.
You know what the best part about fried dumplings are? The crispy starch skirt that forms around them.
It adds nice texture to each bite.
Here are Hinata's fried lamb and coriander dumplings: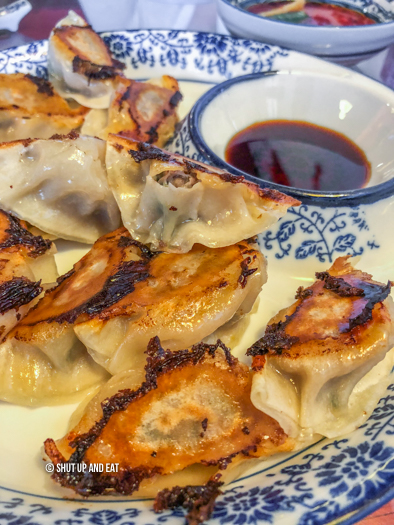 Burned to shit, oily and 10 of the 12 dumplings were pierced and broken. The filling was dry. Have you ever eaten dried ground lamb? Neither have I until that day, and I can tell you it tastes like shredded cushion foam. I guarantee you the juice that once was in those dumplings, bled out onto their griddle.

Dumplings Hinata is located in a nondescript strip mall on Saint-Charles. A quaint little family run spot serving mediocre dumplings with a side of resentment and hostility. Our young waitress acted as though she was being held hostage by her family for working on a weekend and that it was our fault.
The space is cute; ornate furniture and the kitchen features an overhang and looks like a pagoda.
Listen, there is absolutely nothing wrong with using pre-made dumpling wrappers, but when you specialize in dumplings, I expect them to be homemade, from beginning to end. Understandably, it's easier this way, but there is something you cannot replicate using pre-made wrappers. The chew. Especially if the dumplings are steamed. They will never of swell (like if they were boiled) for the skin to bloat and lend that chewiness. The chewiness of the dumpling skin is half the experience. You know what other commercial dumplings are made with pre-made wrappers? Frozen ones. And I would have much rather eaten those.
Dumplings Hinata
2814 St-Charles,
Kirkland QC,H9H 3B6
https://hinatadumpling.com/en