Does anyone else remember 49 cent pizza on St. Mathieu and de Maisonneuve? This has to be about 20 years ago (holy shit, I'm old). It was called 49 cent pizza, because, duh, a slice was 49 cents. You'd be able to buy two questionable slices of pizza and a canned drink for a twoonie and still get change. There was an influx of cheap, by-the-slice pizza shops that opened up through the early 2000s, however not 49 cents, inflation brought up those prices over a dollar a slice. Much of those places have closed up or the lone survivors are not as popular anymore. I recently visited a new player in the pizza game who's trying to revitalize the scene and bring by-the-slice back into the spot light with a New York twist; Pizzeria La New-Yorkaise.

Pizzeria La New-yorkaise is trying to bring the New York by-the-slice culture to Montreal. If you've ever had a slice of pizza in New York, you'd know that it's a whole different pizza animal unto itself. Big pies, large slices, thin crust, crispy on the bottom, minimal toppings, dusted with parm and chili flakes and most importantly, foldable.

This spot offers a seven different kinds of pies. Gorgonzola, margherita, pepperoni, tomato and ricotta, sausage and a pizza of the month.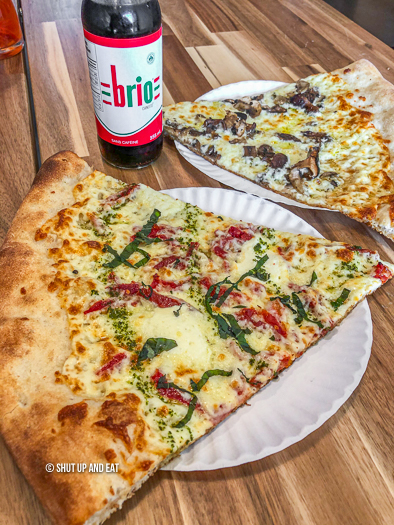 The tomato and ricotta is delicious, not as cheesy as the others but nonetheless creamy. The pepperoni was classic and amazing as well. It was the perfect amount of cheese that gave each bite a great tv-commercial worthy cheese-pull. Something MUST be said about the crust. It never got soggy. From the first bite until you reached the toppingless edges, the bottom of the pizza remained crunchy and firm. Its structural integrity was never compromised by the moisture content of the toppings. I only wished they offered marinara to dip. Bravo.

It took me two visits to try all seven pizzas – you do the math. I'll tell you straight up that the gorzonzola is the fucking move. Mushrooms, Italian blue cheese and red onions. I've been here twice and ordered this twice. I'll be the first to admit, I'm not a fan of feety-smelling cheese, but this pizza is the fucking truth. The funk of the cheese brought out the flavour of the mushrooms and provided the perfect bite with the chewy cheese and crispy crust.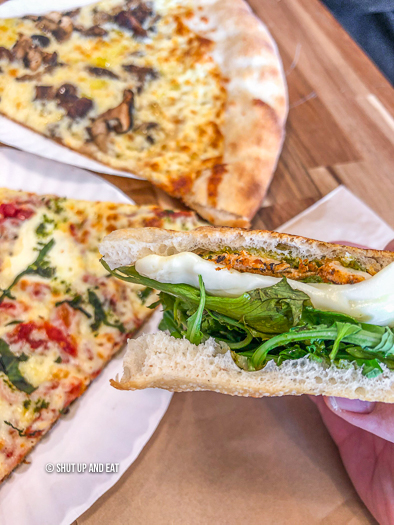 Pizzeria La New-Yorkaise offers schiacciates as well. Traditionally sandwiches made with a classic Tuscan, non-salted flatbread "schiacciata". I had the chicken sandwich with pesto, a biggest, delicious chewy glob of cheese and lettuce. I'm not sure if La New-Yorkaise's sandwich bread is akin to the traditional kind, but you can tell that it's made with the same dough as the pizza crust. Assuming it's left to proof longer to provide a bread-like body, it still has the same crunch and texture as the pizza crust. Amazing.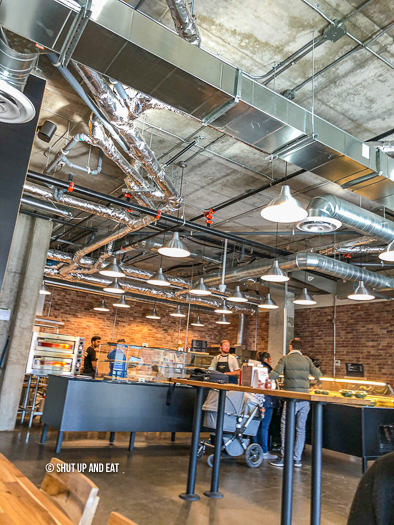 Spend a day in New York and you can't walk past any street corner without seeing a shop slinging pies by the slice. If you've ever been to New York and had a slice while balancing a drink over a sidewalk newspaper box, or stood leaning up against the side of a building, you'll know that a New York slice is something more than just pizza, it's an an experience; it's a whole vibe.
The only thing that makes Pizzeria La New-Yorkaise short of an authentic New York experience was that there were no white and red checkered table cloths, the name wasn't prefixed with "Famous" nor was "est 1932" written anywhere. Oh yeah, they're missing garlic knots. If anyone from La New-Yorkaise is reading this. Make garlic knots and I will be yours forever.
Pizzeria La New-Yorkaise is one of the valiant players trying to revive the by-the-slice option in the city. An admirable job by all. Open everyday until 10pm! I'll be back… I've been back.
Pizzeria La New-Yorkaise
309 de la Montagne
https://www.lanewyorkaise.ca/