I'll be the first to say that sometimes it's hard to find a place to eat in Montreal. Crazy right? No. I say it's hard to find a place to eat not because of the scarcity of options, but the sheer amount of places to choose from. I've eaten at over 400 restaurants in Montreal (past and present, opened or now closed) and have reviewed over 300 of them. It's easy to overlook places that may not be too obvious and that you've become stomach blind to. Spots where you've casually passed but never considered eating at. I'm guilty of this many times over – especially in the Old Port. But I made it a personal goal of mine to find those diamonds peppered within the tourist trap coals. This week I checked out the new menu at Verses Bistro.
I was recently invited by Verses Bistro to check out their new menu created by Chef Josh Patry. This casual spot located on the iconic Saint-Paul Street is best known for their menu of contemporary cuisine, leaning heavily on local and seasonal ingredients procured from local producers and farms ensuring freshness in each dish.

The menu was full of tantalizing dishes. We started with a quartet of appetizers. The red wine and truffle beef gravlax was delicious. Served with marinated asparagus, shimeji mushrooms, puffed quinoa and carrot purée and fried carrot threads. The beef was profound and savoury which was balanced by the sweetness of the carrots and tart pickled asparagus.

The duck tartar was served with porto, wild berries, thyme and pine nuts. I don't often have duck tartar, but I think it's something I'm going to have to start doing more of. There is also a main course version of this dish that's served with fries or salad. Be warned though, it's heavy and rich; the Rick Ross of tartares.

This watermelon carpaccio is your favourite Pinterest watermelon salad recipe if it went to private school. Large chilled watermelon coins topped with balsam oil, frisée, crumbled feta, sun flower seeds, ladolemono and dollops of frozen limoncello. Great combination of contrasting tastes, flavours and textures.

The duck liver mousse canelli was divine. I don't often use the word "divine" but when I had this, it were the only words that came to mind, other than, "I better put my shirt back on before somebody says something". Duck liver mousse wrapped in homemade philo dough, on top of date puree, garnished with confit lemon and pistachio dust. One of the liveriest (in a good way) pastries you'll ever eat.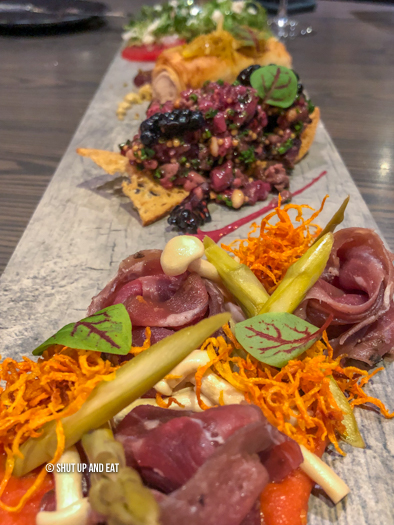 When asked if there were any appetizers in particular I wanted to try, my first reaction was "ALL OF THE APPETIZERS". So the chef said that they offer an appetizer tasting menu, where they would prepare dishes on a board that can be easily shared. Do that.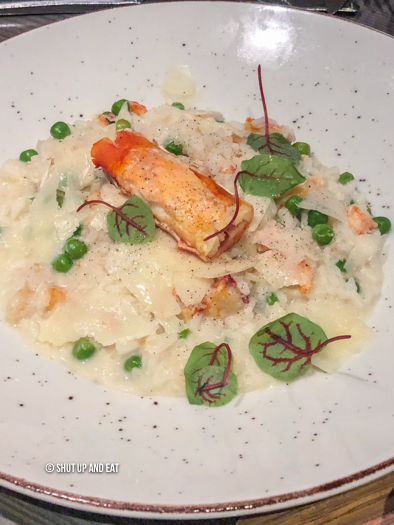 The mains were equally as impressive as the appetizers. The crab risotto made with peas flambé Galiano, and king crab was amazing. Large shavings of cheese folded in added delicious pockets of salty goodness.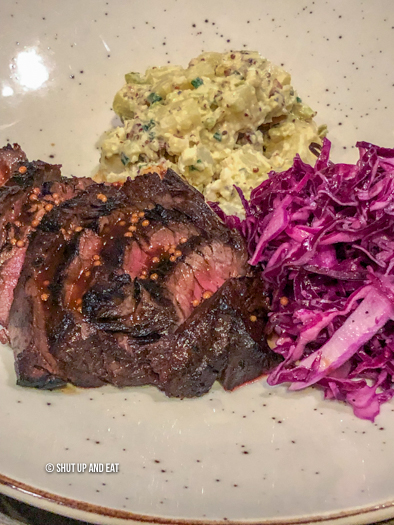 We ordered the hangar steak was tender and it was perfectly cooked. It was served with a bacon potato salad and red cabbage coleslaw and mustard sauce. This dish was honest and humble, and felt like you were at a swanky backyard barbeque.

The roasted Cornish hen was amazing. It was served with cherry tomatoes, grelots potatoes, hazelnuts, parsley and rosemary with a side of mixed greens. I'm not a big fan of Cornish hen because it's often dry – this wasn't. The meat was incredibly juicy and the skin was nice and crispy. A hearty autumn dish that would surely warm you up and the chilliest of days.

The dessert of ice cream, crispy strawberry meringue, crushed sponge toffee and berries was a nice fresh way to end the meal.
Chef Patry describes his main inspiration behind the creation of this menu as a "going back to basics" approach, to offer modern cuisine that is impressive yet simple. This was reflected in pretty much all the dishes we had. From the duck tartare to the watermelon carpaccio, crab risotto to the roasted chicken, I felt that I've eaten all these dishes before in one way or another but these versions at Verses were special. Comforting and familiar, these honest dishes were refined and updated without losing its identity. The space is cozy and typical of a restaurant in Old Montreal. The service was attentive and fast. Veses Bistro is a great place for a 5 à 7 with an extensive wine bar that can help you unwind during the week, or get the evening going on the weekends.
My experience was a great one and I am looking forward to returning to explore their spring menu.
Verses Bistro
100, rue St-Paul O
888 951-6233

Relying on seasonal and local ingredients, certain menu items featured in this post may or may not be available.
Verses Bistro is participating in this year's MTL à Table – Montreal restaurant week!
—
I was a guest of Verses Bistro, thoughts and opinions are my own